GET Stock

Quotes


Powered by


News18 Exclusive Confirmed: AAP to Send Sanjay Singh, Sushil Gupta & ND Gupta to Rajya Sabha
CNN-News18 had reported on Tuesday that AAP has finalised the names of Sanjay Singh, a member of its Political Affairs Committee, Sushil Gupta, a businessman-cum-social worker, and N D Gupta, a chartered accountant for its Rajya Sabha seats.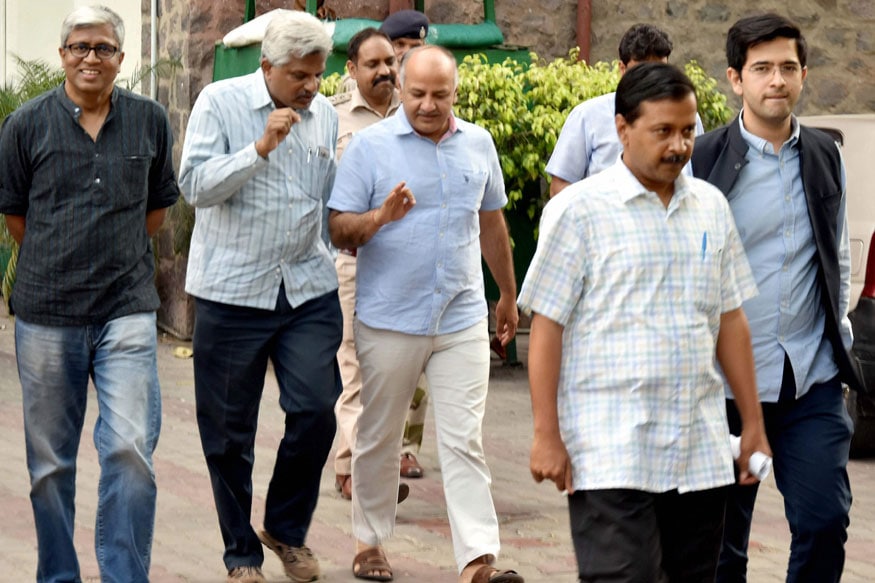 File photo of Delhi Chief Minister Arvind Kejriwal with Deputy CM Manish Sisodia and other party leaders. (PTI Photo)
New Delhi:
The Political Affairs Committee (PAC) of Aam Aadmi Party, the party's highest decision-making body, on Wednesday confirmed the names of Sanjay Singh, Sushil Gupta and ND Gupta as the party's nominees for Rajya Sabha.
The AAP PAC meeting took place ahead of the meeting with the MLAs and was attended by nine members. Sanjay Singh and Dr Kumar Vishwas did not attend the meeting. Eight of the nine PAC members gave their consent to the names of Sanjay Singh, N D Gupta and Sushil Gupta.
However, one PAC member, Ashutosh, while consenting to the names of Sanjay Singh and N D Gupta, objected to that of Sushil Gupta. Ashutosh, also in the running for a Rajya Sabha nomination, was the lone dissenting voice.
The meeting of the MLAs was addressed by both Chief Minister Arvind Kejriwal and Manish Sisodia. The decision of the PAC was announced to the 56-odd MLAs present. Kejriwal and Sisodia explained the decison of the PAC, especially the one regarding Sushil Gupta. The party plans to contest elections in Haryana where it hopes that Sushil Gupta's charitable work, spread across 14 districts, would help the party. Gupta is seen as a leader among the Vaishya community in Delhi as well as Haryana. MLAs gave their consent by thumping the desk. None of the MLAs present raised any objection.
CNN-News18 had reported
on Tuesday that AAP has finalised the names of
Sanjay Singh
, a member of its Political Affairs Committee, Sushil Gupta, a businessman-cum-social worker, and N D Gupta, a chartered accountant for its Rajya Sabha seats.
Delhi Deputy Chief Minister Manish Sisodia announced the names on Wednesday. He said, "We wanted three big names who have contributed to the nation. The first name is Sanjay Singh. He has worked for the party and society. He has worked on the streets.
"Second name is Narayan Das Gupta, he has worked to strengthen the economy and the third name is Sushil Gupta.
Sushil Gupta
has worked for education and health in Delhi and Haryana. He has charitable schools in 14 districts of Delhi and Haryana."
Meanwhile, former AAP leader Yogendra Yadav hit out at the his ex-colleagues and said that he is "shocked and ashamed" at the development. Speaking to CNN-News18, Yadav said, "I'm truly shocked. This is a new low for the party and it is crass. How can you do this to the party workers. I'm today ashamed to once have been part of this party."



I used to say, whatever his other faults @ArvindKejriwal cannot be bought. Defended him against Kapil Mishra's allegations.
Now I don't know what to say.
Speechless, ashamed and numb. https://t.co/3rTpNssDVy


— Yogendra Yadav (@_YogendraYadav) January 3, 2018
Sushil Gupta, who contested the last Assembly election on a Congress ticket, claims to have come from a humble background. But his 2013 election '
affidavit tells a different story
.' Sushil Gupta, a law graduate, in his 2013 affidavit had stated that his total income was Rs 1.7 lakh but his total assets are at a whopping Rs 1,64,44,79,512.
The party has seen a lot of churning in the recent times with many members from within the party showing ambition. With Kumar Vishwas being the most vocal and rebellious about his claim.
Kumar Vishwas
, one of the founding members of the Aam Aadmi Party, too, lashed out at Kejriwal immediately after Sisodia's announcement and said that he "was being punished for speaking the truth".
Sisodia, during the announcement on Wednesday afternoon said, "We had a shortlist of 18 big names who were experts in various fields. All of these 18 people politely declined our offer while some said they we have earned an image of working against the system and that they do not want to join a political party. Others said they agree with us and want to work with us but if we go to the Rajya Sabha, then the central government will hound us."
The AAP leadership had earlier indicated that it will nominate all three members from outside to manage ambitions within the party. The party had even approached former RBI Governor Raghuram Rajan to take up the job.
Also Watch
| Edited by: Sanchari Chatterjee
Read full article