nda:
Needmore seats to Win

Needmore seats to Win
upa:
AAP Under Fire Over 'Moneybags' Rajya Sabha Pick Sushil Gupta, But Punjabi Bagh Club is Already Partying
Harsh words like "moneybag" were thrown around describing Sushil Gupta on social media. Some on Twitter, such as former AAP member Mayank Gandhi, even alleged that Gupta had bought his way into Parliament. But for residents of Punjabi Bagh's posh localities, Sushil Gupta can do no wrong.
Sushil Gupta with Delhi chief minister Arvind Kejriwal. (File photo)
New Delhi:
Around 8 pm on a chilly January night, a couple is walking its dog on a posh street in East Punjabi Bagh. They look irritable when they are stopped and asked for directions. Their expression, though, softens when they find out they are being asked for directions to the house of Sushil Gupta.
When asked if they know Gupta, the man says with a smile, "
Arrey, unhe kaun nahi jaanta
? (Who doesn't know him?)". He points to another street around the corner and continues walking his dog.
The Aam Aadmi Party on Wednesday announced its pick of three nominees it plans to send to the Rajya Sabha. With an overwhelming majority in Delhi, AAP should have no problem sending three MPs to the Upper House.
The first name that Delhi's Deputy Chief Minister Manish Sisodia announced was that of Political Affairs Committee member Sanjay Singh, a name that did not surprise anyone, and the second one was that of Delhi-based chartered accountant ND Gupta.
Singh has been a loyal foot soldier in Arvind Kejriwal's army while ND Gupta has been helping the party out with its taxes, free of cost, for a few years. The name that raised most the most eyebrows was of businessman and former Congress leader Sushil Gupta.
Kejriwal has drawn a lot of flak for nominating Sushil Gupta to Parliament. Yogendra Yadav, who was a founding member of AAP, said he was "ashamed" at ever having been associated with Kejriwal and AAP. Kumar Vishwas, another founding member who is now the Rajasthan AAP chief, likened Kejriwal to a dictator.
Harsh words like "moneybag" were thrown around describing Sushil Gupta on social media. Some on Twitter, such as former AAP member Mayank Gandhi, even alleged that Gupta had bought his way into Parliament. But for residents of Punjabi Bagh's posh localities, Sushil Gupta can do no wrong.
Once a settlement created by Partition migrants in Delhi, Punjabi Bagh has turned into one of the most upscale neighbourhoods in the national capital. The street in East Punjabi Bagh that Gupta lives on is consistent with the stereotype of wealth and prosperity that this neighbourhood has come to represent. One house has an Audi A6 parked outside it, another has the newer Audi Q8.
Gupta's house, while not extraordinarily larger or smaller than the others on the street, is palatial compared to the average home in Delhi.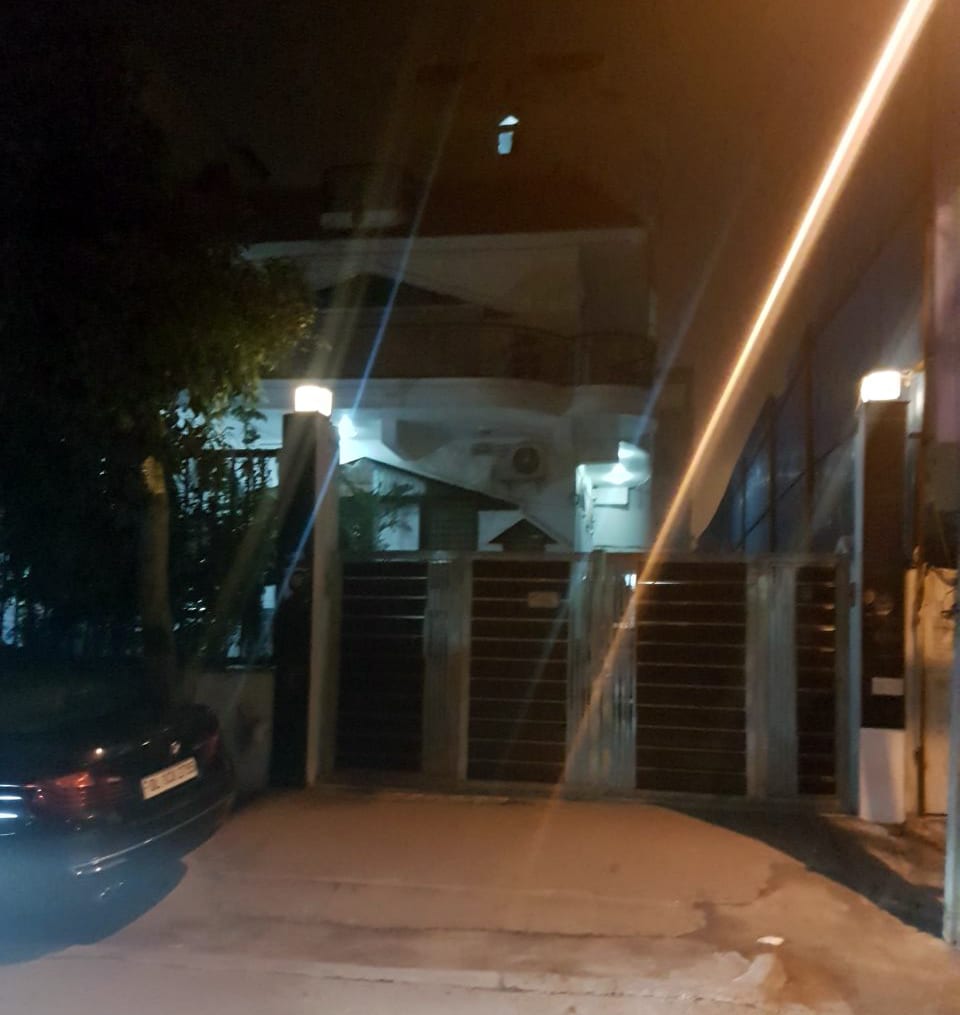 AAP Rajya Sabha nominee, Sushil Gupta's house in Delhi's posh Punjabi Bagh. (News18)
At his house, a guard says "
Sahab ghar par nahi hain
(Sir is not home)." A neighbour, out on an evening walk, is asked what he thinks about Gupta. "
Sajjan aadmi hain. Hum sabke sukh-dukh ke saathi.
(He is a great man. He stands with us in happiness and sorrow). Whether it is a wedding in the colony or a birthday, he is always there to bless our children. He helps us out whenever we need him."
Gupta, the Chairman of Delhi's Punjabi Bagh Club for the last 25 years and chairman of the Punjabi Bagh Co-operative Housing Society for 13 years, is technically, not even a member of the Aam Aadmi Party.
He has wide-ranging business interests from land development to private education and healthcare institutions. Among others, he owns and operates Delhi's Ganga Group of Institutions, but when asked how he would describe himself, Gupta told News18, "
Main purely kisaan hoon
(I am purely a farmer)." His 2013 election affidavit mentioned his profession as "agriculturalist".
At Punjabi Bagh Club, a sprawling premises spread over 18 acres in West Punjabi Bagh, a chauffeur-driven sedan rolls up in front of the main foyer. Vijay Kumar Arora, whose family has been living in Punjabi Bagh for over 40 years, steps out. When asked if he knows Gupta, Arora instantly says, "Yes, of course, I know him.
Aur main unhe aaj se nahi, shuru se jaanta hoon
(My friendship with him is not recent). My family moved to Punjabi Bagh in 1977. In those days, Sushil Ji's brother owned a fast food restaurant called 'Nibbles' here. We used to go there frequently and that is how far back our friendship stretches. You ask anyone at the club and they will tell you he is a great man. He maintains close relations with everyone and none of us have ever heard him be impolite or rude. There is a reason why we all elect him again and again as the President of the club. But if you want to hear more about him, you should go to the bar room."
Not everybody, however, shares Arora's enthusiasm about Gupta. Certainly not the teachers of Ganga International School, which sued their employer over non-payment of arrears to the staff. During the press conference on Wednesday, Manish Sisodia introduced Sushil Gupta as an "educationist" and "philanthropist".
"Sushil Gupta Ji is running charitable schools in fourteen districts of Delhi and Haryana. His institutions provide education to 15,000 children free of cost," Sisodia said. But Sisodia's claims about Gupta are in sharp contrast with the allegations levelled by teachers of Ganga International School. The school, owned by Gupta, has been accused of not paying teachers arrears of salary that is due to them as per the Sixth Pay Commission. This is despite a Delhi High Court order on January 19, 2017.
Some have argued that Gupta's appointment, while controversial, will help Kejriwal gain ground among Delhi's middle-classes and upper-middle-classes – a constituency that the AAP has struggled to keep hold of. Gupta's work in the neighbouring state may also help the party in Haryana, Kejriwal's home state. But if Gupta's electoral performance is anything to go by, it may not help the AAP much. In 2013, he unsuccessfully contested from Moti Nagar on a Congress ticket.
Gupta started his political career as a student activist of the National Students' Union of India (NSUI) and until three months ago, was a member of the Congress party. When News18 asked him why he chose to take an active role in politics, he said, "
Bas Ji, bachchon ki shaadiyan kar di. Socha thoda kaam samaj ke liye bhi karoon.
(Well, I got my children married. So I thought I should do something for society too).
When asked about his jump from Congress to AAP, he said, "In 2013, I was asked to contest on an AAP ticket but I wanted to watch the party's working style first. I saw them (AAP) do good work, so I decided not to contest against them in 2015."
Gupta also said he doesn't believe in attaching himself to parties. "See, I don't believe in political parties. I believe in good people. I want to do work in the health and education sector and I will go with anybody who lets me work in that sphere. When I quit the Congress, I had said I was open to all," he said.
Back at the bar in Punjabi Bagh Club, Gupta's electoral debacles don't matter. As glasses of whiskey clink against one another and Hindi gives way to chaste Punjabi, one tipple says, "
Gupta sahib change bande ne. Parliament vich vi vadiya kam karange. Kejriwal ne sahi kitta Gupta sahib nu utthe bhej ke
(Gupta is a good man. Even in Parliament, he will do good work. Kejriwal did well by sending him there).
(Get detailed and live results of each and every seat in the Lok Sabha elections and state Assembly elections in Andhra Pradesh, Odisha, Arunachal Pradesh and Sikkim to know which candidate/party is leading or trailing and to know who has won and who has lost and by what margin. Our one-of-its-kind Election Analytics Centre lets you don a psephologist's hat and turn into an election expert. Know interesting facts and trivia about the elections and see our informative graphics. Elections = News18)
| Edited by: Aditya Nair
Read full article
Countdown To
Elections Results
To Assembly Elections 2018 Results