After Farm Loan Waiver, Kamal Nath Sets Eyes on MP Youth in Run-up to 2019 Elections
The new chief minister's move, however, has not gone down well with the opposition parties, with the BJP and the JD(U) accusing him of fuelling 'divisive' politics.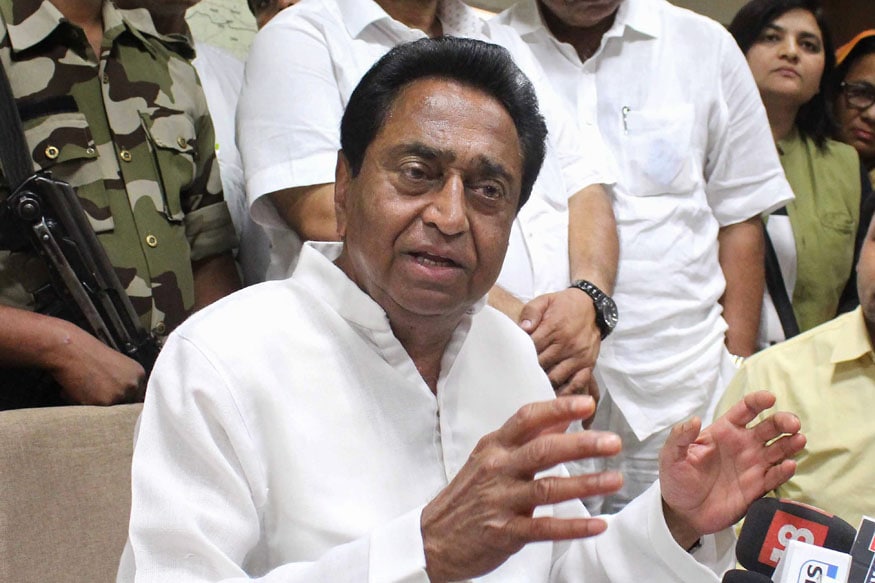 File photo of Madhya Pradesh chief minister Kamal Nath. (PTI Photo)
Bhopal: Newly appointed Madhya Pradesh chief minister Kamal Nath, who raked up a storm with his remarks on people from UP and Bihar "snatching" jobs in the state, seems to have identified the latest target group of the Congress in the run-up to the 2019 elections.
Soon after assuming office, Nath had signed the farm loan waiver file, fulfilling the grand old party's pre-poll promise. Now, with his announcement of offering investment benefits to those who offer 70 per cent jobs to locals, the veteran politician has his eyes set on wooing the youth.
The new chief minister's move, however, has not gone down well with the opposition parties, with the BJP and the JD(U) accusing him of fuelling 'divisive' politics. BJP general secretary Kailash Vijaywargiya accused Nath of pitting one region against another. Taking a dig at the chief minister, Vijaywargiya raised his "outsider" background and asked if his statement should be implemented in politics too.
JD(U) leader from Bihar Neeraj Kumar said people from the state claimed jobs on the basis of their talent and skills. He also asked Congress chief Rahul Gandhi and RJD's Tejashwi Yadav to clarify their stand on the statement.
The criticism notwithstanding, Nath has also announced establishment of four garment parks in the state and promised to boost support jobs. In its manifesto, the party had announced a slew of measures to the youth, including Rs 4,000 unemployment allowance per month.
In the 973-point Vachan Patra, Congress had promised several sops to the youth, including closure of Vyapam (MP Professional Examination Board), which was embroiled in admission and recruitment anomalies. Besides, for employment generation, the party had promised to offer Rs 10,000 per month or 25 per cent salary (whichever is less) to youth working with investment ventures up to Rs 50 crore till five years. The party had also announced establishment of a Youths' Commission.
"The announcement of 70 per cent jobs to local youth is a significant step in accordance with pre-poll commitments," head of Berozgar Sena Akshay Hunka told News18. "The chief minister also ordered a probe as we met him over anomalies in Group 4 Assistant Grade 3 exam conducted by Vyapam in the month of July," he added.
As on December 31 last year, there were 23.90 lakh jobless youth listed with employment offices in MP but Hunka claimed that the number was around one crore. According to Berozgar Sena (BS), unemployment has gone up by 53 per cent in the last two years and suicides due to unemployment have surged 20 times between 2005 and 2015.
As against 57 lakh registrations at employment offices, barely 1 per cent have received jobs so far in the last 10 years and the 60,000 vacancies as advertised by the state government appeared only during the election year, according to BS estimates and the organisation deems that MP leads in terms of suicides related to joblessness.
BJP too had wooed the youth in its manifesto through free scooters to meritorious girls, Global Skill Parks, jobs in IT sector, free education to poor students till PhD, entrepreneurship and skill development and Karigar Universities among others.
The Samanya Pichhda Alpsankhyak Kalyan Samaj (SAPAKS) that entered into politics against quota issue also rode on the youth plank, promising free job applications, filling up of all the vacant posts in state government, establishment of student and youths' commission and others.
Get the best of News18 delivered to your inbox - subscribe to News18 Daybreak. Follow News18.com on Twitter, Instagram, Facebook, Telegram, TikTok and on YouTube, and stay in the know with what's happening in the world around you – in real time.
Read full article