After Mayawati's Entry, Owaisi's AIMIM Knocking on Deve Gowda's Door in Karnataka
According to a top JD(S) leader close to Gowda family, Hyderabad MP and AIMIM chief Asaduddin Owaisi has already discussed the issue with JD(S) patriarch HD Deve Gowda in New Delhi.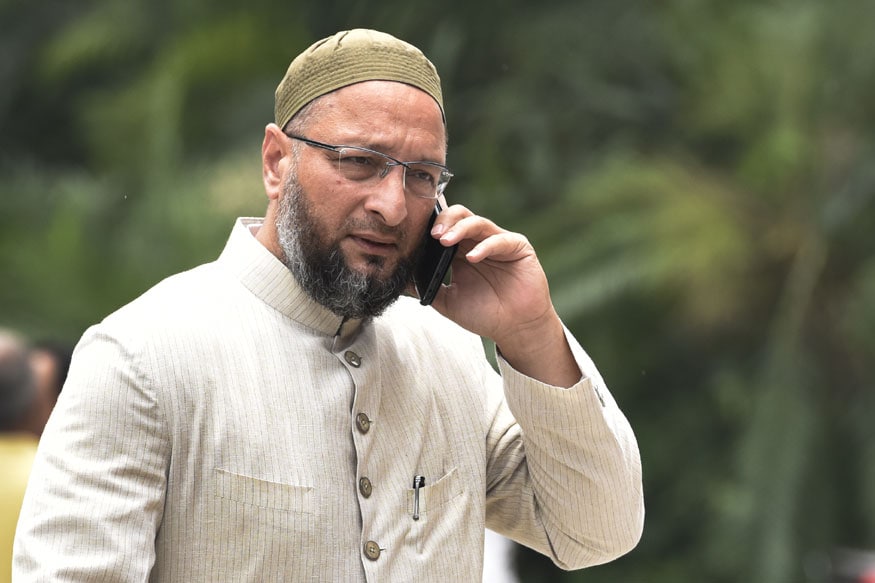 File photo of AIMIM chief Asaduddin Owaisi. (Getty Images)
Bengaluru: After former Prime Minister HD Deve Gowda's Janata Dal (Secular) joined hands with Mayawati's BSP in Karnataka polls, Hyderabad MP Asaduddin Owaisi's Majlis-e-Ittehad-ul Muslimeen (AIMIM) has also expressed interest in joining the bandwagon. According to a top JD(S) leader close to Gowda family, Owaisi has already discussed the issue with JD(S) patriarch in New Delhi.
Speaking to News18 on condition of anonymity he said that firebrand Muslim leader from Hyderabad told Gowda that his party was willing to partner with the JDS in the state to defeat the Congress. "Our leader Deve Gowda seems to be non-committal for the time being. But it is a confirmed news that Owaisi wants to join the JD(S)-led alliance in Karnataka," he said.
The JD(S) has already declared candidates for 126 Assembly seats in the state and given about 20 seats to Mayawati's party. The NCP of Sharad Pawar is also likely to join the alliance and has demanded seven seats from the JDS in Belgaum area.
According to family sources, Gowda is currently weighing the pros and cons of an alliance with the AIMIM which is being seen as a radical Muslim party. One of his close aides said, "Gowda is worried about pros and cons. He knows that Owaisi can eat into a few thousand Muslim votes lessening the chances of Congress in some seats. We may also get a few thousand extra votes in some seats. But the image of AIMIM is not good. It is being seen as a Muslim fundamentalist party. Gowda is worried that an alliance with Owaisi might upset his core Hindu votes. He knows that even the non-BJP Hindus don't like Owaisi brand of communal politics."
He added that some people have advised Gowda to join hands with Owaisi by saying that it will not affect his Hindu votes as only "Hindutva" people dislike Owaisi.
Last month top leaders of the Congress, including Chief Minister Siddaramaiah, made allegations that the BJP has a secret "deal" with the AIMIM chief Asaduddin Owaisi to defeat the Congress.
The Congress had even said that some BJP leaders held a secret meeting with Owaisi asking him to field AIMIM candidates in at least 50 Assembly seats in Muslim majority areas to eat into the Congress vote.
Siddaramaiah had said that Owaisi had agreed to spoil the chances of the Congress. "It is really a matter of concern. Owaisi who calls himself a messiah of the Muslims is actually a BJP agent. He has earlier helped them in UP and Maharashtra. Now he has agreed to help them in Karnataka. We want to expose both the BJP and Owaisi. It proves that they are neither with the Hindus nor with the Muslims. For votes, they can join hands with anyone," Siddaramaiah said.
Karnataka Home Minister R Ramalinga Reddy was even more categorical. Speaking to News18, he had said that the BJP is frustrated and using every trick in the book to divide Congress votes in Karnataka. "The BJP is holding talks even with radical organisations like Popular Front of India (PFI) and its political wing SDPI. They are taking the help of Owaisi, PFI and SDPI to split Muslim votes," he added.
Owaisi's Karnataka dreams are not new. He has been trying to build his party in Hyderabad – Karnataka region comprising Gulbarga, Bidar, Raichur, Yadagiri and Koppal districts which were earlier parts of Nizam's state of Hyderabad. This Kannada speaking region became a part of Karnataka in 1956. It still has a lot cultural affinity towards Hyderabad and geographically closer to it. This region also has a sizeable number of Muslims. After Kannada, Urdu is the second widely spoken language in the region.
The Siddaramaiah government has tried to stop Owaisi's foray into Karnataka for the past three-four years citing law and order problems. Dozens of his scheduled public meetings were cancelled after the police denied him entry on many occasions.
Owaisi has been attacking the Congress government in Karnataka for years calling it an opportunist regime which is exploiting the Muslims for power. He has made it clear that the AIMIM will contest in the upcoming Assembly polls.
MUSLIM VOTES
The rumoured meeting between the BJP and the AIMIM and now with the JDS has led to anxiety in the Congress due to the high percentage of Muslim votes in Karnataka. Even though no authentic figure is available with the government, the Muslim population is said to be around 12-13%. Some Muslim leaders claim that their population is over 17% and they are only next to Dalits in numbers.
The Congress is heavily banking on 13% Muslim votes and 3% Christian votes in the Assembly elections. They call it their base vote. According to Congress strategists, 15% minority votes give the party a clear edge over the BJP in a triangular contest. They argue that Congress can rely on 15% minority votes, at least 12% OBC votes, 10% SC/ST votes and another 10% upper caste votes, which will take their tally well above 40%. If Owaisi fields his candidates even in 20 seats, they fear he will take away 2,000 to 5,000 Muslim votes from the Congress helping the BJP and JD(S) in closely contested seats.
RESTLESS SECOND RUNG MUSLIM LEADERS
In Karnataka Congress, only a few Muslim leaders have been calling shots for years. First line leaders like CK Jaffer Sharief, K Rahman Khan, R Roshan Baig and CM Ibrahim are promoting their own family members denying chances to other Muslim leaders with no dynasty background. These leaders are getting restless and moving towards Owaisi and JD(S) to teach a lesson to the Congress.
A Youth Congress leader from Hubli-Dharwad, who is also an Assembly ticket aspirant, told told on condition of anonymity that people like him are left with no other option but to go with Owaisi or JD(S). He said, "Half a dozen Muslim leaders are controlling the Congress. They don't encourage outsiders. They want their kith and kin to contest in elections at our cost".
Get the best of News18 delivered to your inbox - subscribe to News18 Daybreak. Follow News18.com on Twitter, Instagram, Facebook, Telegram, TikTok and on YouTube, and stay in the know with what's happening in the world around you – in real time.
| Edited by: Bijaya Das
Read full article