Mamata Banerjee, Owaisi Pledge Support for KCR's 'Third Front'; DMK, SP and Shiv Sena in Talks
West Bengal Chief Minister Mamata Banerjee agreed with KCR that there is a necessity for "qualitative change in the country's politics".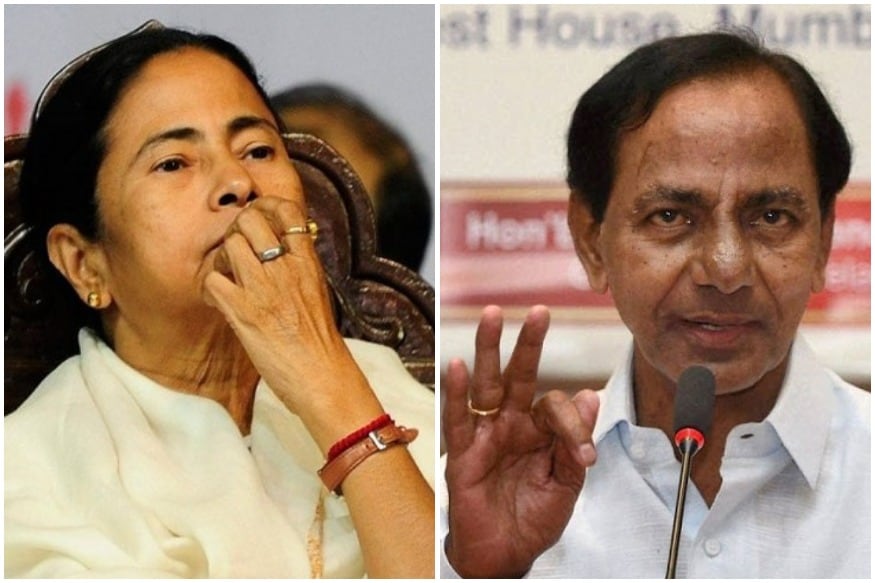 A combination image of West Bengal chief minister Mamata Banerjee with Telangana CM K Chandrashekar Rao.
Hyderabad: Soon after AIMIM's Asaduddin Owaisi welcomed Telangana CM K Chandrashekhar Rao's idea of a 'Third Front', West Bengal CM Mamata Banerjee dialed KCR and pledged complete support.
According to sources, Banerjee agreed with KCR that there is a necessity for "qualitative change in the country's politics".
"Ham aap se ek mat hai. Aap ke saath rahenge (I am in agreement with you. I will be with you)," Mamata Banerjee had reportedly said in her telephonic conversation with KCR.
Owaisi, too, emphasised on the need of an alternative to BJP and Congress. "Though, we opposed him and his ideas initially, we saw that he managed to achieve a separate Telangana state. He has the political sagacity to bring together all regional parties to play a crucial role in the next government formation at the Centre," said Owaisi.
Former Jharkhand Chief Minister Hemanth Soren also called up the Telangana CM and voiced his support. Soren welcomed KCR's decision to play a key role in national politics.
Along with two MPs from Maharashtra, several other prominent people have also expressed their support to the Telangana Rashtra Samithi (TRS) leader on his statement of bringing a qualitative change in national politics.
On Saturday, KCR had said, "There is a serious need to bring change in national politics. Seventy years have passed since Independence and out of those 70 years, 64 years were ruled by either BJP or Congress. Even after 70 years, people are suffering and they don't even have water to drink."
According to sources, TRS is also in talks with Samajwadi Party, DMK and some miffed BJP allies like Shiv Sena to join the alternative front.
Andhra Pradesh chief minister and Telugu Desam Party president N Chandrababu Naidu had previously hinted at forging an electoral alliance with the TRS in Telangana.
During his interaction with Telangana TDP on Wednesday, Naidu said the BJP had unilaterally severed its ties with the TDP in Telangana and Congress had also done injustice to the state. This leaves the option of tying up with the one party that had fought for achieving statehood for Telangana, the TRS.
Not just politicians, people from different parts of Telangana are reaching out to Pragathi Bhavan — KCR's official residence — in support of his statement.
Priests from different temples, representatives of the Brahmin community, mullahs and maulvis from different masjids, representatives of Muslim organizations, Christian religious representatives, Sikh representatives, banjaras, tribals and many others have pledged their support in large numbers.
Several TRS leaders, too, reached Pragathi Bhavan to support KCR. Ministers, MPs, MLAs, MLC s and civic heads also reached Pragathi Bhavan and all those who were here raised the slogans of "Desh ke Netha KCR".
| Edited by: Sanchari Chatterjee
Read full article