Ahead of Amit Shah's Visit, Telangana BJP President Says Party Planning to Contest Hyderabad LS Seat
After breaking alliance with TDP, the BJP has said they will go alone in the elections in Telangana.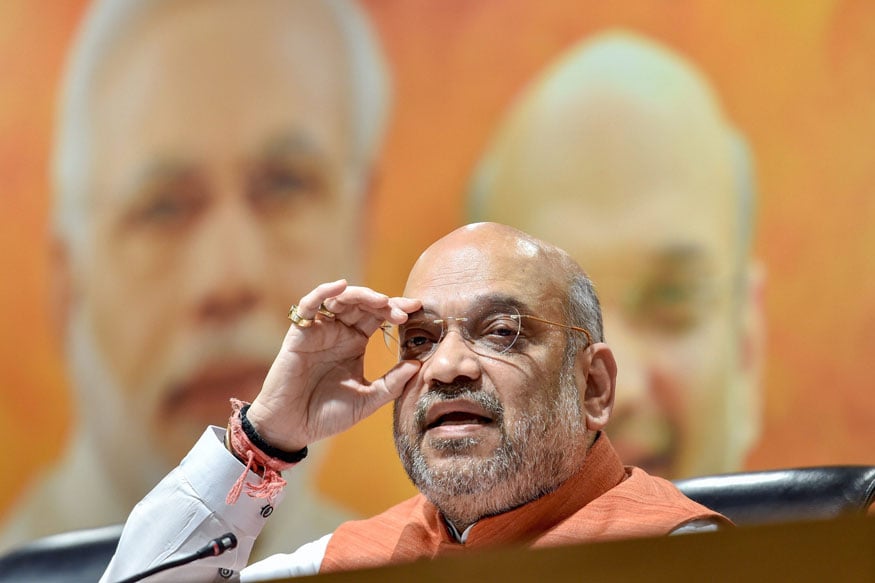 File photo of Amit Shah. (Image: PTI)
Hyderabad: With focus on Telangana ahead of 2019 state and general elections, BJP president Amit Shah will be on a one-day visit to Hyderabad on July 13.

During the visit, Amit Shah will meet senior leaders of BJP in the state, booth level in-charge and Lok Sabha and Assembly committee members and prepare them for the upcoming elections.

Massive arrangements are being made by the party for a grand welcome of Amit Shah in Hyderabad. The state unit has clarified there would not be any new joining or public meeting during Shah's visit.

Speaking to News18, Telangana BJP president, K Laxman, said, "For Telangana, Mission 60+ is the target and for Lok Sabha our target is to get into double digits. There will be internal meetings, where Amit Shah will give us directions on how to strengthen the party at every booth level. We will discuss the strategy on how we can win more Lok Sabha seats and also achieve power in Telangana in 2019 elections."

Interestingly, BJP is also eyeing to win the Hyderabad Lok Sabha seat, from where AIMIM chief Asaduddin Owaisi is a three-time Lok Sabha member. There are 17 Lok Sabha seats in Telangana state.

"We have many people who can face Owaisi in Hyderabad and teach him a lesson. The poor Muslim people are also vexed with performance of AIMIM. They are the root cause for not allowing metro rail in the old city area. They don't want poor people to get benefit of development. On the issue of triple talaq also, PM Modi is the saviour of Muslim women. We are concentrating on Hyderabad seat and we are confident of winning it," said Laxman.

Last month, Hydrabad MP Owaisi challenged PM Modi and Shah to contest from his constituency.

"Come here and contest. I am ready. In fact, I'm saying that Mr. Modi, come and contest from here (Hyderabad) also. If you won't, then, send (Amit) Shah," he said.

After breaking alliance with TDP, the BJP has said they will go alone in the elections in Telangana.

Stepping up the attack against the TRS, Laxman added, "We are confident of winning Telangana. The BJP's 14-day yatra across the state has made a dent into remotest villages. We have brought Modi government's achievement to doorstep of rural people, and highlighted failures and rampant corruption of the ruling TRS. People are wanting a change and the BJP is the only alternative. We will give people clean and corruption free government," Laxman added.



Read full article
Countdown To
Elections Results
To Assembly Elections 2018 Results