Ahead of Trust Vote, Deputy CM Parameshwara Says Five-Year Term For Kumaraswamy Not Final
Kumaraswamy has dismissed reports about his party working out a power sharing formula of heading the government for 30 months each but Parameshwara said the Congress is still weighing options.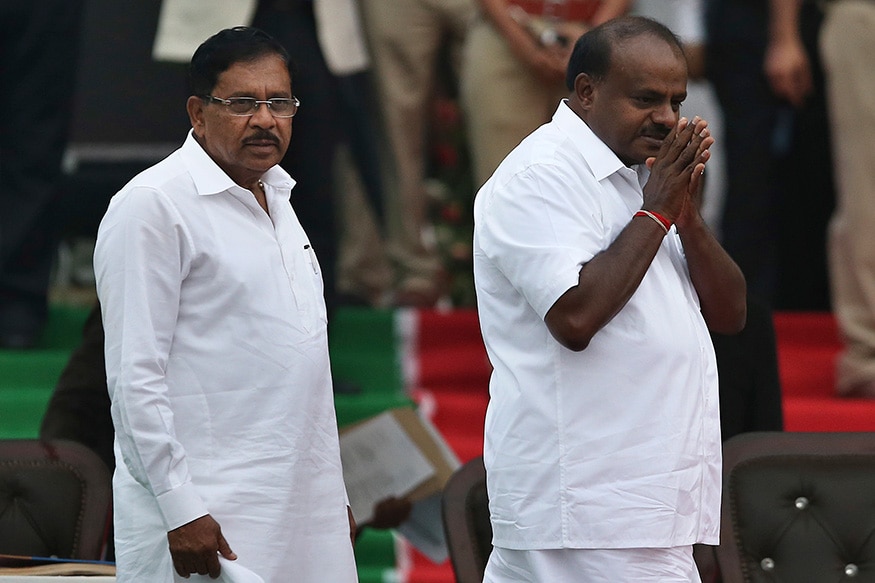 File photo of HD Kumaraswamy and G Parameshwara in Bengaluru. (File image: AP)
Bengaluru: Karnataka Deputy chief minister G Parameshwara on Thursday said that the Congress has not yet taken a decision on HD Kumaraswamy continuing as Chief Minister for a full five-year term.
"We have not yet discussed those modalities," he said in response to a question whether Kumaraswamy will be the CM for five years. When pressed, he said, "....after discussing… looking at the pros and cons (we will decide)."
"We are also yet to decide on what portfolios have to go to them and what should be with us, then five years term- whether they should be or we should also...all those modalities we have still not discussed," the Karnataka Pradesh Congress Committee chief told reporters.
Ahead of his swearing-in, Kumaraswamy had dismissed reports about his party working out a power sharing formula of heading the government for 30 months each, with its coalition partner the Congress, saying "No such talks have taken place."
Responding to a question about several leaders being unhappy over party's choice for the Deputy Chief Minister post and on issues relating to portfolios, Parameshwara said, no one has sought any position from him or Congress president Rahul Gandhi. "I have seen reports about (this) only in the media," he said.
Ruling out any differences between the leaders, he said there was nothing wrong in asking for position. "In Congress party, there are several leaders who are capable of becoming Deputy Chief Minister or Chief Minister....that's the asset of the Congress party."
"It is left to the party high-command to decide on who has to be given what position in this situation when we are in a coalition government," he said.
Asked about senior Congress leader DK Shivakumar being unhappy and holding a separate meeting with a few MLAs, Parameshwara said, "All MLAs are together and we will be successful in the floor test."
"Discussions, group meetings may have happened or not, but above all the fact is that we are united. I can say only this," he added. Reports said Shivakumar, who was also a contender for the deputy chief minister's post, was unhappy with the party leadership.
Shivakumar, who emerged as a key figure in keeping the party MLAs together before the trust vote of BJP's Yeddyurappa government, was reportedly upset over not getting the Deputy CM post.
About his continuation as KPCC president, Parameshwara said he has not heard anything from the high command on the matter, but he might have to opt for one position.
Asked about the demand that Shivakumar be made party chief, Parameshwara said, "It is a happy thing if he becomes president as an experienced politician and leader will lead the party." On whether there will be another Deputy Chief Minister along with him, he said was not aware of it. "I don't have such information, and no such discussions have taken place."
After the floor test Congress and JD(S) leaders along with the Chief Minister would sit together to decide on a coordination committee, Parameshwara said. "At the same time, we will form an empanelled group to formulate a common minimum programme," he said.
Claiming that the party was not defeated in the election as Congress' vote share was more than the BJP, Parameshwara said a committee would formed and it would travel across the state and find reasons for the party's defeat.
He, however, tried to put the blame on EVMs for the party's performance in some areas. "...there are several reasons that are being mentioned, some are even saying that EVMs were manipulated. We will get to know about these things when we go to the spot," he said.
Get the best of News18 delivered to your inbox - subscribe to News18 Daybreak. Follow News18.com on Twitter, Instagram, Facebook, Telegram, TikTok and on YouTube, and stay in the know with what's happening in the world around you – in real time.
Read full article