GET Stock

Quotes


Event Highlights
Tamil Nadu Chief Minister E Palaniswami met Prime Minister Narendra Modi in Delhi after attending the swearing-in ceremony of Venkaiah Naidu as Vice-President. The meeting comes as prospects appear bright of a merger of the two AIAMDK factions with Palanisami camp moving against the appointment of VK Sasikala's nephew TTV Dinakaran as Deputy General Secretary.
Will the EPS and OPS factions reunite anytime soon? Stay tuned for live updates:
Read More
Aug 11, 2017 11:13 am (IST)
RECAP | Finance Minister D Jayakumar, a senior leader in the Amma camp, expressed hope of the unification even happening by August 15. "We are confident. Hope so," was Jayakumar's brief response when media persons sought his reaction on reports that the merger could happen by August 15. However, Dinakaran appeared to put up a brave face even as he stopped short of announcing action against the chief minister for the virtual coup against him. "I have the authority to take action against anybody who is acting against party's interest," he said. "For sure, all steps will be taken for party growth. If the situation warrants, surgeries will be performed..." He hinted action would be taken against those working against the party having forgotten who gave them the posts and joining hands with rivals, he said.
Aug 11, 2017 10:51 am (IST)

RECAP | Significantly, the meeting also said though Sasikala was made general secretary following the death of party supremo and late chief minister Jayalalithaa in December last year, she could not function in the post now in 'view of extraordinary circumstances'. "Though Sasikala's appointment as general secretary was till such time the formal election of a new general secretary as per party laws, she could not function in view of extraordinary circumstances," the resolution said. This was an apparent reference to Sasikala's conviction by the Supreme Court in the disproportionate assets case in February last and her subsequent incarceration in a Bengaluru jail to serve her four-year term.
Aug 11, 2017 10:51 am (IST)
Click to read | EPS-OPS Merger: Curtains Set To Come Down On Sasikala Family
The Palaniswami camp has "relieved" TTV Dinakaran of the responsibilities of deputy general secretary and invalidates his appointments.
Aug 11, 2017 10:50 am (IST)
RECAP | On August 4, Dinakaran had announced the appointment of some new office-bearers, considered his loyalists. Citing this, a resolution by the Palainiswami camp said today's meeting made it clear that such appointments by Dinakaran was not binding on any party cadre and asked them to reject it. "...(the appointments) will not bind any AIADMK cadre to create unnecessary confusion in our party and such appointments are not valid under party law. Cadres are requested to reject them," it said.
Aug 11, 2017 8:58 am (IST)
RECAP | The current move in both camps is being perceived as one step closer to a merger of the warring factions through efforts to ease out Sasikala and Dinakaran. Dinakaran's appointment was under the scrutiny of the Election Commission, the AIADMK (Amma) led by Palaniswami said, wondering how the former could make new appointments at such a juncture. The fresh developments come days after Dhinakaran sought to assert his position in the party by returning to active party work after a two-month hiatus after his arrest in a case related to alleged attempt to bribe the Election Commission officials.
Aug 11, 2017 8:57 am (IST)
RECAP | Reacting to the development, a defiant Dinakaran later told reporters in Thanjavur that the party was still under his control. The Palaniswami camp had in April announced the sidelining of Dinakaran and Sasikala from the party affairs and the state government. The latest turn of events prompted the AIADMK Puratchi Thalaivi Amma headed by former chief minister O Panneerselvam to hold its own consultations and hail the rebellion against Dinakaran as an 'awakening'.
Aug 11, 2017 8:55 am (IST)
RECAP | Opening the doors for a possible merger of the two AIADMK factions, Chief Minister K Palaniswami-led Amma faction on Thursday challenged the authority of its Deputy General Secretary TTV Dhinakaran, a move hailed by the rebel camp as an "awakening." A meeting presided over by Palaniswami said the appointment of Dinakaran as deputy general secretary was against party rules. Dinakaran is nephew of jailed party chief V K Sasikala,
Chaired by the chief minister, originally a loyalist of Sasikala, the meeting is seen as his most categorical assertion in party affairs since taking over the reins in February this year amid reports that the merger of the two factions could take place before August 15.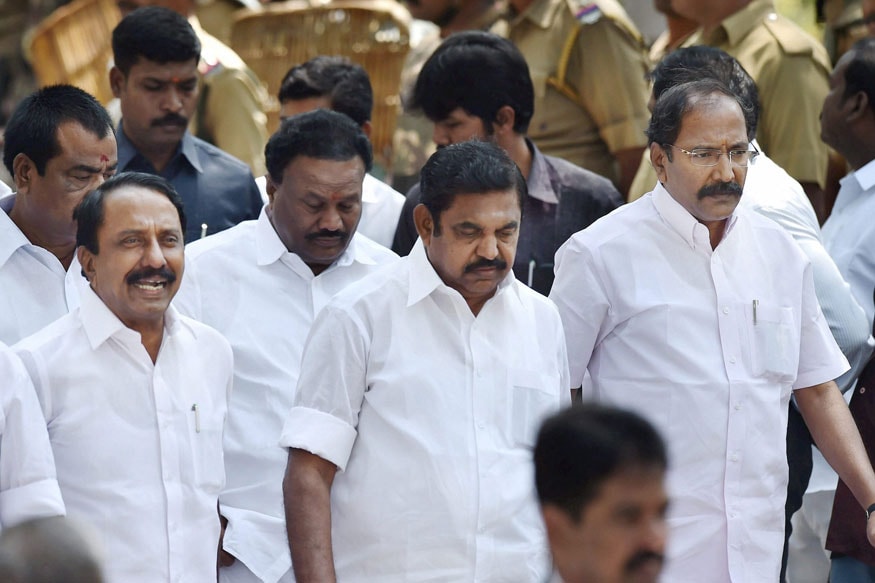 File photot of TN CM Edappadi K Palaniswami (PTI Photo)


18 Jul, 2018 |

Pakistan in Zimbabwe

ZIM
vs
PAK
67/10

25.1 overs

69/1

9.5 overs

Pakistan beat Zimbabwe by 9 wickets

17 Jul, 2018 |

India in England

IND
vs
ENG
256/8

50.0 overs

260/2

44.3 overs

England beat India by 8 wickets

16 Jul, 2018 |

Pakistan in Zimbabwe

ZIM
vs
PAK
194/10

49.2 overs

195/1

36.0 overs

Pakistan beat Zimbabwe by 9 wickets

14 Jul, 2018 |

India in England

ENG
vs
IND
322/7

50.0 overs

236/10

50.0 overs

England beat India by 86 runs

13 Jul, 2018 |

Pakistan in Zimbabwe

PAK
vs
ZIM
308/7

50.0 overs

107/10

35.0 overs

Pakistan beat Zimbabwe by 201 runs