AIADMK Merger: Talks in 'Final, Final, Final' Stage, Says CM Faction; OPS Not so Sure
The AIADMK-Amma faction led by Chief Minister Edappadi Palanisamy (EPS) and the AIADMK-Purathi-Thalaivi-Amma faction led by former Chief Minister O Panneerselvam (OPS) broke ice, after shedding TTV Dinakaran of his responsibilities within the party.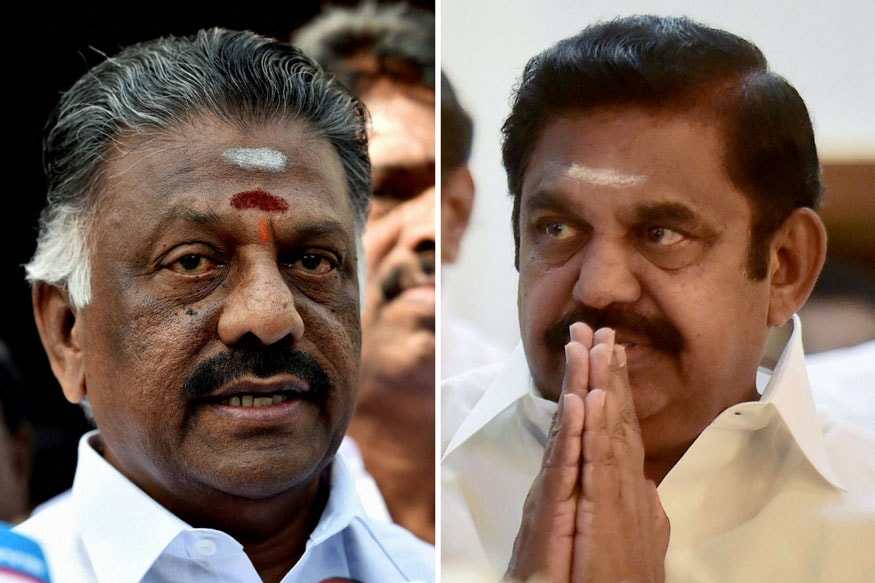 File photo of O Panneerselvam (left) and EK Palaniswami. (PTI)
Chennai:
Merger talks between the two warring factions of the ruling All India Anna Dravida Kazhagam (AIADMK) re-emerged on Thursday.
The AIADMK-Amma faction led by Chief Minister Edappadi Palanisamy (EPS) and the AIADMK-Purathi-Thalaivi-Amma faction led by former Chief Minister O Panneerselvam (OPS) broke ice, after shedding TTV Dinakaran of his responsibilities within the party.
The EPS faction passed a resolution on Thursday that Dinakaran's appointment as Deputy General Secretary of the party is invalidated. The three-page resolution also said all office-bearers appointed by TTV also stand null and void.
It was the first big step to meet the condition laid down by OPS ahead of merger talks – he had said he wanted evidence of J Jayalalithaa's close aide VK Sasikala and her family members being kept out of party affairs. Sasikala, in February, had tried to become CM after asking OPS to step down – a move that failed as she got convicted by the Supreme Court in a 20-year-old corruption case.
With the first major olive branch being extended, EPS' right-hand-man D Jayakumar, the Finance Minister, said, "We are hopeful of a merger before August 15th (Independence Day)."
Others in the EPS faction too said that other merger conditions too were being ironed out; a compromise formula has been worked out where EPS would continue to be CM while OPS would be the party's General Secretary. This, again, would mean that Sasikala is ousted from the post of General Secretary and Jayalalithaa's original trusted cabinet ministers would take over both the party and the government.
So what united them suddenly, with hardly any talk of this over the past one week? One factor that could have propelled them could be the overt signals from two other famous actors, Rajinikanth and Kamal Hasan, that they too would be inclined to enter politics since Tamil Nadu's political scene is in a state of flux.
Both came together a gala event of the Opposition, Dravida Munnetra Kazhagam (DMK). They have met with members of the Bharatiya Janata Party (BJP), held meetings with fan clubs and talked of the state administration suffering because of political uncertainty.
What could also have pushed the two factions towards each other is the central government's influence – raids on ministers have left them scared, they don't want to be seen as a weaker, fighting lot that could be take advantage of again.
"There is a fear psychosis within AIADMK; they will not criticise BJP for anything that happens… Regardless of the fact that TTV has been in jail for 38 days with no case against him, regardless of the fact that so many things have gone against Tamil Nadu -- take the NEET case, the ONGC case – there has been nothing that TN has gained out of the BJP govt at Centre," said political analyst and Associate Editor of Frontline, R K Radhakrishnan.
The two factions are also aware that the High Court is currently hearing a petition on deciding a date for civic polls. This, again, would require a united front.
But OPS aides also say the merger won't happen until their other demands are met: primarily, that of a probe into Jaya's death.
The third cog in this wheel, Dinakaran, lashed out at the merger attempt, saying that no one can remove him from the party as he was appointed by Sasikala. "When others appointed by Sasikala can perform their duties, why can't I?" he asked at a news conference, referring to the fact that EPS too was appointed by Sasikala. He further said that he, as deputy general secretary, has the rights to expel others who work against the party.
"The most important factor is that the government is still stable, there is no threat to it. Edapadi says so, OPS says so, and TTV has minced no words on this too. Even if TTV wanted to try throwing out the CM, he doesn't have the numbers. His highest claim of support is 40 MLAs, while Edappadi who is from Western TN has the backing of 57 MLAs from his region alone, not to talk of the 121 who voted in his favour in the Assembly," Radhakrishnan said.
This kind of simmering flux, then, is the new normal in TN, whether a merger happens actually on ground or not. The MLAs are torn between their loyalty to Sasikala and their desperate to keep the government afloat.
"They want to be nice to Sasikala, they want to abide by what TTV wants, but stability is holding them together. They know that unless 122 of them are not together, the government can't run. The Mannargudi family wants to have some say in the running of this government (in the face of being sidelined) but unless the government remains, the Mannargudi family won't be safe for the next four years -- so they will want this govt to be there in some shape or the other, to keep going for the next four years," says Radhakrishnan.
With many unresolved issues, it's anybody's guess of when the merger that hasn't taken off in six months will actually materialise. EPS and OPS will both be at Venkaiah Naidu's oath-taking in Delhi on Friday. Perhaps the capital air (or the Centre's nudge) will push them into each other's arms.
| Edited by: Ashish Yechury
Read full article
Countdown To
Elections Results
To Assembly Elections 2018 Results