Akalis Made Money Through Illegal Sand Mining, Says Amarinder as He Rues Lack of Sand to Build His Own Home
Assuring that his government was tough on illegal sand mining, the CM said a lot of mines have been shut and cases have been registered against erring ones ever since his government has come to power.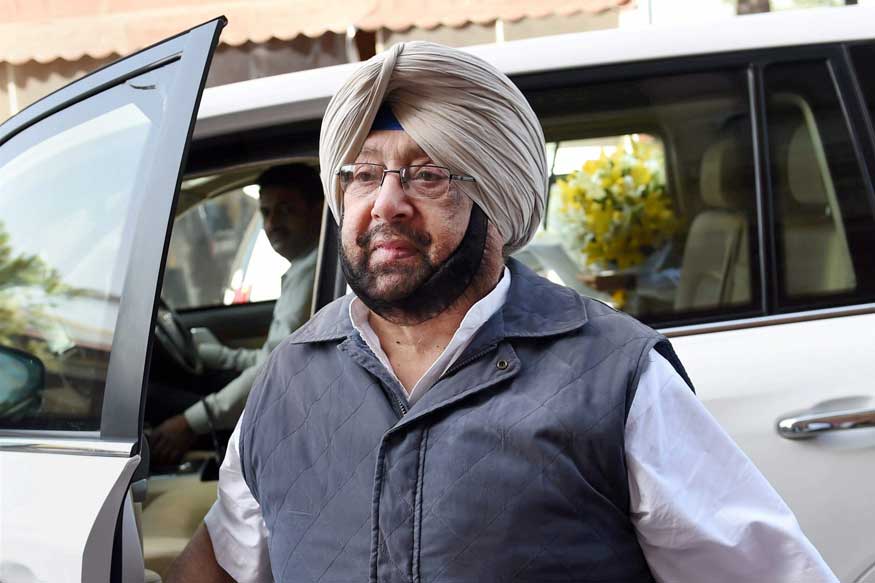 File photo of Punjab Chief Minister Amarinder Singh.
Chandigarh: Other than the drug menace, Punjab is also battling the illegal sand mining. Speaking on the issue, Punjab Chief Minister Capt. Amarinder Singh admitted that even he is having difficulty in finding sand for building his house. Singh blamed the rampant sand mining on the previous regime of Akalis. Recently, two News18 journalists were attacked by the sand mafia in Punjab's Jalalabad while reporting on illegal mining. The CM assured that action in the matter will be swift.
Assuring that his government was tough on illegal sand mining, the CM said a lot of mines have been shut and cases have been registered against erring ones ever since his government has come to power. Unlike Navjot Singh Sidhu, Amarinder Singh did not put much faith in state mining corporation. Singh said it is a failed idea and has not worked even in other states.
Amarinder Singh was in conversation with CNN-News18's Jyoti Kamal. Here are the edited excerpts from the interview.
Q) There is this unfortunate incident that happened when four of our crew members had gone over this place near Jalalabad. This was the Amir Khaas khudd (ravine) and they were trying to find out if any illegal mining was taking place there. And when they went there, they were pelted with stones, bricks.
Capt. Amarinder Singh: Of course a case has been registered, you know about that. But to begin with, let me tell you that no other government has been as tough on illegal mining as we have. I don't know what the last government was doing, but certainly we have clamped down very heavily on it. The problems that have arisen are something else, i.e., the people are using machines. Now according to the law, which is a central law, not ours, you cannot use mechanized digging unless it is more than a certain area — I think it is 50 acres and beyond. And the smaller mines which are there have to do it manually. Trouble in Punjab is that you don't have labour as after NREGA nobody from Bihar, UP and all those area is coming. Now that is illegal. Secondly, they are transgressing their area, they are going beyond what they are allowed to do. Those are two things that have been happening. We have come down heavily to that extent that I am building my house here and I can't find sand. It has come to this point. We have told the Deputy Commissioners to be very strict on it. And also the monsoon has come, so you can't dig from the river, but otherwise digging from the mountains or the other fields away from the rivers, there is no problem on that. In this particular incident in Fazilka, it was a great deal away from the Sutlej.
Q) In fact we had criticism that during the monsoon season you cannot be mining at all.
Capt. Amarinder Singh: Yeah.
Q) The rule says that you cannot be mining on the riverbed. But in areas which are away from the riverbed, you can do mining even during the monsoon.
Capt. Amarinder Singh: This incident is about seven kilometers away from the river. So it's way outside the area. But I don't think that is why your team must have gone, because they know the rules also. I think probably they went to see that machines would be used, whether it was a genuine party or not. It was a genuine party and machines I presume were used, which exactly I don't know, but certainly after this incident in which your boys were injured, a case has been registered and we will come to know all the facts.
Q) This is almost third or fourth such incident where anybody who goes into a mining site eventually gets beaten up, or kind of mauled or actually has to rush away from the area. Why is that happening?
Capt. Amarinder Singh: Well I think you are talking about the last one which happened in Ropar.
Q) Yes.
Capt. Amarinder Singh: Two incidents so far. One is the Ropar one…
Q: There was one where two officials had gone and they were also assaulted.
Capt. Amarinder Singh: Yes, they were. I think they were carrying weapons and probably the guys got scared, but it shouldn't have happened in any case. But this one was a different case. The information that came to us later on was that an Aam Aadmi Party MLA was arm-twisting the miners to take money, and they must have given it once or twice, and third time they must have reacted. But certainly when two forest guards went to check, this incident shouldn't have taken place, but probably as I said, they were carrying weapons and they didn't know whether they were forest guards or dacoits or somebody else or the other. In your case when cameras are around, everyone knows it is a camera crew and there was no reason for this to happen.
Q: Do you believe that across Punjab, in several of these legal mining areas, illegal mining is taking place?
Capt. Amarinder Singh: Yes, depth and width, and that is happening and that is what exactly they are coming down to. The dichotomy is this, one side we are stopping this and on the other side, the prices of sand are soaring. So we have to come to an understanding, a conclusion on this. And we are taking this with the government on India that they must allow us to use machines. Secondly, we are looking at a case in which we have all our mines more than 50 acres. If government of India doesn't agree then there is no other solution than to make it more than 50 acres. Because you want to have enough sand coming to the market. A poor man can't build a house. As I told you, I can't find sand for my house.
Q: But as you said your government has been particularly tough on illegal mining in the state, how do you substantiate that?
Capt. Amarinder Singh: Well, lots of mines have been shut down, cases have been registered against people, and…
Q: Would you say that it was more rampant in the previous regime?
Capt. Amarinder Singh: It was one of their sources of income.
Q: Isn't it a source of income for several of the Congress leaders in the state today?
Capt. Amarinder Singh: No, I don't think any of our MLAs are into sand mining. But maybe there are other people of our party who are into sand mining, but that is taken legally. You auction mines and if anybody, a group of Congressmen get together and bid, or a group of Aam Aadmi Party bids, a group of Akalis bids, they can have it.
Q: In fact, the last time when we were speaking about the drug trade you said that it is a lucrative business and that's why people want to be in it. Similarly, sand is now turning into another lucrative business.
Capt. Amarinder Singh: Not as lucrative as drugs.
Q: So I would say it is not about the Congress, the BJP or the SAD, but since it's lucrative people want to be in the business.
Capt. Amarinder Singh: Well we want to make it less lucrative. We want that common man can buy it. Last year in the month of May, Reta (sand) in the retail market in Ludhiana, was selling more expensive than the same quantity of wheat. Now what do you think about that? That means you have to increase the quantity that you put into the market. Therefore, you got to have more mining. I think there are about 200 more mines that are coming up for auctions once we get the approvals.
Q: But is there a mechanism which you can put in place now to check this illegal mining — like weighing the trucks, trolleys and tippers that are moving out?
Capt. Amarinder Singh: Oh yes, absolutely. Do you know earlier it was a small department working with about eight people! One deputy director, somebody, and the rest. Now how can eight people look after the entire Punjab? Now we have created a full-fledged department which will go around and do this checking in various places. But while they can do the checking they will also have to ensure that the mines that have been given to them are fully productive so that the price in the marked it stabilised.
Q: So are you saying that before it was your government here, there were only eight people to curb this menace?
Capt. Amarinder Singh: That's it. When I came and asked Daka ji, who was looking after sand mining, why aren't your people going around? He said in the office we are three persons and five are in the field. That's it.
Q: In fact, this Amir Khaas khudd where this incident happened, today we had this owner of that particular patch of land show us a letter and say that I have written to the DGP and I have written to several ministers, perhaps you as well, saying that there is an attempt by a Congress leader who wants to take away this land from him, because he feels that it is lucrative now and is trying to pressurise him to give up his land.
Capt. Amarinder Singh: Let me know. I will certainly inquire into it. Who is this Congress leader? I haven't got a letter. If you let me know I will get it checked.
Q: What about this proposal which was given by Navjot Singh Sidhu that a state mining corporation be created.
Capt. Amarinder Singh: That is not a workable solution. I think this has been tried in other states and it hasn't worked. You know wherever government comes in, things don't work. The private industry works all night and all day and the government shuts down at five o'clock and goes home. That's not a way for business to work. So, this is not going to work. Even in the liquor business, there have been statements from ministers that there should be state corporation, but it doesn't work. Delhi had a state corporation, but they had to open up and give it to the private industry. Madras has it. Madras is working on it to some extent. Why? I don't know. I have told our guys to go down and find out how it is working in Madras. But other states have shut down. Himachal had it. Himachal closed down and allowed private industry in.
Q: And as you had said that whether its legal mining or illegal mining, that's not the case in terms of the fact that our team was assaulted and you had in fact spoken with the DGP also to look into the matter and take whatever action that needs to be taken. What were the steps that you asked for?
Capt. Amarinder Singh: Yeah, I told him, I heard this yesterday. It came on the television that's when I told him and they have registered a case on that.
Q: Like you rightly pointed out, it's a fine balancing act that you've got to do in terms of curbing this illegal mining menace and also keep the prices in check. At the end of the day people need sand to build their houses. You are saying that you are having an issue with getting the necessary raw materials. So…
Capt. Amarinder Singh: And we didn't' get it for four days. Then one truck came from somewhere…
Q) So how do we resolve this?
Capt. Amarinder Singh: Now when the new auctions are coming, we will put bigger groups together so that they can use machines freely. And that I think will increase the supply. By that time the monsoons will be over. So I think by November-December, I anticipate that the prices are going to come down.
Q: Your forecast is that there will be regulated legal mining taking place, prices will come down, and there will be a greater supply of sand and other raw materials.
Capt. Amarinder Singh: It is Rs 20000 plus now, I hope to bring it to Rs 6 to 8 thousand. That is what the market has been normally in the past.
| Edited by: Ashutosh Tripathi
Read full article