Akhilesh-Rahul Pact: Friends in Gujarat-Himachal, Rivals in Uttar Pradesh Municipal Polls
Akhilesh Yadav has said that the Gujarat elections would be historic and he would himself go to campaign in Gujarat, to ensure that the BJP is defeated.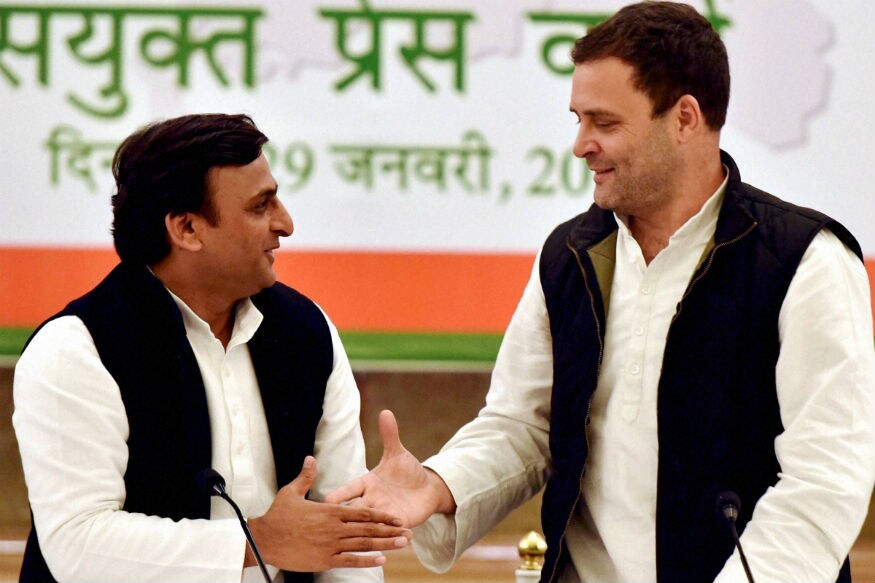 File photo of Samajwadi party chief Akhilesh Yadav and Congress president Rahul Gandhi at an event.
Lucknow: The Samajwadi Party and Congress, the two rival political parties who joined hands for the state elections early this year, has gone back to being the enemies that they were, ahead of the upcoming municipal elections.
Speaking to ETV, Congress State President Raj Babbar said, "We are very much in harmony with the Samajwadi Party, but yes, we will be fighting the civic body elections separately."
Raj Babbar will hold marathon meetings for three consecutive days starting Tuesday, till October 26.
On the other hand, Samajwadi Party National President Akhilesh Yadav also announced that the party will be contesting in five seats in Gujarat and extend support to Congress in the rest of the constituencies.
In Himachal Pradesh, SP is expected to contest 15 seats as of now.
Akhilesh also said that the Gujarat elections would be historic and he would himself go to campaign in Gujarat, to ensure that the BJP is defeated.
The decision to extend support to Congress in 177 seats in Gujarat makes it clear that Akhilesh Yadav and Rahul Gandhi are still on good terms and are supporting each other. However, the Congress is yet to make it clear whether it will field candidates on the five seats already claimed by SP.
However, situation is not the same in Himachal Pradesh, as both the parties have decided to field their candidates in the assembly elections.
As of now, it is expected that Samajwadi Party would field candidates in 15 seats in the Congress-ruled state.
The Virbhadra Singh-led Congress is meanwhile busy in trying to retain its majority in the 68-seat Himachal Assembly. The main fight, however, is between Congress and Bharatiya Janata Party.
Speaking to News18, Samajwadi Party MLC and Akhilesh's close-aide Sunil Singh Sajan said, "The bond between both the parties is intact and there is no question of parting ways as of now. We will be fielding five candidates in Gujarat and around 15 in Himachal Pradesh and will definitely support Congress in the rest. The Samajwadi Party, however, will contest the civic elections in Uttar Pradesh on its own."
While former Chief Minister Akhilesh Yadav might have said that the friendship between him and Congress Vice-President Rahul Gandhi will last forever, the current political situation is sending mixed signals as both parties will be contesting the UP civic elections separately.
Taking a jibe at the SP-Congress coalition, BJP spokesperson Shalabh Mani Tripathi said, "The pact between Samajwadi Party and Congress was nothing more than an opportunist alliance. The people have rejected it and now it is becoming difficult for Akhilesh Yadav to go ahead with this coalition. Be it Himachal Pradesh or Gujarat, the Samajwadi Party stands nowhere. Supporting each other in Gujarat and Himachal and then fight against each other in Uttar Pradesh is a desperate attempt by SP for survival."
Get the best of News18 delivered to your inbox - subscribe to News18 Daybreak. Follow News18.com on Twitter, Instagram, Facebook, Telegram, TikTok and on YouTube, and stay in the know with what's happening in the world around you – in real time.
| Edited by: Sanchari Chatterjee
Read full article