Akhilesh Visits Mayawati After Handing BJP a Shock Defeat; Buries Ghost of 25-Year-Old Guest House Case
On Wednesday, after defeating the BJP in two Lok Sabha seats that were earlier held by the ruling party, Akhilesh Yadav thanked Mayawati for supporting his candidate and not fielding one of her own.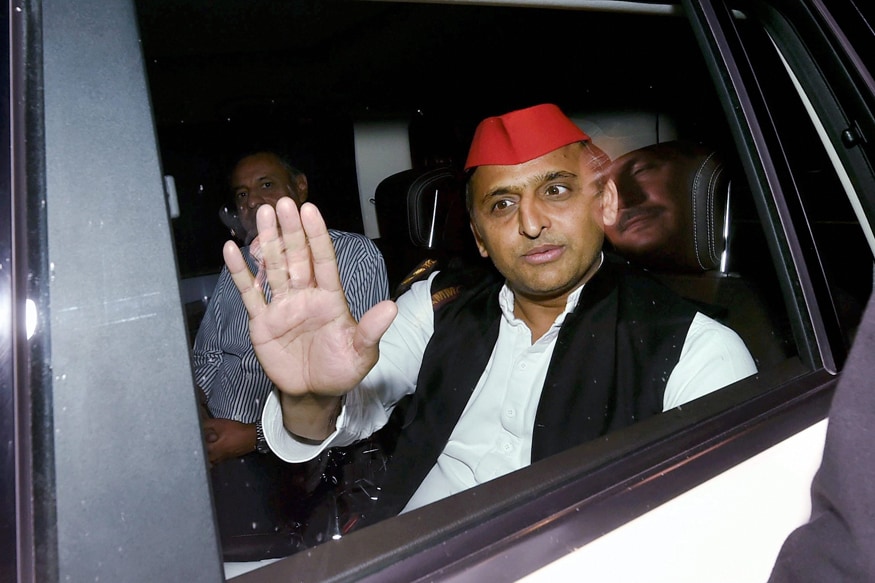 Samajwadi Party president Akhilesh Yadav leaves after meeting BSP president Mayawati at her residence in Lucknow on Wednesday. (PTI photo)
Lucknow:
It was a short 5-minute drive from Vikramaditya Marg to Mall Avenue in downtown Lucknow. But that short journey by SP President Akhilesh Yadav to BSP chief Mayawati's residence buried the ghost of the infamous VVIP case, which broke the first SP-BSP alliance stitched together by Kanshi Ram and Mulayam Singh Yadav in 1993.
It is another matter that 25 years ago, Akhilesh Yadav was in school when Samajwadi Party MLAs surrounded a VVIP guest house in central Lucknow, where Mayawati and Bahujan Samaj Party MLAs were holed up after BSP withdrew its support from the MSY-led coalition government.
A BJP MLA Brahm Dutt Dwivedi from Farrukhabad came to Mayawati's rescue and around midnight the BSP leader became the Uttar Pradesh chief minister for the first time with BJP's support.
That was the beginning of a fierce rivalry which lasted more than two decades, but in politics, 25 years is a long time. A very long time indeed.
On Wednesday, after handing a shock defeat to the ruling BJP by defeating its candidates in two Lok Sabha seats that were earlier held by the party, Akhilesh Yadav thanked Mayawati for supporting his candidate and not fielding one of her own.
"I want to thank all the people, especially Mayawati Ji, NCP, Nishad Party, Peace Party, RLD and other organisations who supported us in our fight against communal forces," he said, adding "People are angry everywhere and they have replied to BJP's hollow promises like loan waiver, employment and GST."
The Samajwadi Party clinched the Gorakhpur and Phulpur Lok Sabha seats on Wednesday, which fell vacant after CM Yogi Adityanath and Deputy CM Keshav Prasad Maurya moved to the Legislative Council. While BSP backed the SP with the sole aim of defeating the ruling party, Wednesday's result proved to be a major embarrassment for BJP, particularly CM Yogi Adityanath, whose home turf Gorakhpur has traditionally been a BJP bastion.
Speaking to the media on Wednesday evening, SP president and former CM Akhilesh Yadav thanked the people of both the constituencies and especially BSP chief Mayawati for her support.
"The CM has called us names like 'saanp aur chachundar', they even said that our party follows the ideology of Aurangzeb. They can stoop to any level just to secure a win."
"The Dalits, farmers and common man voted for us in lakhs on both the seats. Poltical messages always come out of elections in Uttar Pradesh and when one of it is the constituency of the chief minister who was undefeated for years, and the other is of the deputy chief minister, then it becomes all the more important. If the people of these areas have so much anger, think what will happen in elections across the country," the former UP chief minister said.
Election Commission officials said SP's Nagendra Singh Patel defeated BJP's Kashlendra Singh Patel in Phulpur by over 59,000 votes. Pravin Nishad of the Samajwadi Party won by over 21,961 votes in Gorakhpur, which Adityanath had won in five consecutive elections. Nishad defeated BJP candidate Upendra Dutt Shukla.
Accepting the verdict and conceding defeat, Adityanath later said, "We failed to understand the significance of the SP-BSP deal and one of the reasons behind that failure was our over confidence."
"This deal between BSP and SP was forged to put hurdles in the way of the country's development. We will soon come up with our strategy to defeat it," added Adityanath.
Gorakhpur has long been considered a BJP stronghold with Adityanath representing the seat in the Lok Sabha five times. Before him, his mentor Yogi Avaidyanath was the MP from the seat.
Phulpur, once represented by the country's first prime minister Jawaharlal Nehru, witnessed a saffron surge in the 2014 Lok Sabha election when Keshav Prasad Maurya won the seat.
| Edited by: Sanchari Chatterjee
Read full article
Countdown To
Elections Results
To Assembly Elections 2018 Results