Amit Shah's Remarks Equating Opposition With Animals Disrespectful: Rahul Gandhi
Gandhi said the saffron party chief and BJP-RSS considered that there were only two "non-animals" in the country-- Shah and Modi- and that dalits, tribals, minorities and even his own party leaders "worthless".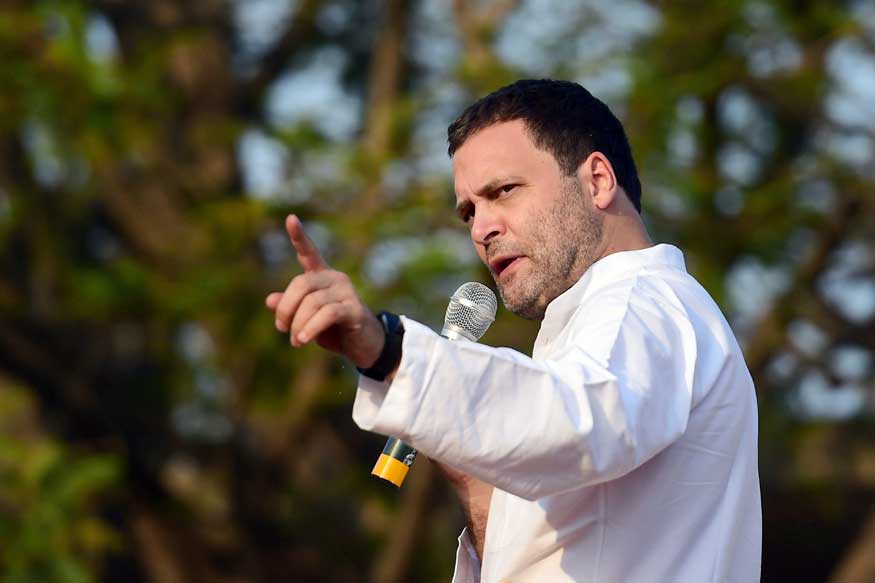 Kolar: AICC President Rahul Gandhi addresses his supporters, during an election campaign ahead of Karnataka Assembly elections in Kolar on Saturday. (PTI Photo by Shailendra Bhojak)
Kolar Gold Fields (Karnataka):
Congress president Rahul Gandhi on Saturday slammed BJP chief Amit Shah's remarks equating opposition parties with animals, saying that the "disrespectful statement" reflected his "mentality" and tore into the Modi rule, alleging there is a collapse of the government.
Gandhi said the saffron party chief and BJP-RSS considered that there were only two "non-animals" in the country-- Shah and Modi- and that dalits, tribals, minorities and even his own party leaders "worthless".
The Congress chief made an acerbic attack on Modi, saying, "there is a basic loss of control and you can see that, you can see that in Modi's demeanour, you can see it in his expression, you can see it in his speeches." In an all-around attack on the Modi rule, he alleged there was a collapse in government due to complete financial mismanagement, demonetization and implosion of the financial system.
"Nirav Modi is an example, Vijay Mallya, Lalit Modi, Piyush Goyal.... they are all examples," Gandhi said. On the fifth round of his visit to poll-bound Karnataka, Gandhi addressed rallies and roadside meetings in Kolar and Chikkaballapur districts and spoke to reporters.
"Calling the entire opposition animals...see according to Amit Shah and the basic vision of the BJP RSS - there are only two non-animals in this country. There is Mr Narendra Modi and there is Mr Amit Shah," Gandhi told reporters here. "Everybody else as far as they are concerned are animals. That's fine, that is the way they look at the world. It is a disrespectful statement, but we don't take what Mr Amit Shah says with too much seriousness," Gandhi said.
Taking a swipe at Shah, the Congress chief said it was the mentality that there were only two or three people in this country "who are worth anything, who understand everything and everybody else is a worthless person".
"It's not only Dalits, it's tribals, it's minorities. It doesn't stop there. It's Mr Advani, Mr Manohar Joshi, even Mr Gadkari, it's everybody," he said. "The thing is that the BJP people internally don't have guts to say it to you. They say it to us," Gandhi said.
He said "the fact of the matter is between Mr Amit Shah and Mr Modi, they are convinced there are only two human beings in this country. That's all, that's the reality." At a rally in Mumbai to mark BJP's foundation day on Friday, Shah had equated opposition parties to 'snakes' and mongoose' and 'dogs' and 'cats', who are seeking to unite despite their inherent differences to take on BJP in next year's Lok Sabha polls.
At the rally, Shah said that "the countdown for 2019 (polls) has begun. Attempts are being made for opposition unity. When huge floods occur, everything is washed away. Only a 'vatvriksha (banyan tree) survives and snakes, mongoose, dogs, cats and other animals climb to save themselves from the rising waters." Shah later said what he meant was political parties having no ideological similarities were coming together out of fear of Modi.
Continuing his attack, Gandhi said that what was happening to Dalits across the country was 'disgusting'. "Its horrible and our Prime Minister has nothing to say. He is under the impression that respecting Dalits is about going and doing namaskar in front of Ambedkar ji's statue. You destroy everything that Mr Ambedkar stood for, you destroy dalits, you allow them to be killed, murdered and then you say I'm doing namaste in front of Ambedkarji's statue. It shows the mindset."
Charging that there was "complete mismanagement" of foreign policy, he said while China was sitting in Doklam," the Prime Minister sits with the Chinese President on a Jhula (swing) and China enters Doklam, nothing to be said."
One could see in Amit Shah's 'confusion' and the anger he was coming out with - "all people are animals, except myself. It was a demonstration of the complete fracture in the system, Gandhi said. On the Parliament logjam, he said "it is the same idea.
Look, Nirav Modi and Mahul Choksi have a relationship with the Prime Minister. They have taken Rs 30,000 crore and run off."
Gandhi said for the first time, allies of the government were blocking Parliament "to protect the government and Mr Modi. He said the Prime Minister 'doesn't have the guts' to come before the opposition in Parliament and let them speak "because we will tear his government to shreds."
Speaking at a Congress rally in KGF, Gandhi accused BJP leaders of insulting Dalits and adivasis wherever they go. Citing an incident, he claimed Karnataka BJP leaders ate food brought from restaurants during their visit to a Dalit's house.
Alleging that BJP leaders hate Dalits, he said they fold their hands in front of Ambedkar on the one hand and on the other, try to destroy whatever he said or did. "They insult Dalit and Ambedkar daily," he said and dared BJP to even touch the constitution, saying if they did so, then they would see what the Congress party would do. BJP leaders are scared. You might have seen Modi's face, he is in a bad mood these days, there is tension, there is fear."
Gandhi said Modi in his speech on Friday to BJP workers said that lies are being spread. The fact was it was BJP which spreads lies every day "spreading lies is their foundation." Stating that Amit Shah during a speech in Maharashtra had called Karnataka the number one state, he said it was the first time he had seen the BJP President campaigning for Congress.
"He is also in tension, he is a murder accused, and he is in a state of fear. This is the difference between BJP and Congress. Their president is a murder accused, but no one says anything because everyone understands that BJP only needs power, they don't have anything to do with truth and justice," he said.
| Edited by: Tarun Bhardwaj
Read full article
Countdown To
Elections Results
To Assembly Elections 2018 Results