Amma, Akka, Anna bonhomie in Rajya Sabha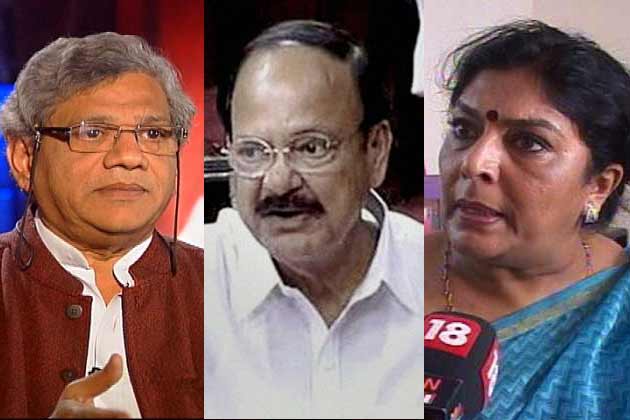 New Delhi: Amid sharp exchanges between opposition and treasury benches over the molestation and killing of a young girl in Moga in Punjab, Rajya Sabha on Tuesday witnessed some unusual bonhomie with members addressing each other as Amma (mother), Akka (sister) and Anna (elder brother).
After Congress raised the issue of the shocking incident in Punjab, Parliamentary Affairs Minister Venkaiah Naidu said the opposition was making political points and contended that members from the state also should be allowed to speak.
Renuka Chowdhury of Congress was not allowing Naidu to speak and told the Chair, "Was he listening to us, Sir?"
To this, Naidu said, "We were listening to you, Amma".
Chowdhury, however, retorted saying, "Amma is that side, Sir. I am Akka."
Naidu then asked if Deputy Chairman PJ Kurien knew the difference between 'Amma' and 'Akka', saying while the former meant mother, the latter is sister.
"But there is another connotation. When we have some love and affection for somebody, we call 'Amma'. I call my grand daughter 'Amma'. I have a grand daughter also...because it is an affectionate word," said Naidu, who hails from Andhra Pradesh.
"So, I have affection towards Renukaji", he added.
To this, Kurien said, "It is affection and respect both".
Sitaram Yechury of CPI-M, while pressing for a discussion on the issue, then said, "like he (Naidu) has called her (Chowdhury)'amma' and explained the difference between 'amma' and 'akka', we are calling him 'anna', which means elder brother. The elder brother has to listen when we are saying this."
Get the best of News18 delivered to your inbox - subscribe to News18 Daybreak. Follow News18.com on Twitter, Instagram, Facebook, Telegram, TikTok and on YouTube, and stay in the know with what's happening in the world around you – in real time.
Read full article