GET Stock

Quotes


ANALYSIS | Can a Resurgent Brand Rahul Gandhi Dent Superbrand Narendra Modi's Popularity?
With Rahul set to don the mantle as the GenNext Gandhi and continue his family's legacy with dynasty politics, it is time to reflect upon what 'Brand Rahul' brings to the table that is currently dominated by 'Brand Narendra Modi'.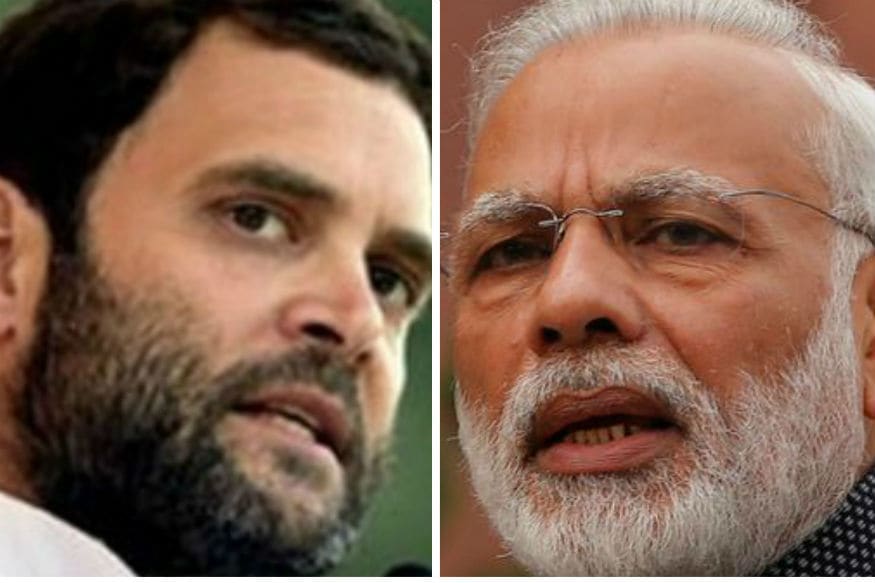 A file photo of Congress vice-president Rahul Gandhi and Prime Minister Narendra Modi.
It has been 13 years since the Congress's heir-apparent Rahul Gandhi formally joined politics. This number in itself is not significant going by the hurly-burly of Indian politics.
It is, though, significant for Rahul Gandhi, who is more equal than others in the field, thanks to his lineage and pedigree. Unlike many others in this profession, he came from a family – the Gandhis – which is practically a blue-chip stock, if there was one equivalent to politics, in India.
With Rahul set to don the mantle as the GenNext Gandhi and continue his family's legacy with dynasty politics, it is time to reflect upon what 'Brand Rahul' brings to the table that is currently dominated by 'Brand Narendra Modi'.
To be clear, Rahul has seen more failures than successes since he took the political plunge. Congress's recent successes can all be attributed to his mother, Sonia, who emerged as an astute politician from being a reluctant entrant over two decades ago.
Her hesitant foray into politics was triggered by the clamour of Congress sycophants, who wanted to see the back of the then party chief Sitaram Kesri.
On the contrary, Rahul has presided over humiliating losses in Uttar Pradesh, Haryana, Maharashtra, Rajasthan elections and its all-time low tally in 2014 parliamentary polls, when the Congress was reduced to only 44 seats in the Lok Sabha.
From being taunted as 'Pappu' and 'Yuvraj', Rahul has received little mercy from his vocal critics. Some of this criticism is perhaps misplaced.
But Rahul's imminent elevation as the Congress chief has re-ignited the Brand Rahul vs Brand Modi debate.
Can these two brands co-exist in the fiercely competitive Indian political landscape? Especially when both of them are claimants for the coveted prime minister's chair?
"Why two? I believe many more can vie for the PM's chair," feels Harish Bijoor, brand guru and founder, Harish Bijoor Consults Inc. "But with very different imageries that cater to the different needs of people."
Bijoor puts his assertions in perspective. According to him, political personalities are no different than consumer non-durables such as detergent and milk. "Different brands can co-exist with different offerings that satiate the needs of different sets of consumer expectations."
Professor Jaishri Jethwaney of the Institute for Studies in Industrial Development is at odds with Bijoor. "Many brands", she says, "can co-exist, but only one can become as a super brand. The 2014 election proved in good measure that a virtual outsider was catapulted to the top job and emerged as an invincible brand in NaMo".
But, how does Brand Rahul measure up? Will the electorate hand over the reins of India to a driver whose skills remain untested?
Rahul has very little experience in governance compared to Modi. But Jethwaney wishes away such concerns. "It has never been an issue with the electorate. The anxiety of the electorate on real and perceived issues will contribute positively for Rahul provided he can ride a wave or the "Big Mo" as it is called in the US elections for 2019."
Another key problem with Rahul, experts believe, is his lack of consistency. Has his on-and-off approach dented his brand?
Bijoor feels that the inconsistency has to be recalibrated by none other than the Congress scion himself. "Unfortunately, politics is a 24x7 job. The political race is tough and unforgiving. You need to run faster than your competition."
He gives example of Rahul's political bete noire Modi. "Mr. Narendra Modi has set a punishing pace. It is certainly a tough act to follow, but there is no other option for a contender.
"In the political space, a crisis doesn't happen after consulting on a convenient date with all concerned. Being switched on is an imperative."
However, all's not lost for Brand Rahul, feels Jethwaney. "He seems to be working harder and displaying a better grasp over complex issues. His speeches have vastly improved in both form and content," she explains in light of Rahul's aggressive ongoing Gujarat campaign.
"If he can draw voters' attention to issues and cobble together new social coalitions in Gujarat, it may throw up an interesting result."
Recently, when questioned about the growing criticism against "dynastic succession", Rahul candidly accepted it as a "problem" but added that is the way "most of the country runs". He cited examples of Akhilesh Yadav, MK Stalin and even Abhishek Bachchan to bolster his argument.
But Bijoor doesn't see dynasty as a millstone around Rahul's neck. "It is part of his lineage. This is a yo-yo space. There are times when dynasty is a positive, and times when it is a negative. The pendulum keeps swinging. At times, a millstone can become an amulet!" he says.
Jethwaney concurs. "The opposition does sporadically make it an issue, but with little tangible impact," she adds.
As far as Rahul's renewed vigour and zest goes, some political pundits question its timing, arguing that there are no visible signs of the Modi-wave ebbing any time soon.
"Yes, to some extent, the timing could be a factor," says Bijoor. "Modi may be the darling of masses, but there is no right or wrong time," he reasons. "You just need to make the best of the situation at hand."
Jethwaney adds, "There is nothing permanent about public opinion and perception, which are often based upon hard-nosed common sense and self-interests."
At a time when the median age for marriage for Indian men is around 23 years, Rahul is still a bachelor at 47. In a conservative country like India, where the nuptial bond is perceived as a sign of taking life seriously, is his single status hurting his image?
Bijoor disagrees. "Not anymore," he says. "Being a bachelor today is a positive attribute. It is seen as a sign of commitment. Society has changed and people think differently nowadays."
Of late, the country is seeing Rahul's wittier facet of his personality, which is yielding good traction on the social media.
It's a carefully crafted move by Rahul's social media team. But will it help him get the top job?
"Tweets don't make a political leader," argues Bijoor. "Only work that touches people's lives does."
Bijoor cites two reasons in support of his argument.
"First, the number of people active on social media is negligible and niche. Second, you may win likes and re-tweets, but you may still not win an election."
He adds, "Getting the voter to vote for you is never an easy task. The tweet is a fantasy. The vote is a stark reality that needs to be earned through solid hard work at the grass-root level."
But will repackaging of Rahul on Twitter make an iota of difference in a country where a major chunk of population is offline?
"Social media image will contribute to only 5%," says Bijoor. "The real image needs to be earned offline. In the real space that is India. In the real space that you and I live in," he says.
However, Jethwaney sees an opportunity for Rahul in his virtual outreach. "Youth comprises a major vote bank and in today's context one can engage with the youth only through social media," she says. "But this, of course, has to be complemented with grassroots media and interpersonal communication to connect with the teeming millions."
Eyebrows were raised recently after the Congress scion's temple visits during the ongoing Gujarat poll campaign.
Is Rahul playing the soft-Hindutva card to corner the saffron camp? And will such stopovers prove worthwhile for the Grand Old Party and particularly for his image?
"We are a religious nation and that's exactly why we have a whole host of politicians making a song and dance of visiting religious places," reasons Bijoor.
He further expounds on his argument. "A politician persona is the sum of several sets of images. It only has his private image but also his religious, social, cultural and several other facets. Crafting them together is a challenging skill set. Temple visits are only a small part of it."
And why just single out Rahul? "Modi also visited the Swaminarayan Temple in Ahmedabad to appease Patidars amid Hardik Patel's shenanigans," reasons Jethwaney. "These frequents visits to temples must be a part of his outreach to a disparate set of electorate," she feels. "Besides, it may also create a soft corner among women voters."
Of late, people are also noticing a sea change in Rahul's personality. He has become more approachable, and appears to be speaking from his heart.
But will this alter his brand perception?
"This change is already palpable in Rahul's gestures", observes Jethwaney. "Unlike in the past, he looks more confident," she says, adding, "he doesn't need to consult paper jottings anymore."
"But it is a collective effort", Jethwaney says. "Look, how his spin doctors are now quick to supply him with better one-liners to hit back at his adversaries. Like Modi's pet 'Good and Simple Tax' was spun into 'Gabbar Singh Tax'. Such quick and quirky messaging seems to resonate more with voters, as it creates an imagery."
Is it possible to resurrect an underrated political brand such as Rahul?
"Why not?" says Bijoor. "Rahul's image was synonymous with incompetence in the past and his image has seen a complete re-crafting. Rahul is now seen to be more combative, measured, equipped with the right set of buzzwords and potent one-liners. And he is certainly more sure-footed than ever before."
Bijoor, though, offers a caveat. "A mere image does not win an election. A positive image is a hygiene factor in Indian politics. Nothing more. Nothing less," he says.
Jethwaney buttresses Bijoor's point by citing Rahul's grandmother and former prime minister the late Indira Gandhi's example. "Indira Gandhi who was called a dumb doll (gungi gudia) was also called Durga within a span of few years."
And why go that far into history? Jethwaney asks, while illustrating the example of Modi. "Even Modi in the beginning didn't have many takers as a PM candidate within his own party. But as he gradually gained popularity, a massive upsurge in his acceptance, the BJP saw a winner in him and backed him to the hilt."
Image guru Dilip Cherian said, "Administrative experience is a double-edged sword. On the one hand it prepares a person for political office and on the other it makes him a part of the establishment. Sometimes an outlier has a distinct advantage. Such an outlier was Rajiv Gandhi."
When asked if Rahul is struggling to overcome poor branding, Cherian said, "A brand has two components: features and sentiments. In my experience the brand that connects emotionally with its users wins. Rahul needs to make that emotional connection with his electorate. He has to figure out the right mix between appeals to reason and appeals to emotion. It's commonplace in marketing that a dark horse has its own advantages. But the tag of being brand No. 2 is hard to shake off!"
Also Watch
| Edited by: Aditya Nair
Read full article