ANALYSIS | Cong's Vikas Mascot To BJP's Hindutva Poster boy: The Evolution of Himanta Biswa Sarma
From 'Pidi Gandhi' to 'Cancer is Karma', fiery tweets from the erstwhile Tarun Gogoi loyalist Himanta Biswa Sarma have been either hailed or endorsed with conspicuous silence by the BJP.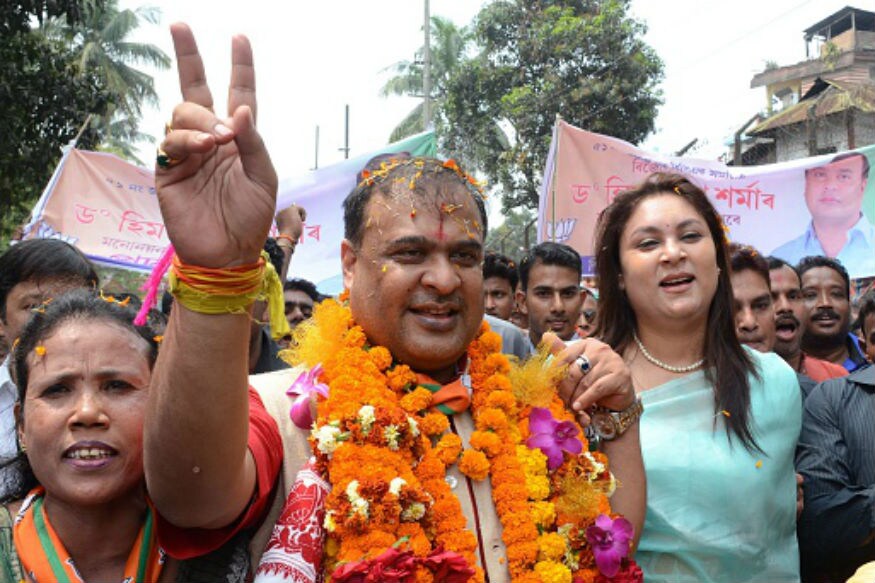 File image of Himanta Biswa Sarma. (Image: Getty Images)
New Delhi:
He orchestrated the Assam conquest for BJP, but now it seems that stage is not big enough for Himanta Biswa Sarma.
From 'Pidi Gandhi' to 'Cancer is Karma', fiery tweets from the erstwhile Tarun Gogoi loyalist have been either hailed or endorsed with conspicuous silence by the BJP.
The Congress, all this while, has poured scorn on someone who was not long back a prodigal son.
To decode this change in stripes, one must go back to the time he abandoned a 15-year incumbent Congress for greener (or saffron) pastures of the BJP.
Usually seen in front of massive photos of Sonia Gandhi and Rahul Gandhi at the Congress headquarters on GS road, Sarma's metamorphosis from a family-loyalist to parivaar-pracharak took place in a very short time span.
On May 19, 2016, after BJP's unprecedented sweep of Assam, he emerged triumphantly smeared with saffron gulal, flanking Ram Madhav and Sarbananda Sonowal.
When asked, what next? And he roared back, 'Congress-mukt Bharat'.
With this win he emerged as the 'go-to' man for the BJP in Assam, and opened-up the Northeast for a saffron surge.
Over the last year and a half, he has consolidated his position within the party, but simultaneously has been setting the stage for a larger role. Social media has been his catapult to the national political narrative. With lightening speed and scathing taunts, Sarma has not shied away from taking on his former mentors. From 'Pidi Rahul' to 'Privileged Chidambaram' no one was spared the wrath of a man on mission. The audience of course was outside Assam, or more specifically in Luteyn's Delhi.
But his 'Cancer is Karma' remark is a departure from political wrangling to Hindutva assertion. Congress was quick to call him a turncoat and said it was a result of him changing the party. Left and liberals joined in the outrage calling it 'appalling and insensitive', especially since being the health minister, Sarma seemed to be challenging medical science. But Sarma refused to relent. Putting a saffron twist, he defiantly claimed karma was part of Hindu philosophy, and he would rather resign than refute it.
Interestingly, earlier this year, Sarma drafted a population policy, which seemed to be a leaf from the pages of an RSS resolution. In 2015, senior RSS leader Dr Krishna Gopal at the RSS National Executive said, "If religion prevents one from opting for family planning norms, we must go by the nationalist spirit and formulate a policy for it." Two years later, Sarma's draft policy seeks to bar people with more than two children from public jobs. Efficiently controlling population and, many alleged, keeping Muslims away from government jobs.
BJP's Assam win in 2019 was more than consolidation of a right-wing party trying to expand its footprints to the remote corners of the country. It was a vote for to plug the porous borders and stem illegal migration from Bangladesh. Bangladeshis and not Hindutva was the cornerstone of BJP's manifesto too.
In Guwahati, the grapevine has it that he is playing to the RSS gallery for a larger national role. The man hailed for his efficiency and vikas, today postures as a Hindutva poster boy. Having conquered the state, is he angling for a role at the Centre? After his tremendous success as BJP's North-east strategist, is 'Karma Sarma' now headed to Delhi?
| Edited by: Ashish Yechury
Read full article
Countdown To
Elections Results
To Assembly Elections 2018 Results