Ansari takes oath of office, glitch at ceremony
Official refers the new Vice President as the President.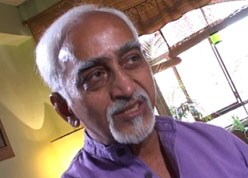 Official refers the new Vice President as the President.
New Delhi: Mohammad Hamid Ansari, a former diplomat, was on Saturday sworn in as India's new Vice President in a simple ceremony at the Rashtrapati Bhavan.
Ansari, 70 was administered the oath of office by President Pratibha Patil. There was a small mistake at the ceremony when Home Secretary Madhukar Gupta, while reading out an Election Commission warrant, addressed Ansari as President.
Gupta was reading out the warrant to formally announce Ansari's election as the 13th Vice President.
Prime Minister Manmohan Singh, Lok Sabha Speaker Somnath Chatterjee, UPA chief Sonia Gandhi, Leader of Opposition L K Advani, CPI(M) leader Sitaram Yechury and other top leaders attended the function.
Ansari will assume office as the Chairman of the Rajya Sabha on Monday. Scholar-diplomat Ansari was elected Vice President on Friday.
Ansari, who has stepped down as chairperson of the National Commission for Minorities, succeeds Bhairon Singh Shekhawat, who lost last month's presidential election to Pratibha Patil.
Shekhawat too attended the ceremony that lasted barely three minutes. A candidate of the ruling UPA and the Left, Ansari bagged 455 of the 762 votes polled in a triangular contest for the post of vice president Friday.
He won by a margin of 233 votes against National Democratic Alliance's Najma Heptulla, pushing Rasheed Masood of the United National Progressive Alliance to a distant third spot.
(With IANS)
Read full article