Mehul Choksi Deposited Lakhs in Bank Account of Jaitley's Daughter, FM Let the 'Thief' Flee: Rahul Gandhi
At a press conference, Sachin Pilot said Jaitley's daughter Sonali and son-in-law Jaiyesh Bakhshi had accepted a retainership of Rs 24 lakh from Choksi's company Gitanjali Gems Ltd in December 2017.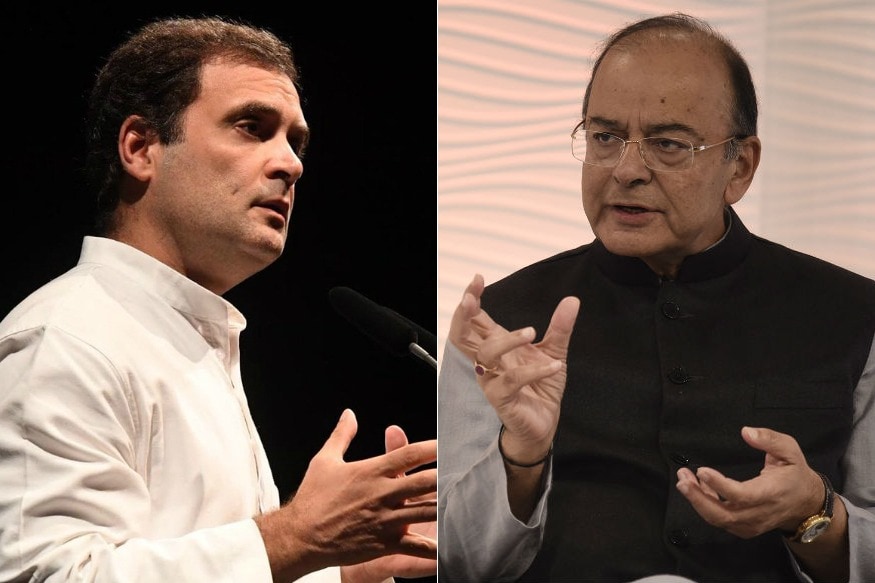 File photos of Rahul Gandhi and Arun Jaitley.
New Delhi: The Congress on Monday accused the Narendra Modi government of conniving with fraudsters who had escaped the country and claimed "conflict of interest" to demand the sacking of Finance Minister Arun Jaitley, saying his daughter and son-in-law, both lawyers, allegedly received a retainership of Rs 24 lakh from fugitive Mehul Choksi.
Referring to the finance minister as 'Jaitlie', party president Rahul Gandhi tweeted that his daughter was on the payroll of "thief Mehul Choksi" when her "FM daddy sat on his file & allowed him to flee." He used the hashtag - #ArunJaitlieMustResign - with the tweet.
"You must have heard about Nirav Modi and Mehul Choksi, who had stolen Rs 35,000 crore of the country. Choksi deposited lakhs of rupees in the bank account of FM Arun Jaitleys daughter," the Congress leader claimed at a rally in Raipur in poll-bound Chhattisgarh.
He said the Finance Minister "did not take any action against Choksi following which he fled the country, adding that Congress leaders gave details of these transactions in Delhi.
At a press conference in the capital, Sachin Pilot said Jaitley's daughter Sonali and son-in-law Jaiyesh Bakhshi had accepted a retainership of Rs 24 lakh from Choksi's company Gitanjali Gems Ltd in December 2017.
"Is this not a clear-cut case of Collusion, Connivance' & Conflict of Interest' on part of FM Arun Jaitley? Why were FM Jaitley, his daughter and son-in-law neither summoned nor questioned by CBI/ED/SFIO?" he asked, adding that was it not a fit case to sack Jaitley and conduct a full independent investigation.
Jaitley's son-in-law, however, has earlier issued a statement stating that his law firm had returned the retainership the moment they came to know that the company was involved in a scam. The finance minister has not yet responded to the latest allegations.
Pilot sought to know why no action was taken against Mehul Choksi, Nirav Modi, Geetanjali Gems Ltd and others, despite FIRs and multiple complaints. "Who protected them?" they asked.
"Why were daughter and son-in-law of FM Arun Jaitley paid Rs.24 lakh by Mehul Choksi's Gitanjali Gems Ltd. without doing any work, as admitted by them? Who else are the clients of Chambers of Jaitley & Associates' paying retainership of lakhs of rupees and why should their names not be made public, including amounts received?"
"As people who owed money to Mehul Choksi/Nirav Modi came forward & deposited the money with Govt after their fraudulent escape, why did FM Jaitley's daughter & son-in-law redeposit Rs.24 Lakh in the account of a company that had defrauded the banks & people of Rs 26,306 Cr? Why did they hide it?" the statement from the three leaders said.
The Congress further alleged that in the 44 months till January 2018, the Modi government witnessed an unprecedented 19,000 'bank fraud cases' involving Rs 90,000 crore.
Pilot said 23 fraudsters escaped India under the government's watch after duping the country of over Rs 53,000 crore. He said a sinking economy, banking frauds and flying fraudsters form part of BJP's-Jaitley's 'New India' and demanded that the minister should resign on moral grounds.
"Successive escapes of Vijay Mallya, Lalit Modi, Nirav Modi, Mehul Choksi and others reflect that Modi government is not a guardian of public money' but a travel agency' facilitating fraud, fleece and fly to foreign shores' of willful bank defaulters," the party said in a statement.
(With PTI inputs)
Read full article
Countdown To
Elections Results
To Assembly Elections 2018 Results