New Delhi:
Delhi Chief Minister Arvind Kejriwal apologised to former Punjab minister Bikram Singh Majithia on Thursday and submitted a copy of the written apology to the court in a defamation case that Singh had filed against Kejriwal.
Sources say, with a dramatic shift in his approach, Kejriwal and Aam Aadmi Party (AAP) may soon approach others who had filed defamation cases against them and seek out of court settlements.
Soon after the apology letter surfaced, the party issued a statement saying their leaders were being forced to run all over the country to appear in several defamation cases filed by their political rivals to "demotivate" the party.
During the Punjab Assembly election campaign in 2016-17, Kejriwal had time and again attacked the Punjab government and particularly Majithia for being hand in glove with the drug mafia in Punjab.
Majithia, a SAD leader and former cabinet minister, had filed a defamation case against Kejriwal, AAP leaders Sanjay Singh and Ashish Khaitan for linking him to Punjab's drug trade without having any evidence to back up the allegations.
In the apology letter dated March 15, 2018, Kejriwal has admitted that the allegations he had made against Majithia were "unfounded".
In dramatic speeches, Kejriwal had vowed to send Majithia to jail if AAP was elected to power in Punjab, eliciting wild response from the audience. The attacks became a leitmotif in all of Kejriwal's speeches in Punjab.
"Because of my allegations made against you at various political rallies, public meetings, TV programs, print, electronic and social media, you filed a defamation case against us…"
"I hereby withdraw all my statements and allegations made against you and apologize for the same," reads Kejriwal's letter on the party letterhead.
He further wrote, "The damage caused to your esteem, the hurt caused to your family, friend, well-wishers, followers and the loss caused to you is regretted."
Majithia tweeted a picture of the apology letter on Thursday and said his mother had suffered the most because of Kejriwal's charges. He wrote: "Arvind Kejriwal has tendered an apology to me in the court, for all the baseless & false allegations he & his party levelled against me in drug issue. My mother suffered the most due to all this & this apology is vindication of her faith in Waheguru's power of justice. (sic)"
Hours after Majithia flaunted Kejriwal's apology letter, AAP issued a statement saying, "CM Arvind Kejriwal is facing dozens of civil and criminal cases related to defamation, putting hoardings/posters during election campaigns, violation of Sec 144, public protests etc in Delhi. There are similar cases in other parts of India like Banaras, Amethi, Punjab, Assam, Maharastra, Goa and many other remote places. Most of these cases require personal appearance of the court cases."
"These cases have been foisted by our political rivals to demotivate us and keep our leadership busy in these legal matters. The decision to amicably sort out all such legal cases is a strategy as devised by the legal team of the party. The political cases in Delhi have been put on fast track, forcing MLAs and ministers to virtually attend cases on a daily basis in courts at Delhi and other states in the country. Contesting court cases is taking toll on already constrained resources of the party and individuals."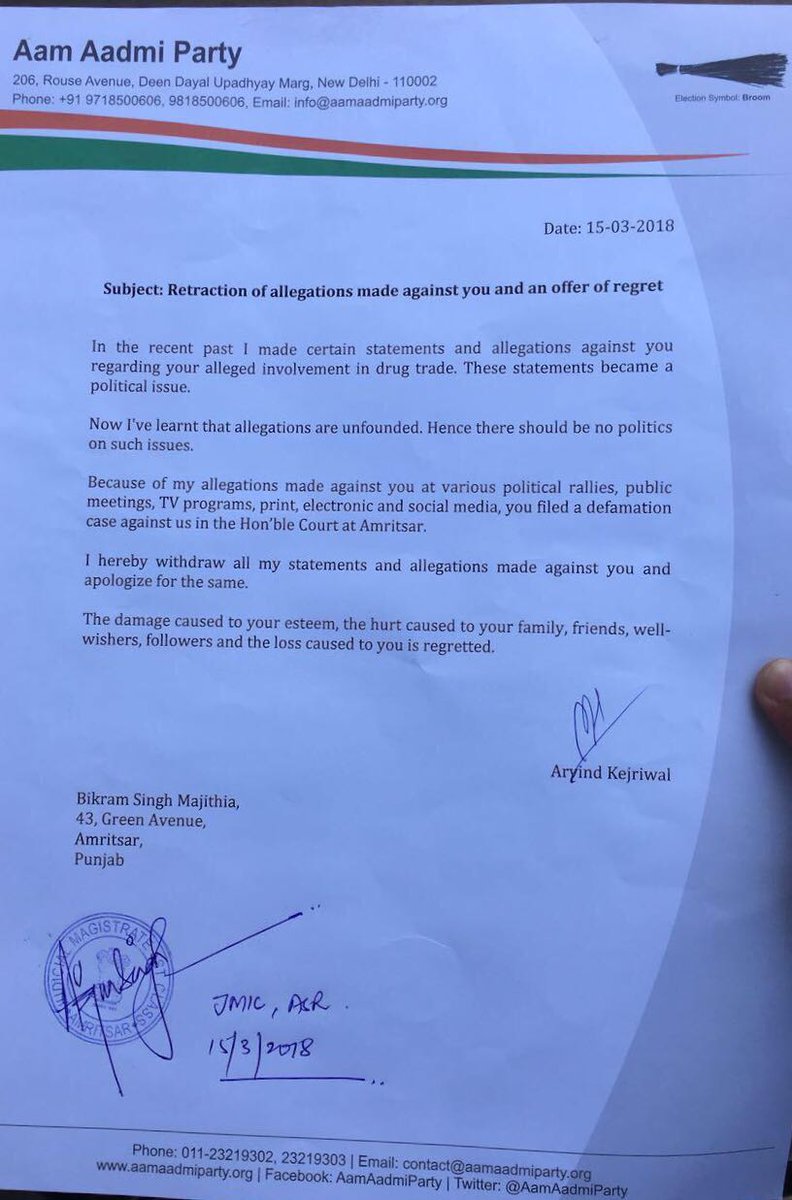 An image of the apology letter that was tweeted by Majithia on Thursday. (Image: Bikram Majithia/Twitter)
In 2016-17, Kejriwal had said, "Punjab would have been free from drugs and narcotics if PPCC Chief Captain Amarinder Singh had not sought protection for Punjab Revenue Minister Bikram Majithia from Sonia Gandhi."
The AAP chief had also said that there is a "collusion" between former CM Parkash Singh Badal, CM Amarinder Singh, former Deputy CM Sukhbir Badal and Bikram Majithia.
Bikram Majithia is the brother-in-law of Sukhbir Singh Badal.
In Punjab, it was AAP that shattered the omerta code of silence by directly naming Maithia. It was Kejriwal brand of politics harking back to the manner in which Kejriwal the activist had named Robert Vadra and his alleged shady land deals. That brand of politics, it appears, is set for a sea change.
While Bikram Majithia showed Kejriwal's apology letter in a press conference and on Twitter on Thursday, AAP and Kejriwal chose to remain silent.
There could be more in store.
Sources say that AAP and Arvind Kejriwal will reach out to all complainants who have filed defamation cases against them, including Union Finance Minister Arun Jaitley, for an out of court settlement on conditions that are mutually agreeable to both sides.
AAP has always sought to make political capital out of it's court battles, taking on big guys, shattering the unwritten norms of politics around them, striking a chord with people and not be silenced by the threat of defamation cases. All that is set to change now as Kejriwal's apology to Majithia could mark the beginning of a different, more mellow brand of politics.
Arvind Kejriwal and AAP faces several defamation cases, including the one filed by Jaitley, for accusing him of corruption during his stint as the Delhi cricket board chief.