24 Hours On, Arvind Kejriwal and Co Continue to Protest at L-G House Waiting for Demands to be Met
As the sun rose on Tuesday, fresh images of CM Arvind Kejriwal and his ministers in the same room, wearing the same clothes, emerged.
New Delhi: Delhi CM Arvind Kejriwal is camping at L-G Anil Baijal's residence and he has been doing so for the past 24 hours. He, along with his senior Cabinet colleagues, have turned the protest at L-G's waiting room into a sleepover and spent the night sleeping on couches at the waiting room. The group went to meet Baijal at the Raj Niwas at 5.30 pm on Monday.
"People have been saying that Kejriwal has been silent for a year. I think they (Centre) have started to take undue advantage of my silence," Kejriwal had told reporters at his residence on Monday. Later in the day, after a fiery speech in the Assembly, he left to meet the Lieutenant Governor at Raj Niwas with three demands.
One of the issues pertains to the mistrust between the elected government and the bureaucracy, as the AAP government has been claiming that IAS officers are on "strike" for the last four months. On Monday, Kejriwal accused the L-G, along with the Prime Minister's Office (PMO), of being the architect of a bureaucratic rebellion within the Government of NCT.
"For the last four months, bureaucrats in the Delhi government have been on strike. This is the first time in the history of India that there has been such dereliction of duty and open rebellion on part of the bureaucracy. What are their demands? Even they don't know. If you ask them, they will not be able to clearly tell you what their demands are," Kejriwal told reporters at his residence on Monday.
At 5 pm, Kejriwal, Deputy CM Manish Sisodia and senior ministers Satyendar Jain and Gopal Rai reached Raj Niwas. Kejriwal said their aim was to discuss the end of the "strike" and get approval from the L-G for the Delhi government's doorstep delivery of ration scheme.
The meeting ended and the L-G did not grant Kejriwal his demands, which prompted him to lead a "sit-in" at the L-G's house. He would not leave, he said, until Baijal acquiesced to their demands.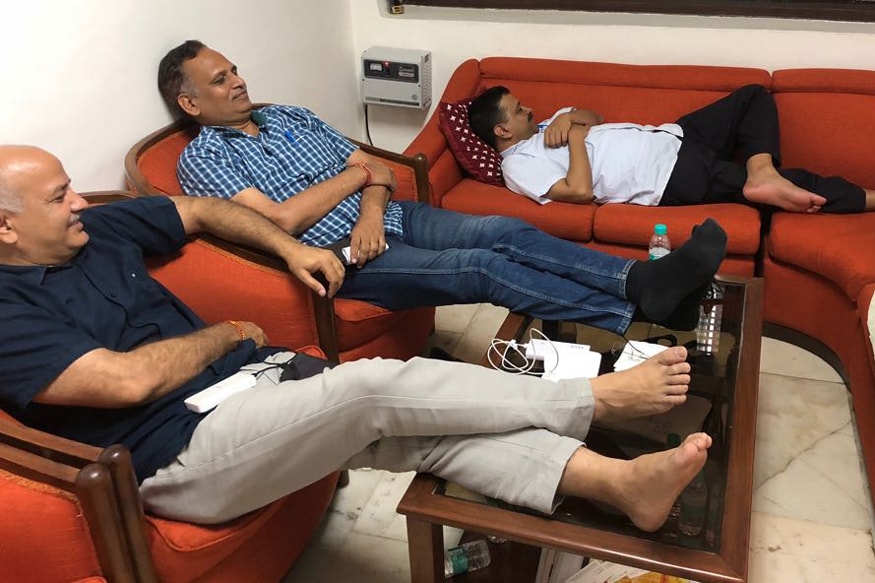 Kejriwal and senior ministers turned the protest into a sleepover on Monday night. (Image via Twitter)
Both the LG's office and the IAS Association have issued a statement. "There is no strike by employees of GNCTD and in his continued interactions with officers, it has been informed that the atmosphere of mistrust and fear continues and no sincere attempts to resolve the differences have been made so far. Hon'ble LG continued to advise Hon'ble Chief Minister to build the confidence of the employees at all levels and to work out ways of addressing their genuine concerns," a Raj Niwas statement read.
The IAS Association also issued a denial. AAP spokesperson Saurabh Bharadwaj hit back and said, "The association could cite just two examples of formality works in last four months - Budget and Assembly Questions. This in itself is proof of the fact that the IAS officers have participated in just two activities in past four months."
Soon, a picture of Kejriwal and his three most senior ministers sprawled on sofas at a waiting room in Raj Niwas, ready for a long night, went viral on social media. Around 11 pm, when Kejriwal had settled in, other party leaders, including Atishi Marlena and MLAs Saurabh Bharadwaj and Sanjeev Jha, decided to hold a 'roadside Iftar party' outside the L-G's house. The day had come to an end but the deadlock continued.
As the sun rose on Tuesday, fresh images of Kejriwal and his ministers in the same room, wearing the same clothes, emerged.
Around 6 am, Kejriwal tweeted, "Good morning, my dear Delhiites. The struggle continues." 18 hours into the sit-in, a video message from the CM emerged: "Over the last few months, we have met the L-G several times. On February 23, the entire cabinet met him and requested his help in ending the strike. He asked for a week, but did nothing."
He added that they had reached out to the Baijal several times in person and also through letters. "We were told by officers that they were being issued threats from the L-G House. This means that the L-G does not want to end the strike. We met him again yesterday (Monday) and said we would not leave till the strike ends."
Soon after Kejriwal's video message, he announced that Health Minister Satyendar Jain was going on an indefinite hunger strike. Far from deescalating, the confrontation has worsened.
While the four senior AAP leaders were inside Raj Niwas, AAP's Rajya Sabha MP Sanjay Singh addressed a press conference outside the CM's residence at Flagstaff Road.
"For the last four months, work is being stalled in Delhi. Our education, power and health models are being talked about the world over. But Modi government only wants to stall the work. All this is being done at the insistence of Narendra Modi. The L-G is just a pawn. Work is being stalled on Mohalla Clinics, CCTV cameras, doorstep delivery of ration. CBI and ACB have raided the CM, deputy CM, even daughter of health minister but got nothing," he said.
AAP leader Atishi Marlena further listed the work that had suffered due to the bureaucrats' "strike".
She said, "IAS association said they are not on strike, but not working is a strike. In the last 112 days, work has suffered. Signature Bridge has been under construction. But when ministers go on inspection, officials don't go. Ministerial secretaries are just pushing files. The procurement of buses has been stalled because the Transport Commissioner did not file an affidavit in court. Schools had to be whitewashed in summer holidays. But officials are just pushing files. Even a can of paint has not reached the schools. Pollution control work has stopped because officials are not willing to sit together. Development work in unauthorized colonies has not started. The only example of work they (IAS Association) have cited is the Budget. But no funds from the Budget have been spent because of their strike."
Meanwhile, as he continued his sit-in 24 hours on, Arvind Kejriwal tweeted an insinuation that the L-G was receiving his instructions from Prime Minister Narendra Modi. "I am really appalled at L-G's stubborn refusal to end the IAS strike and his justifications for ongoing strike. Wonder what the PMO's instructions to him are," Kejriwal said.
Get the best of News18 delivered to your inbox - subscribe to News18 Daybreak. Follow News18.com on Twitter, Instagram, Facebook, TikTok and on YouTube, and stay in the know with what's happening in the world around you – in real time.
Subscribe to Moneycontrol Pro and gain access to curated markets data, trading recommendations, equity analysis, investment ideas, insights from market gurus and much more. Get Moneycontrol PRO for 1 year at price of 3 months. Use code FREEDOM.
| Edited by: Sanchari Chatterjee
Read full article