As BJP's First List for MP Puts Babulal Gaur on Hold, Congress Reaches Out to Him
Due to his iron-hand approach against encroachments as minister in the Urban Administration and Development ministry, Gaur had earned himself the name of bulldozer minister.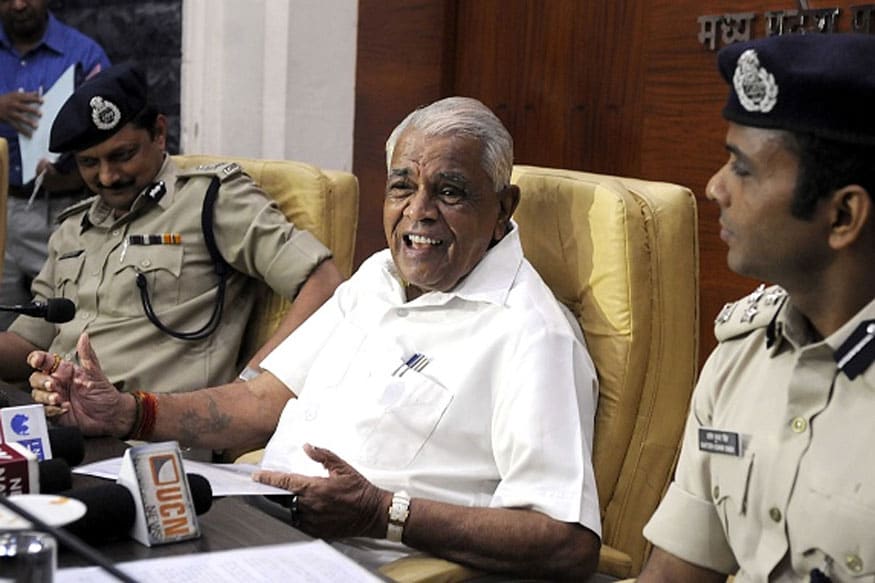 File photo of former Madhya Pradesh chief minister Babulal Gaur. (Getty Images)
Bhopal: From selling liquor for a living, to scraping as a wage labourer and finally scripting history by becoming the Chief Minister of Madhya Pradesh in 2004, the journey of veteran Bharatiya Janata Party leader Babulal Gaur has been an intriguing one.
Due to his iron-hand approach against encroachments as minister in the Urban Administration and Development ministry, Gaur had earned himself the name of bulldozer minister.
The octogenarian politician finds himself in the midst of a political storm after the BJP released its first list of candidates, which denied tickets to 34 MLAs and put on hold the tickets for veterans, including Gaur.
The Govindpura seat has been represented by the veteran leader 10 times in the past.
Govindpura is an industrial area developed around Public Sector giant Bharat Heavy Electricals Limited, the backbone of state capital's economy.
Defying his age, 88-year-old Gaur has been demanding another chance to represent his constituency. The recent pat on the back from PM Narendra Modi during his visit to Bhopal has only bolstered his claims.
Till Friday, Gaur was certain of a ticket for his daughter-in-law Krishna, former mayor of Bhopal, but the party looks set to hand the ticket to either Mayor Alok Sharma, a favourite of CM Shivraj, or BJP general secretary VD Sharma, an RSS nominee.
The new names have come up despite all internal party surveys zeroing in on Krishna Gaur as the strongest candidate on that particular seat. Gaur family supporters reached Babulal's house and hectic political activity was underway till late evening on Saturday.
For now, the senior leader has decided to wait it out.
There is a strong buzz that Krishna Gaur could be fielded as an independent if the party fails to nominate her. Krishna on Saturday told News18 that she had full faith in the party and was confident that the party would take a decision after the required deliberations.
Sensing an opportunity, the opposition Congress has thrown open its doors for the Gaurs.
MP Congress chief Kamal Nath made calls to both Gaur and his daughter-in-law Krishna. A senior Congress leader Govind Goyal, defeated by Gaur in 2013, called on the disgruntled Gaurs to explore the possibilities in the event of them being denied ticket by the BJP.
Gaur is a record holder with 10 consecutive wins and 43 years of representation in the MP Assembly.
Born in Pratapgarh district of UP on June 2, 1930, known as Baburam Yadav, he initially worked in a cloth mill. His journey from UP to Bhopal was even interesting. Once his father won a Dangal (wrestling) in his village in UP and Britishers offered a job in a liquor company in Bhopal.
By his own admission during an interview in the past, Gaur, aged 8, used to work in a liquor shop and also attended RSS shakhas at times. As he got drawn in the RSS, he gave up the job at the liquor shop and started working as a social worker.
Uma Bharti, a CM candidate of the BJP in 2003, got his name dropped from the list of candidates, but Gaur managed a ticket through the intervention of then PM Atal Bihari Vajpayee.
In 2004, after Bharti stepped down as CM, Gaur was sworn in her place. But his journey was short-lived, as Shivraj Singh Chouhan took over from him in November 2005. Gaur was then made a minister in Shivraj's cabinet.
Citing his advancing age, Shivraj dropped him from the cabinet in 2016.
It remains to be seen if the MLA for past four decades and an RSS affiliate of 50 years will be able to save his political legacy.
| Edited by: Ashutosh Tripathi
Read full article