As Karnataka Prepares for The Floor Test, A look at the Likely Scenarios
The floor test has always been the crucial test for any party who seeks to stake claim and command majority in the House.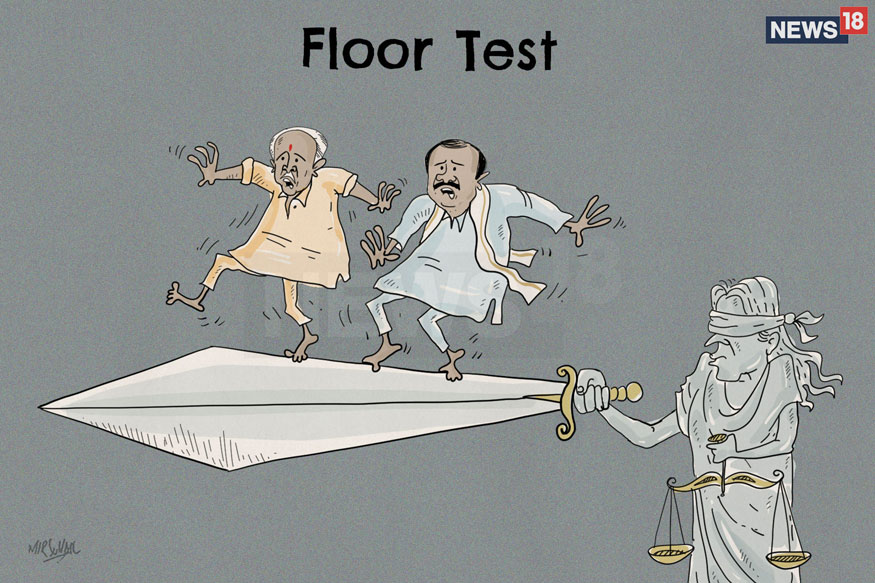 Illustration by Mir Suhail/News18.com
New Delhi: History stands witness to the power tussles that have taken place each time there has been a hung Assembly, whether it be Bihar, Goa or Manipur.
But the floor test has always been the crucial test for any party who seeks to stake claim and command majority in the House.
Now with the Pro tem speaker, KG Bopaiah, administering oath to all the members of the house, here are the possible scenarios:
1. Congress-JD(S) combine is able to hang on to its own MLAs, ensures there is no defection or last minute absenteeism and wins the trust vote
2. Yeddyurappa gets 14 Congress-JD(S) MLAs to abstain from voting in the trust vote after taking oath, thereby reducing the effective strength of the house to 206 and the majority mark to 104. The MLAs would most likely be disqualified, but could be fielded in bypolls on BJP ticket.
3. There are severe arguments and major disruptions in the House when the Governor recommends President's rule and the House is kept under suspended animation
4. If Yeddyurappa fails to get the required number of MLAs, he has the option of resigning before facing the floor test. This would also let BJP gain a favorable image in the state and bolster their prospects before the 2019 Lok Sabha polls. Similar act had occurred once before too when he was the CM for 7 days
5. BJP gets at least 7 Congress-JD(S) MLAs to vote in its favour and wins, though the MLAs who went against the party line will face the wrath of anti-defection law
What does the arithmetic of the Karnataka Floor shows us?
Current strength of the Karnataka assembly is 222
HD Kumaraswamy of JD (S) represents two seats but can vote only once. So there are 221 votes in the house
Since the Pro tem speaker is allowed to vote only in case of a tie, in the first only 221 votes can be cast and the mid-way mark is 110. If the speaker is not counted then the BJP has 103 votes and needs 7 more to reach 110. Once there, the speaker can break the tie by voting in favour of his own party which happens to be BJP in this case.
Get the best of News18 delivered to your inbox - subscribe to News18 Daybreak. Follow News18.com on Twitter, Instagram, Facebook, Telegram, TikTok and on YouTube, and stay in the know with what's happening in the world around you – in real time.
| Edited by: Ahona Sengupta
Read full article