As Panneerselvam Stakes His Claim, TN Recalls Jaya Vs Janaki in 1989
These days the humid breeze flowing in from the east coast brings Chennaiites an additional doze of deja vu as another era in Fort St George – the seat of power in the state – seems to be beginning.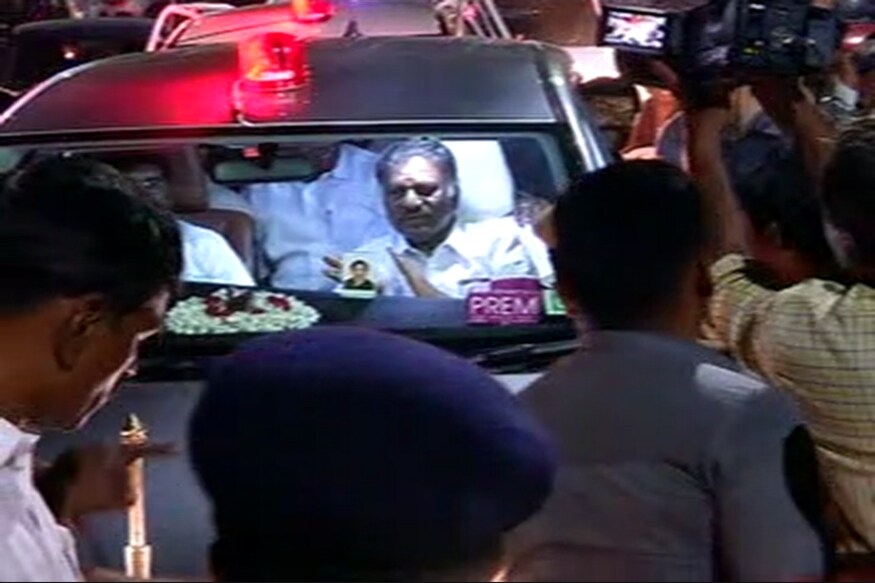 O Panneerselvam leaving from Jaya memorial after he told the press that he was forced to resign as the CM and was asked to recommend Sasikala's name to the post.
Chennai: These days the humid breeze flowing in from the east coast brings Chennaiites an additional doze of deja vu as another era in Fort St George – the seat of power in the state – seems to be beginning.
Twenty-nine years ago, it was the rebellion of a certain J Jayalithaa – then without a party machinery, money or muscle power – against the AIADMK "official faction" which had foisted MG Ramachandran's widow Janaki Ramachandran as the chief minister weeks after his death, which had set the state on a new course.
As O Panneerselvam – long ridiculed by the Opposition for not "showing a spine" – after a series of stints as almost a permanent "caretaker chief minister", finally asserts himself, Chennaiites are drawing parallels with that moment when matinee idol Jayalalithaa made that overnight transition to 'Amma' of all Tamil Nadu.
ALSO READ | Highlights From Panneerselvam's Rebellion Against Sasikala at Amma Memorial
Senior party leaders who were wary of MGR's closeness to Jayalalithaa had ensured that Janaki fills the CM's seat, and Jaya had to suffer the additional insult of being pushed out of MGR's funeral carriage.
AIADMK doyens like RM Veerappan were uncomfortable with the dramatic rise of Jayalalithaa in the party.
"Jayalalithaa was fresh, pretty, sophisticated and spoke impeccable English. Her maiden speech in the Parliament was well appreciated by the likes of Khushwant Singh. Even Indira Gandhi was impressed by her presence in Parliament and the way she stood up for issues," Jayalithaa's biographer Vaasanthi told News18 recently.
But the plan failed at the altar of popularity. People chose Jayalalithaa's nascent faction over the official AIADMK although DMK won the polls. Jaya's party got 27 seats in the 235 member assembly as against 2 for Janaki's AIADMK.
Jaya never had to look back. All that Janaki had was her 15 minutes of fame.
Today, Pannerselvam stands at the same juncture as he plays his politics smooth as against the "rush" shown by VK Sasikala in first grabbing the party, and then in becoming the chief minister.
ALSO READ | Sasikala as CM: Growing Shadow of 'Mannargudi Mafia'
Early indications of what Tamil Nadu thinks of 'Chinnamma' Sasikala's elevation came on Sunday itself when superstar Kamal Hassan tweeted a couplet from the 3rd century BC Tamil classic Thirukkural that talked about how even a bunch of feathers can break the axle of a cart.
The next day cricketer Ravichandran Ashwin, a Chennaite, tweeted saying there would soon be 234 vacancies in Tamil Nadu, alluding that the state assembly may have to go for fresh polls soon.
As Team Sasikala goes into a huddle at her Poes Garden residence – once the official residence of Jayalalithaa – it remains to be seen how they will play this one out.
ALSO READ | Will Legal Troubles Nip Sasikala's CM Dream? Here's All You Need to Know
And once again, just like in 1989, the official machinery is with Sasikala, while OPS has donned the garb of a martyr, whose only abiding passion is his devotion to the memory of Jayalalithaa – like Jaya's devotion for MGR as her only arsenal in 1989.
How smooth and canny Panneerselvam will play his politics in the coming days can be predicted from how he performed his role as the caretaker CM since Jayalalithaa's death.
Wiping tears off his face with both hands at the Jaya memorial, he reminded the people of Tamil Nadu how the party and Sasikala conspired against him while he was busy tackling Cyclone Varda and then the Jallikattu agitation.
Panneerselvam has been quietly building up his image among people and party men for a while now even when Jayalalithaa was alive. Under him, bureaucrats and officials were said to be more approachable as opposed to what was seen as an opaque administration system. His decision to stay back in Delhi after the initial response from the Prime Minister's Office that it could do little towards ensuring Jallikattu is allowed proves, say analysts, his mettle.
"Panneerselvam as a CM is welcome because he addresses the press, handles questions and visits the spot," political commentator Gnani told News18.
In contrast, Sasikala, who didn't utter a word when Marina beach was overrun by thousands of protestors, was quick to take credit when Panneerselvam returned from New Delhi with the nod for an ordinance to remove the ban on the bull-taming sport.
"I made the AIADMK government fight for this cause (Jallikattu). I sent AIADMK MPs to meet the Prime Minister and Home Minister in person to request them (Centre) to permit the conduct of Jallikattu in the state. I asked the Chief Minister to meet the Prime Minister to talk about the issue," she said in a statement issued soon after the CM landed back.
Late on Tuesday night as a thriller movie-like drama unfolded in Chennai, a similar contrast was all there to see. Crowds mobbed Panneerselvam returning to his house after that speech at Jaya memorial, raising slogans in his support, and he smilingly went out of his way to greet them. A few kilometers away, the road to Poes Garden where cabinet ministers and MLAs were in a huddle with Sasikala, had already been barricaded by the police. The only crowd seen was a bunch of Sasikala supporters shouting "OPS is the traitor".
Get the best of News18 delivered to your inbox - subscribe to News18 Daybreak. Follow News18.com on Twitter, Instagram, Facebook, TikTok and on YouTube, and stay in the know with what's happening in the world around you – in real time.
Subscribe to Moneycontrol Pro and gain access to curated markets data, trading recommendations, equity analysis, investment ideas, insights from market gurus and much more. Get Moneycontrol PRO for 1 year at price of 3 months. Use code FREEDOM.
| Edited by: Ashutosh Tripathi
Read full article