As Rahul Gandhi Hunts for Answers in Gujarat, Questions Chase Congress in Madhya Pradesh
With multiple claimants to the chief ministerial nomination, the party lacks a strong and united leadership to take on Chief Minister Shivraj Singh Chouhan who will be seeking a fourth term.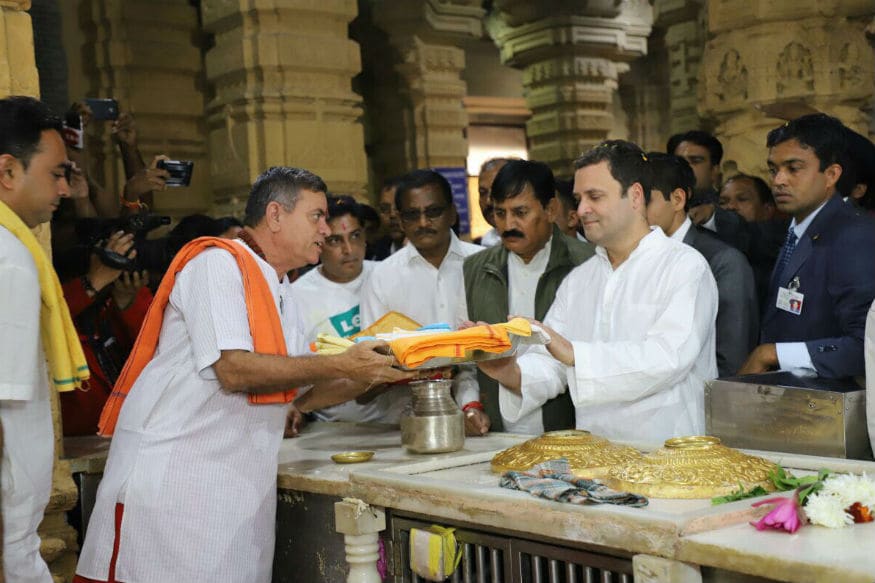 Rahul Gandhi offers prayers at Somnath Temple in Gujarat on Saturday. The Congress chief must now shift focus to Madhya Pradesh where the party is struggling to gain momentum ahead of assembly elections. (Photo tweeted by @INCIndia)
Bhopal: Congress President Rahul Gandhi reached Gujarat on Saturday morning to review the party's performance in the recently concluded assembly elections, which was pitched as a prestige battle between the Gandhi scion and PM Narendra Modi.
But as the Congress touts the rise in seat count as a silver lining of its Gujarat defeat, its Madhya Pradesh unit is in tatters, struggling to build momentum ahead of assembly elections next year.
With multiple claimants to the chief ministerial nomination, the party lacks a strong and united leadership to take on Chief Minister Shivraj Singh Chouhan who will be seeking a fourth term.
One of the claimants is Jyotiraditya Scindia who has vowed not to accept garlands till the BJP government in the state is replaced.
"The BJP government is anti-farmer and allows them to be killed in police firing (a reference to the Mandsaur agitation). I have decided not to accept flower garlands until I throw this government out of power," Scindia said during a rally in Mungaoli of Ashoknagar district.
His statement has led analysts to believe that the Scindia scion is keeping himself ahead in the CM face hunt.
Mungaoli, which was earlier held by the late Mahendra Singh Kalukheda, goes to bypolls shortly along with Kolaras in Shivpuri — both part of the region influenced by the Scindias.
The BJP, too, believes that Scindia's declaration is an "affirmation of his yearning" for CM candidature. "More than anything else, it is evidence of the internal tussle among Congress leaders vying for CM candidature," said BJP spokesperson Rajnish Agrawal.
Agrawal said a similar announcement was made by Leader of Opposition Ajay Singh before the 2013 assembly elections.
Given his youthful persona and relatively clean image, Scindia, who enjoys close proximity with Congress President Rahul Gandhi, is likely to emerge as the party high command's obvious choice.
The Congress leadership, however, would do well to remember that it is a divided house in Madhya Pradesh. Regional satraps, including Kamal Nath, Digvijaya Singh and Ajay Singh, are yet to weigh in on who would lead the party in 2018 elections.
While Scindia primarily thrives on his support base in the Gwalior-Chambal region, Kamal Nath enjoys backing in tribal belts around Chhindwara-Jabalpur and Ajay Singh has deep roots in the Vindhya region.
Also in the mix is Digvijaya Singh who is busy in a months-long parikrama (circumambulation) of the Narmada river. The yatra is seen as a signal of his return to Madhya Pradesh politics. He has largely kept away from state politics since 2003 after a defeat at the hands of BJP leader Uma Bharti.
The party's state unit president Arun Yadav has been no help, his feeble political stature failing to rein in the leaders. The rift was evident when newly appointed state in-charge Deepak Babaria visited Bhopal on several occasions recently, only to be snubbed by party seniors who did not turn up for the meetings.
"Either present a CM face or at least bring all senior members under one roof. If it stays like this, the BJP looks invincible," said a political analyst in Bhopal.
A senior Congress leader begged to differ. "If the unity of the senior leaders was all important, we would not be losing in the home turfs of these big-time politicians," he said, adding that differences are part of a political system but somewhere the party seems to have lost its connect with the public.
The Congress would have to revive this connect ahead of assembly elections which would be followed by the mega battle of 2019 Lok Sabha elections.
| Edited by: Aditya Nair
Read full article
Countdown To
Elections Results
To Assembly Elections 2018 Results