As the Race for Telangana Hots Up, Here are Key Seats That Could Swing Electoral Fortunes
The TRS founder, K Chandrashekar Rao, is looking at no just retaining party's bastion but also the chief minister's position in Telangana.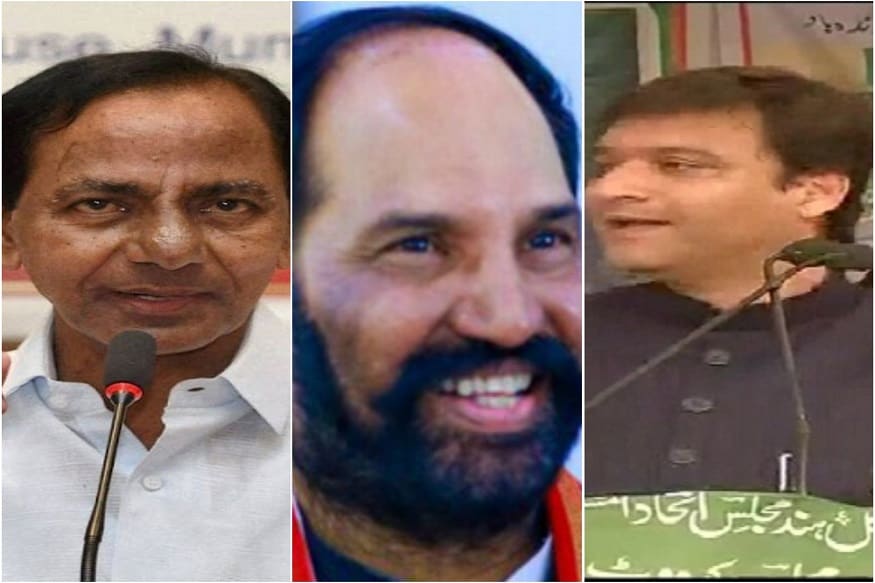 A combination image of CM KCR (L), Uttam Kumar Reddy (M), Akbaruddin Owaisi (R).
As the elections have come to a close in Telangana, poll predictions have given TRS the lead. However, the opposition parties have fielded strong candidates to contest in important seats that are TRS bastions like in Gajwel, Sirsilla, Siddipet. Here are the key seats to look out for, which could swing the electoral fortunes in Telangana.
Gajwel
Currently, the seat is being held by the TRS founder K Chandrashekar Rao, who is looking at no just retaining the seat but also the chief minister's position. Holding on to the seat, however, seems difficult. His competitor Vanteu Pratap Reddy from the Congress, who lost to KCR in 2014, has ensured that, in the last four years, he makes his mark in the constituency. He was also seen interacting with people and being more accessible than KCR for the same.
KVR (TRS) v/s Vanteru Pratap Reddy (Congress) v/s Akula Vijaya (BJP)
Sirsilla
A TRS bastion, currently held by KT Rama Rao. The seat holds importance due to the rumours of Rao being made CM if TRS comes to power. So to give a tough fight, the Congress has placed one of the most popular Telangana leaders, KK Mahender Reddy for the same seat.
KT Rama Rao (TRS) v/s KK Mahender Reddy (Congress) v/s N Narsa Goud (BJP)
Nalgonda
The seat is held by the man who could possibly be the next chief minister in the state if Congress comes to power, Komatireddy Venkat. A very vocal critic of KCR, the latter has pitched his strong man Bhupal Reddy against him. Reddy was also ousted by the TRS from the Assembly, but a High Court order overturned the suspension.
Komatireddy Venkat (Congress) v/s K Bhupal Reddy (TRS) v/s S Shanmukha (BJP)
Chandrayangutta
The AIMIM's bastion is represented by Akbaruddin Owaisi. It would be tough battle as BJP has fielded its Muslim candidate, Shehzadi, a young ABVP leader from Osmania University.
Akbaruddin Owaisi (AIMIM) v/s Syed Shehzadi (BJP) v/s Es Misri (Congress) v/s Seetharam Reddy (TRS)
Goshamahal
Represented by BJP's Raja Singh Lodh, one of the most controversial leaders in Telangana at the moment, the seat has been the epicentre for politics over beef and cow. The constituency is notable a Muslim dominated constituency. T Raja Singh Lodh (BJP) v/s Mukesh Goud (Congress) v/s Premsingh Rathod (TRS) Siddipet
Yet again a TRS bastion held by Harish Rao, he has been elected five times from this seat. It's his stronghold that is being challenged by TJS's candidate Bhavani Reddy, a candidate fielded by the grand alliance.
T Harish Rao (TRS) v/s M Bhavani Reddy (TJS) v/s Narottam Reddy (BJP)
Kodangal
The Congress' stronghold represented by working president Revanth Reddy. The competition turns interesting as Reddy was once with the TRS during the fight for a separate state, who is now fighting TRS's strong candidate and interim minister's brother Patnam Narender Reddy. Revanth Reddy was also arrested by the Telangana police recently for threatening to disrupt KCR's public meetings.
Revanthi Reddy (Congress) v/s Patnam Narender Reddy (TRS) v/s N Namaji (BJP)
Huzurnagar
A seat being fought between one of the Congress' strongest leader Uttam Kumar Reddy and TRS's Saidi Reddy, a non-resident Indian.
Uttam Kumar Reddy (Congress) v/s S Saidi Reddy (TRS) v/s B Bhagya Reddy (BJP)
| Edited by: Anu Parthiban
Read full article