'Even Hanuman Had to be Reminded of His Strength': Mohan Bhagwat Makes 'Hindu Unity' Pitch
File photo of RSS chief Mohan Bhagwat. (PTI)
In 34-minute address to over a lakh Swayamsevaks in Meerut, RSS chief Mohan Bhagwat says Hinduism has enough room for "diversity".
Last Updated: February 26, 2018, 08:07 IST
Edited by: Bijaya Das
FOLLOW US ON:
Meerut: The Rashtriya Swayamsevak Sangh (RSS) on Sunday held a massive show of strength in Meerut, with RSS Sarsanghachalak Mohan Bhagwat presiding over the event himself. The event, called 'Rashtroday Sammelan', was touted to be the RSS's "biggest event ever". The aim of the mega event, said an RSS functionary, was to ensure that there was an RSS worker in every western UP village. The Sarsanghachalak's speech, however, was laden with references to caste.
In 2014, the BJP had swept the western UP hinterland after communal riots had polarised the electorate along religious lines. If the BJP made electoral gains, its parent outfit RSS made major inroads into Western UP's polarised badlands. But those gains may soon be slipping away as caste fissures are back in the region.
The diverse social coalition of "Hindus" was tested first after the Saharanpur riots last year, when Dalits in the western UP district clashed with Rajputs. This led to the subsequent rise of the Bhim Army, a radical Dalit Rights outfit. This, a senior VHP leader told News18, has sent alarm bells ringing in the Sangh. Moreover, the communal fault-lines of Muzaffarnagar, which saw massive riots in 2013, are also repairing themselves.
That is why Bhagwat, addressing over a lakh Swayamsevaks from across western UP, chose his words carefully. "We have all heard of unity in diversity. But there is also diversity in unity. Our unity has enough space for diversity. We respect and celebrate diversity," Bhagwat said.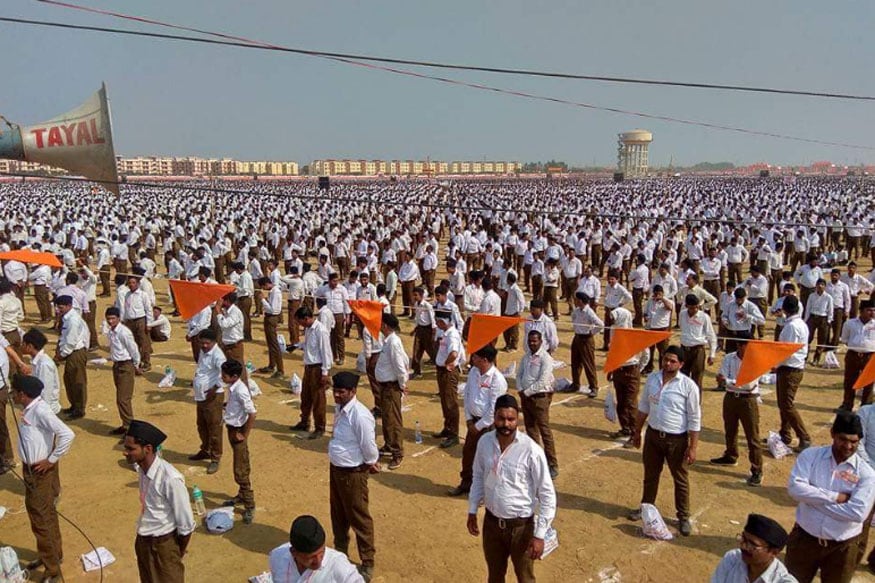 The event, called 'Rashtroday Sammelan', was touted to be the RSS's "biggest event ever".
The RSS chief added that Hindus must not forget their own strengths. "People recognise the good in you only when you are strong. Even Gods don't honour the weak. Those who recognise their own strengths will not prosper. Lord Hanuman had forgotten his own strength in the Ramayana but had to be reminded of it," he said, adding, "Garv se kaho hum Hindu hain (Say with pride that we are Hindu). We are one because we are Hindu. Our country alone allows for such diversity."
As the speech went on, Bhagwat spoke of caste more explicitly, urging all Hindus to unite. "Hindus must unite because we are responsible for this country. If this country doesn't do well, questions will be asked of us. We forgot who we were and fought over caste and language. All Hindus are my brothers," he said.
Bhagwat's 34-minute address was rife with talk of internal divisions within Hindu society and those who seek to divide it. Hinduism, the Sarsanghachalak insisted, had enough room for diversity.
"What is our role for the future?" he asked the Swayamsevaks, adding: "The world is tired after 2,000 years of experimenting and thinks India has a way to achieve holistic wellness in life. We must help the world achieve that. Secondly, there are many divisive forces within India and we must come together, despite all these forces acting against us."
The RSS said that Swayamsevaks had gone to each of western UP's 10,500 villages and the exact number of people who had signed up to attend the event was 3,11,578 (Over 3.11 lakh). However, the total number of Swayamsevaks at the venue was just over a lakh.
Next Story