Assam Cong Writes to CEC Over Storage of 'Unused EVMs' Near Strong Room, Hints at Role of BJP's Himanta Biswa Sarma
The Congress has also alleged that Deputy Commissioner Kamrup (Rural) Kamal Baiswa and Assistant Commissioner Mayuri Oja, daughter of BJP's Gauhati nominee Queen Oja, were performing the election duty in their home district.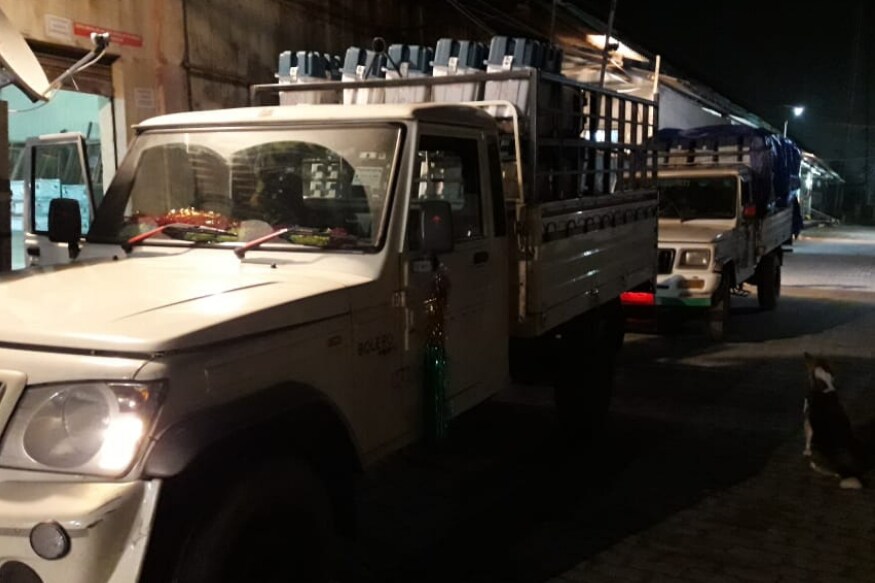 Photo of the "unused" EVMs before being unloaded at the private godown. (News18)
New Delhi: The Assam Pradesh Congress Committee (APCC) has written to the Chief Election Commissioner against the Kamrup (Rural) district administration over suspicious storage of "unused EVMs" sent from different districts of Assam near a strong room in north Guwahati's Amingaon area.
Besides, the Congress has also alleged that Deputy Commissioner Kamrup (Rural) Kamal Baiswa and Assistant Commissioner Mayuri Oja were violating the Model Code of Conduct by performing the duty of election officers in their home district.
Oja is the daughter of BJP's Gauhati candidate Queen Oja.
Congress' Gauhati candidate Bobbeeta Sharma, in a separate complaint to Assam CEO Mukesh Sahu, has also alleged a poll code violation by the Deputy Commissioner Kamrup (Rural) for consenting and admitting to store "unused EVMs" at a private godown.
"The Election Commission has conducted elections before. Preparations start a year before. The administration should have been careful about these matters. There is unused material from the election stored in the same area where the strong room is located. The authorities are aware that there has to be a separate strong room with barricades, CCTV, security and lights. Why do they have to be reminded of this?" Sharma said.
Assam Chief Electoral Officer Mukesh Sahu on Tuesday said, "These EVMS are stored in the centre storage facility and were meant to be transported to other states."
APCC president Ripun Bora has requested the poll body to take immediate steps against Baiswa for storing the unused EVMs and has demanded his immediate transfer.
My complaint letter to @ECISVEEP Election Comm. Of India in connection with Violation of ECI rules and fishy storage of Unused EVM s in the office of Deputy Comm Kamrup. pic.twitter.com/9bxTeg1vuH

— Ripun Bora (@ripunbora) April 30, 2019
On April 28, trucks loaded with electronic voting machines (EVMs) and voter verifiable paper audit trails (VVPATs) were seen parked in the Amingaon area under the Jalukbari Assembly constituency represented by BJP's northeast strongman and local MLA Himanta Biswa Sarma.
Bora has alleged Sarma's involvement in the controversy and named him in the letter to the CEC.
Jalukbari falls under the Gauhati Parliamentary constituency which went to polls on April 23.
In the letter to the CEC, the Congress said the "unused EVMs" were allegedly stored at the Himmatsinka workshop, a private godown owned by a businessman by the same name, who is known to be a close aide of Sarma.
The private godown is located at a distance of only 300m from the strong room which falls under the jurisdiction of the deputy commissioner of Kamrup (Rural).
"The administration is not taking the election seriously," the Congress' Gauhati candidate told News18.
Sharma said, "Why was Mayuri Oja not transferred when her mother is contesting election from the same district. She has been there for more than three years. These things call for an explanation. Our party suspects that some other powerful hands are giving them protection."
However, the BJP candidate told News18 the Congress' allegations on her civil servant daughter were nothing but a cheap political gimmick from the losing side.
"My daughter is not in Guwahati. She is on leave. She is out of station. The Congress is making these complaints because it knows that is going to lose," Oja said.
Queen Oja, who is also the former mayor of Guwahati, said the earlier Congress-led state government had denied her daughter a posting outside Guwahati.
However, passing the buck on to the BJP-led government in Assam, she added, "Whether she should have been transferred or not is for the government to decide. It's not my call."
Meanwhile, Sharma, said the deputy commissioner had played a controversial role in the panchayat election, as well. "Baiswa too should have been transferred, but no action was taken".
However, when asked if the Jalukbari MLA was involved in this EVM controversy, she said, in contrast to her party president's position, that she would not like to comment on that.
When asked about the "unsused EVMs", Sarma told News18, "I have no comments on this. It is a matter which falls under the Election Commission."
He also chose not to respond to the questions about the private godown and his relationship with its owner.
According to sources, Baiswa had allowed storage of the "unused EVMs" from Tezpur parliamentary constituency at the private godown as there was allegedly no other place to keep them.
The BJP and Congress are locked in a high-stakes battle in Tezpur which went to polls on April 11. Former IAS officer MGVK Bhanu is the grand old party's candidate from Tezpur against state minister and BJP leader Pallav Lochan Das.
The three-phase election of the 14 parliamentary constituencies of Assam came to an end on April 23.
Whether the saffron camp would be able to send its representatives to the Lok Sabha amid these poll irregularities will be known on May 23.
Get the best of News18 delivered to your inbox - subscribe to News18 Daybreak. Follow News18.com on Twitter, Instagram, Facebook, Telegram, TikTok and on YouTube, and stay in the know with what's happening in the world around you – in real time.
| Edited by: Sohini Goswami
Read full article