In Rajasthan, Congress Makes Last-Ditch Effort to Woo Rebel Candidates
Claiming that the party is in regular contact with the rebel leaders, Avinash Pande said, 'They are not rebels, but workers of the party. They have filed nominations due to their eagerness, but we are talking to them.'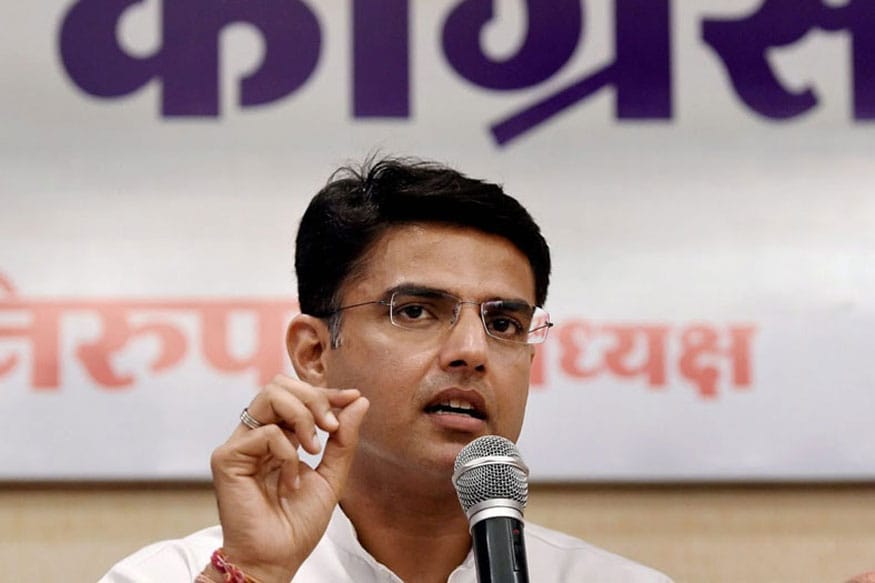 File photo of Rajasthan Congress chief Sachin Pilot. (PTI Photo)
Jaipur:As the deadline for withdrawing nominations for the Rajasthan Assembly elections ends on Thursday, the Congress is going all-out to woo rebel leaders who have been denied party tickets.
Senior leaders Sachin Pilot, Ajay Maken, Ghulam Nabi Azad, Avinash Pande, Mukul Wasnik and Devendra Yadav met at the Pradesh Congress Committee (PCC) in Jaipur on Wednesday to discuss the strategy.
Claiming that the party is in regular contact with the rebel leaders, Pande said, "They are not rebels, but workers of the party. They have filed nominations due to their eagerness, but we are talking to them. They will be given respect and responsibilities when we form the government."
Sources at the PCC office said that at least three to four rebels have agreed to withdraw nominations on Wednesday and several others will follow suit on Thursday.
Refusing to divulge how many rebel leaders had agreed to withdraw their nominations, Pande said, "Talks have been positive and most leaders have agreed to withdraw nominations. Thursday is the date for withdrawal. We will know by Thursday evening."
Taking a dig at the BJP, Delhi Congress president Ajay Maken said the Congress was in a much better position than the BJP. "Rebellion is happening in the BJP. Their sitting ministers are leaving the party and they can't convince them to stay," he said.
Rebel Congress leaders who have filed nominations as Independents include former ministers Babulal Nagar, Mahadeo Singh Khandela, Bhimraj Bhati and Brahmdev Kumawat and former MLAs Sanyam Lodha, CL Premi and Nathuram Sinodia.
Kumawat has filed his nomination as an Independent from Masuda constituency in Ajmer district. "I'm in regular contact with the party high command. They asked me to support the party amd promised that I would be taken care of in the future." Kumawat has called a meeting with party workers on Thursday to further decide his future course of action.
Khandela, a former Union Minister in the UPA government, spoke to News18.com and said he had filed his nomination on November 19 from Khandela constituency in Sikar district. "Nobody from the party has talked to me yet. If someone talks to me, then I will see what to do and answer accordingly," he said.
Senior leaders also met with rebel leader Ram Chandra Saradhna from Viratnagar constituency at the PCC office on Wednesday and tried to convince him to withdraw his nomination. Saradhna said he too would take a decision after talking to his workers.
Sources at the PCC around 12 to 15 rebel leaders, who can be a threat to Congress candidates, will be brought back in the party ranks and the rest will be cut loose. "These leaders are mainly former ministers and MLAs who have a strong support. Party will try and bring them back," a source at the PCC said. According to him, the party has categorised rebel candidates as 'beneficial' and 'harmful'.
Most rebel leaders are angry over the party giving tickets to recent defectors from the BJP in favour of Congress workers.
However, several 'harmful' rebels are inclined to contest polls as Independents after being denied tickets, thus posing a problem for Congress. Hoping that the party would take them back during Lok Sabha elections in 2019, if they win now, the rebel leaders are not ready to withdraw their nominations.
Several former BJP leaders like Manvendra Singh, Habib-ur-Rahman and Harish Chandra Meena featured in the Congress' candidate list.
Pande said the decision to field defectors was taken after serious deliberation and feedback from constituency. "We take into account the opinion of workers from each constituency. The decision was taken after taking regional circumstances and demands of voters into account," he said.
Pilot too addressed the issue at the party office and said talks with displeased leaders were ongoing and the picture would be clearer by Thursday evening.
Get the best of News18 delivered to your inbox - subscribe to News18 Daybreak. Follow News18.com on Twitter, Instagram, Facebook, Telegram, TikTok and on YouTube, and stay in the know with what's happening in the world around you – in real time.
| Edited by: Ahona Sengupta
Read full article