GET Stock

Quotes


Attacking Political Opponents Abroad is Something That Happens Worldwide: Meghnad Desai
In his speech, Gandhi attacked the Modi government, spoke about political dynasties in India and hinted that he would be the Congress's PM face in 2019.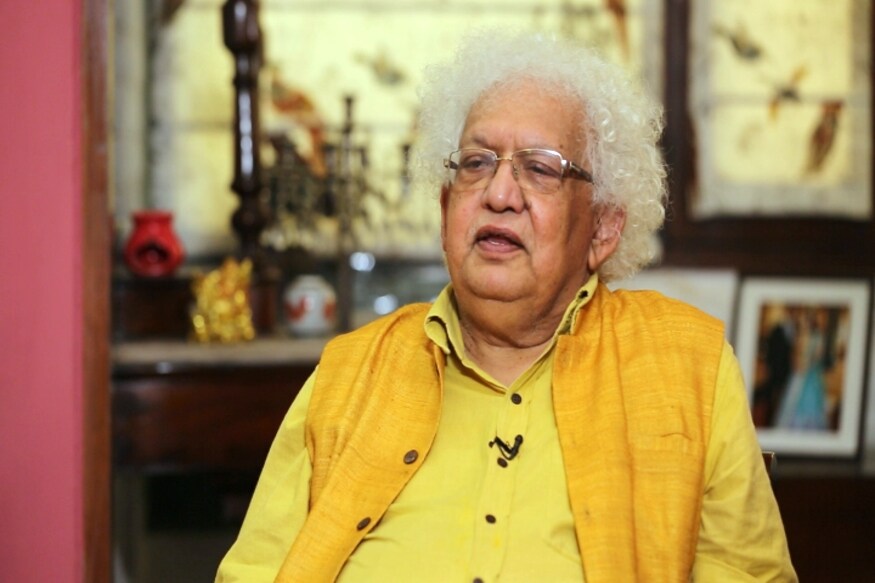 A file image of political commentator and Labour politician Lord Meghnad Desai. (CNN-News18 photo)
The BJP and Congress broke out into an open war of words over Congress Vice President Rahul Gandhi's speech at University of California (Berkley). In his speech, Gandhi attacked the Modi government, spoke about political dynasties in India and hinted that he would be the Congress's PM face in 2019. Lord Meghnad Desai, political commentator and British politician, spoke to News 18 on the practice of attacking political opponents on foreign soil, the Congress's failure to develop an alternative narrative, the future of Rahul Gandhi and more.
There was an age-old convention in Indian politics that opponents wouldn't at tack each other on foreign soil. Is the age of civility in Indian politics over?
This is something that happens world-wide. With communications the way they are, home and abroad doesn't make a difference. Diaspora Indians wants to talk about Indian politics. They want Rahul Gandhi to attack Narendra Modi and Narendra Modi to attack Rahul Gandhi. Indians abroad are not interested in them talking about anything other than politics.
BJP has attacked Rahul Gandhi for targeting the PM. Smriti Irani called him a failed dynast. Is he, in fact, a failed dynast?
What came as a surprise to me was Rahul Gandhi talking about dynasties. When he entered politics, he attacked the notion of privellege in politics and said he wanted to end dynasty. But now he has become defensive of dynasty. He spoke about Akhilesh Yadav and Stalin, who are also dynasts. Just because dynasty exists doesn't mean it is worth defending. Had Lal Bahadur Shastri not died so soon, Congress itself would not have become a dynasty. It was not a dynastic party to begin with. Today, there is a ruling party which is not a dynastic party. Why don't you recognize that as a great new edition in Indian politics? The four top constitutional positions are held by non-dynasts. He wants to attack BJP but ends up defending dynasty, which is not a very good way to attack your opponents.
Rahul Gandhi said that a certain kind of arrogance had crept into the Congress by 2012. Is this the beginning of a Congress course-correction or just empty rhetoric?
Congress has to find a new way of connecting. They should first of all say we are not entitled to stay in power. I think they are beginning to realise that they need to be humble and they need to reconnect with people. And even so, they need to find a new story. In his speech, there was no new story. All the Congress kept saying was that the BJP policies are our policies. If they are your policies, why are you criticizing them? There is a new generation of voters who don't remember Gandhi and Nehru, so you have to talk about today's issues.
In his speech, the Congress VP slammed the government for demonetization and the flawed roll out of the Goods and Services Tax. Do you agree with his assessment?
I have been a long-time advocate of demonetization. The short term effects, such as drop in GDP figures, will be offset by its long-term effects. Rahul Gandhi repeated Dr. Manmohan Singh's estimate that there would be a 2% GDP fall but most other estimates show the number would be much smaller than that. One of these days, the government will have to bring out a white paper on demonetization. I think they will do that close to the next elections. GST is a much less controversial issue. Everybody, including the Congress, wanted GST.
The intolerance debate is once again getting revived in India after the murder of journalist Gauri Lankesh. Is Rahul Gandhi right in saying this is hurting India's image abroad?
Such incidents happened even before the BJP was in power but people did not highlight them. So many rationalists were killed when the Congress was in power. It is convenient to say that it is BJP's fault. However, even if you don't agree with rationalists, there should be some provision to ensure that they are not shot. This needs to be looked at like a form of terrorism. These are not political problems. These are problems of culture and society.
Rahul Gandhi said he was willing to take charge of the party by 2019. Do you think he is hinting at a possible run for PM?
It would be very good if he stepped up and said I am going be the PM and be an alternative to Narendra Modi. What happened during UPA 2 was that he was unwilling to accept a ministerial position. There was confusion over who was the Congress's Prime Ministerial candidate. If he now wants to say that he will lead the coalition. That will clarify the issue and will be a good thing for Congress. Right now, the opposition coalition has a crisis of leadership. Congress needs to say we are in charge.
If you were Rahul Gandhi, with less than two years left for the Lok Sabha elections, what would your course of action be?
Rahul Gandhi, from now on, should have lots of serious consultations with experts over policy formation. Narendra Modi probably spent two years before the 2014 elections, without telling anybody, trying to consult experts on what his policy package should be, what his slogan should be. 'Sabka saath, Sabka Vikas' did not come up overnight. A lot of brainstorming went into it. Congress needs to have an alternative story and for the next 21 months, they need to start a dialogue. The issue of intolerance and communalism will not win an election by itself. Congress needs to ask two questions. First, where did they go wrong? I think that's a question Rahul Gandhi is beginning to answer that. Second, how can they do better than the BJP? It is not an impossible task but it's a serious task. They need to start now. Even if they want to come to power in 2024, they should go from 44 to 150 seats in 2019.
Also Watch
| Edited by: Mirza Arif Beg
Read full article