Attempt Being Made to Destroy the Constitution: Priyanka Gandhi Vadra in Silchar
Priyanka Gandhi Vadra also said that Prime Minister Narendra Modi has toured the world over, but hardly spent time in his own constituency in Varanasi.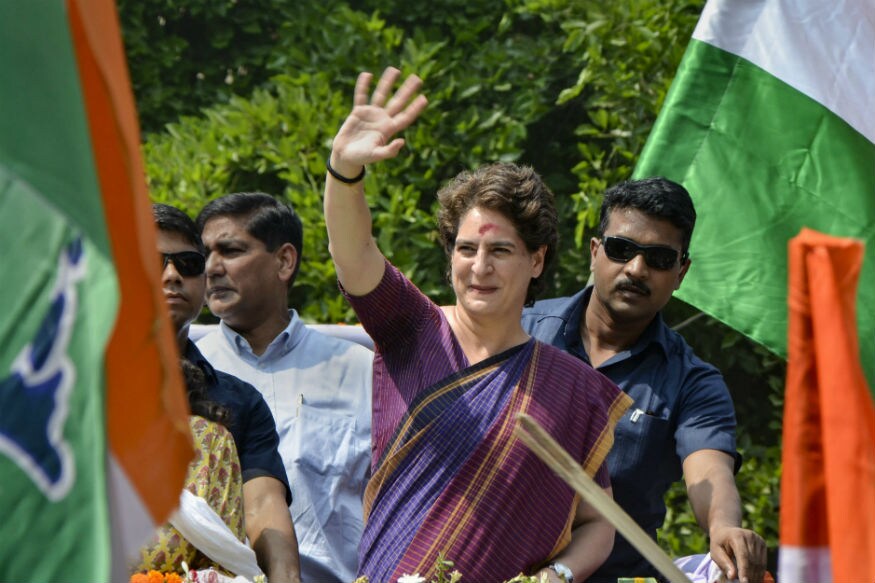 Congress General Secretary Priyanka Gandhi takes part in a roadshow, during the ongoing general elections, at Silchar, Assam, Sunday, April 14 2019. (PTI Photo)
Silchar: The Bengali new year has seemingly infused a resurgent Indian National Congress party, ahead of general elections, if not anywhere else, but in Assam's Barak valley. On Sunday, Congress general secretary for UP east, Priyanka Gandhi Vadra, campaigned for All India Mahila Congress president and incumbent MP Sushmita Dev whom she compared to her grandmother and country's first woman Prime Minister, Indira Gandhi.
"Sushmita Dev resembles my grandmother. She has the fighting spirit just like her. She has the voice to raise issues that are close to your heart. Make her win and represent you with full zest in Parliament," said Gandhi.
Embarking at Silchar's Kumbhirgram airprt, she first visited the Kachakanti temple in Udharbond. After reaching Silchar city, she took a short break before starting her road show.
Thousands cheered Gandhi with slogans like "Priyanka Gandhi Zindabad, Sushmita Dev Zindabad" as the campaign vehicle made way through the crowd around noon.
Gandhi waved back at each one of her supporters, sometimes with folded hands as she bowed down to seek their blessings. Gandhi also willingly obliged for 'selfies' and shook hands, whenever she got a chance.
Gandhi flayed the ruling BJP government at Centre over the must debated Citizenship (Amendment) Bill. "Narendra Modi and his party have dishonored the Indian Constitution by bringing in 'amendments' that are not people friendly," she alleged.
Terming Modi government's policies 'dubious', Gandhi said the BJP-led NDA government has quashed all UPA policies for their self-interest.
"They have quashed all policies brought by us. Look East policy has been culled, and even Special Status for Northeast withdrawn."
Slamming the the BJP's manifesto, she said there is no space for different cultures and religions in it, as well as any respect for the Constitution.
Gandhi said she was told by people in Varanasi that Modi did not spend even five minutes with anyone there in the last five years.
"He went to America and hugged there, went to China and hugged there, too. He went and hugged in Russia and Africa. He went to Japan and played the drum. In Pakistan, he had biriyani. But in his own constituency, he did not go once to a family's house to enquire about their condition," she alleged.
The crowd rose as the cavalcade proceeded from Cachar club to Central Road, passing through Bhowal point, Premtola, Civil Hospital, till it culminated at Rangirkhari. The Congress star campaigner traversed around two km for this road show, a first for her outside Uttar Pradesh, and on her first visit to Assam.
Get the best of News18 delivered to your inbox - subscribe to News18 Daybreak. Follow News18.com on Twitter, Instagram, Facebook, Telegram, TikTok and on YouTube, and stay in the know with what's happening in the world around you – in real time.
Read full article