Baghel Gives Shape to Chhattisgarh Cabinet With Eye on 2019, Inducts Former Jogi Aides
By giving cabinet berths to the two former colleagues of Ajit Jogi - Kawasi Lakhma and Guru Rudra Kumar – Bhupesh Baghel hopes to further dent Jogi and demoralise his party's workers ahead of the 2019 Lok Sabha election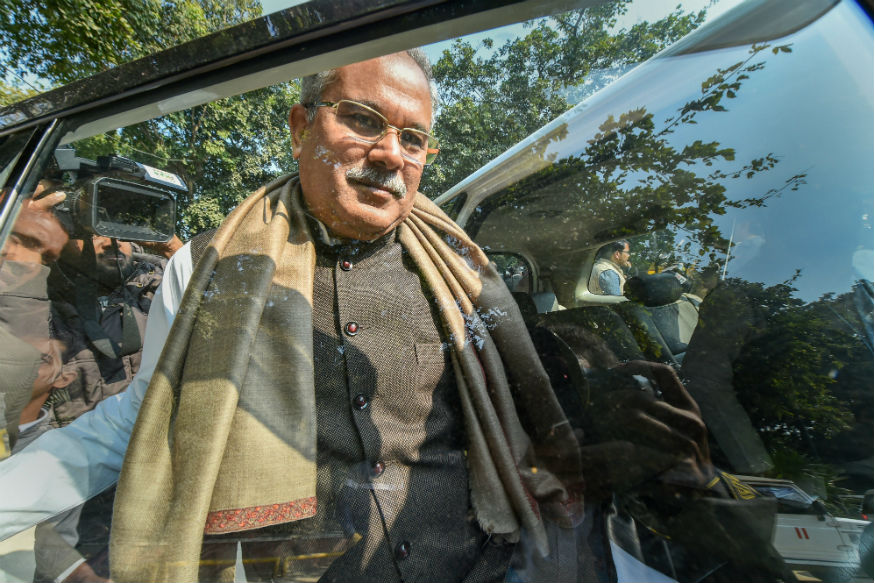 File photo of Chattisgarh CM Bhupesh Bhagel.
Bhopal: After relegating rebel Ajit Jogi's Janata Congress Chhattisgarh to just five seats in the recently concluded state polls, new chief minister Bhupesh Baghel has dealt him another blow by giving two of his close aides ministerial berths in the cabinet.
By giving cabinet berths to the two former colleagues of Jogi - Kawasi Lakhma and Guru Rudra Kumar – Baghel hopes to further dent Jogi and demoralise his party's workers ahead of the 2019 Lok Sabha election, sources said.
Lakhma, a five-time MLA from Konta seat, is a prominent tribal leader from Bastar region and is among the few survivors of the infamous Naxal attack that had wiped out the top leadership of the Congress' state unit in 2013.
Reposing his faith in Congress party after Jogi's exit, Lakhma had dared the former CM to contest assembly polls from his constituency in November and had also accused him of betraying the grand old party.
A ministerial berth for Rudra Kumar was another setback for Jogi, who was rebuked by BSP president Mayawati over his pro-BJP remarks ahead of polling.
Kumar hails from one of the four Satnami sect ashrams in Chhattisgarh and has worked in close co-operation with Jogi in the past. Jogi used to hold a sizeable sway in the sect and his clout grew after he was became the first chief minister of the state in 2000.
Another Satnami sect influential head - Guru Bal Das – too had joined Congress ahead of polls with his supporters. The sect has direct influence on at least ten seats and partial impact on several other seats and has the clout to decide the winner and loser.
Lakhma and Kumar were among nine MLAs inducted into the state Cabinet on Tuesday, taking the total strength to 12.
Get the best of News18 delivered to your inbox - subscribe to News18 Daybreak. Follow News18.com on Twitter, Instagram, Facebook, Telegram, TikTok and on YouTube, and stay in the know with what's happening in the world around you – in real time.
Read full article