Battle Down to the Wire in MP as Congress Inches Closer to Victory, Accuses BJP of Pressuring EC
The battle for MP climaxed late on Tuesday night, with state Congress chief Kamal Nath writing to Governor Anandiben Patel and claiming that the party had the support of Independent candidates.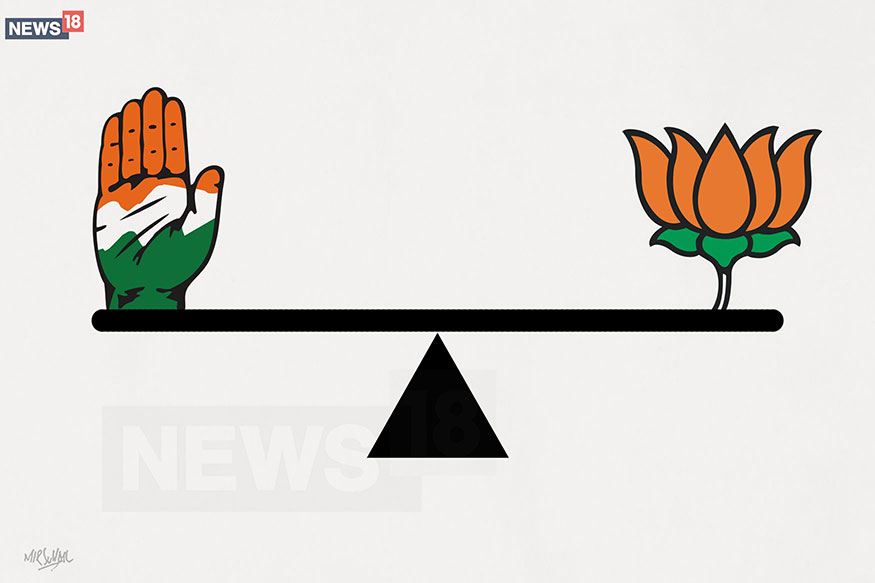 A News18 creative by Mir Suhail.
Bhopal: The Congress on Tuesday staked claim to form the government in Madhya Pradesh in a nail-biting semi-final ahead of the 2019 Lok Sabha elections as the trends early on Wednesday morning placed the grand old party as the front-runner in 115 seats, just one step away from the magic figure of 116.
The battle for MP climaxed late on Tuesday night, with state Congress chief Kamal Nath writing to Governor Anandiben Patel and claiming that the party had the support of independent candidates. "The Congress party has emerged as the single largest party with a majority support. All the independents have in addition assured support to the Congress party," the letter said.
"As the president of Pradesh Congress Committee, I seek an appointment with your Excellency, as soon as the results are officially declared along with my senior leaders to apprise you and seek your permission to form government in the state of Madhya Pradesh," Nath said in the letter. The party also accused the BJP of pressuring the Election Commission (EC) to delay results.
The clear lead to the Congress comes as good news for Rahul Gandhi, who completed a year as party chief on Tuesday. Buoyed by the Congress' good showing, Gandhi said the outcome is a "clear message" to the Modi government that people are not happy with it and time has come for a change. Prime Minister Narendra Modi got a massive mandate but refused to listen to "heartbeat of the country", Gandhi told reporters.
With Congress set to form governments in Chhattisgarh and Rajasthan and locked in a close fight in Madhya Pradesh, Gandhi said the selection of chief ministers in the three states will be done "smoothly". "We have defeated the BJP in Madhya Pradesh, Rajasthan and Chhattisgarh... There will be no issue over (selection of) chief minister. It will be done smoothly."
Modi congratulated the Congress, the TRS and the MNF for their victories and said the BJP accepts people's mandate with humility. "Victory and defeat are an integral part of life. Today's results will further our resolve to serve people and work even harder for the development of India," he said.
Madhya Pradesh went to polls on November 28 with a voter turnout of about 75 per cent. As many as 2,899 candidates are in fray for 230 seats.
Madhya Pradesh Chief Electoral Officer VL Kantha Rao told reporters that counting began at 8am with the postal ballots at 51 centres across the state. "EVMs (Electronic Voting Machines) were taken up for counting at 8.30am. Counting of postal ballots would continue simultaneously," he said.
The campaign for the polls was a high-decibel one with star campaigners like Modi and Gandhi mounting vitriolic attacks in their respective speeches.
Modi addressed 10 public meetings across all regions of the state while BJP president Amit Shah held 26 public meetings and three road shows, said state BJP spokesman Rajnish Agrawal. Chief Minister Chouhan addressed 158 public meetings between October 31 and November 25. Before that from July till October, Chouhan travelled to 187 assembly constituencies as part of his public outreach campaign titled "Jan Ashirwad Yatra".
On the other hand, Gandhi addressed 22 public rallies and took part in about a dozen road shows. "State unit Congress president Kamal Nath addressed over 60 public meetings during this period", the state Congress spokesperson Bhupendra Gupta said. State Congress Campaign Committee chairman Jyotiraditya Scindia addressed 110 public meetings and participated in 12 road shows in 15 days preceding polling. Scindia had earlier also held "Parivartan" rallies across 45 districts.
Get the best of News18 delivered to your inbox - subscribe to News18 Daybreak. Follow News18.com on Twitter, Instagram, Facebook, Telegram, TikTok and on YouTube, and stay in the know with what's happening in the world around you – in real time.
Read full article