Behenji as PM? Trusted Lieutenants Voice Mayawati's Ambitions Loud and Clear at BSP Meet
The Dalit leader's emergence out of political hibernation to become a reckoning force in 2019 was signaled by the rapport she displayed with Sonia Gandhi on stage with the rest of the opposition bigwigs in Bengaluru.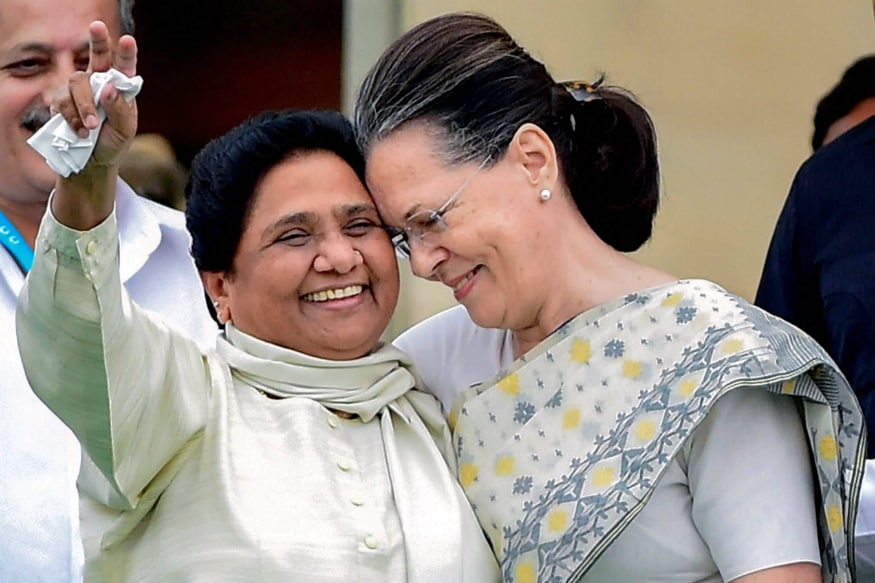 Congress leader Sonia Gandhi hugs BSP leader Mayawati during the swearing-in ceremony of Karnataka CM HD Kumaraswamy in May. (Image: PTI)
Lucknow: Is Mayawati eyeing a bigger role in case of a hung Lok Sabha post 2019 election? It's a question that has been doing the rounds in political circles for quite some time. Although the BSP chief herself has been silent, reliable sources have confirmed to News18 that 'Behenji as Prime minister' will be the ground-level campaign strategy of the party.
It is this ambition for the top post that will direct Mayawati and her party's approach towards possible alliances ahead of 2019 and even for the upcoming crucial assembly polls in three states – Rajasthan, Madhya Pradesh and Chattisgarh.
Critics, however, have pointed out that the ambition is too far-fetched for a party that currently has not a single member in the lower house of Parliament.
Party leaders deny this argument. A senior leader not willing to be quoted told News18 that the party had a strong vote share in Uttar Pradesh and in several other states, and needs to convert this into seats this time.
"In 2014, the party may not have won seats, but it secured around 19.8 per cent votes in UP and more than 4.5 per cent of popular vote in Madhya Pradesh and Uttrakhand. The party also got respectable vote shares in Karnataka, Punjab, Delhi, Rajasthan and Chattisgarh," the party leader said.
The party feels that amidst the "increasing discontent" against the Narendra Modi government and emerging possibilities of a unified opposition, it should not be a big challenge anymore, the leader added.
The Dalit leader's emergence out of political hibernation to become a reckoning force in 2019 was signaled by the rapport she displayed with Sonia Gandhi on stage with the rest of the opposition bigwigs in Bengaluru.
Now, she senses that if she plays her cards cleverly, she could emerge as a strong player on the national stage. Being one of the most recognised Dalit faces of Indian politics and her immense experience as an administrator will work in her favour.
It is in pursuance of this political agenda that her party has adopted a two-pronged strategy. BSP is carefully trying to work out alliances, keeping both Congress and viable regional players in good humour, and to establish itself as an architect of grand opposition unity.
On the ground-level, 'Mayawati as PM' is the campaign mantra with clear reasons. One is to galvanise the party cadre and Dalits by selling the dream of 'Dalit ki Beti' becoming the Prime Minister and second is to silently establish this idea in the political spectrum.
First glimpses into BSP's strategy were evident at the high-level workers' meet held in Lucknow on Monday. While Mayawati herself was absent from the gathering, her message was conveyed through her trusted lieutenants.
Addressing the gathering, the party's national vice-president and one of the two national coordinators, Jay Prakash Singh, said "The party is working on a definite strategy. The entire country wants to see Behenji as Prime Minister".
Quoting from mythology, Singh further said, "Like Ravana was killed by Ram, Kans by Lord Krishna, Modi will be defeated by Mayawati".
Leaving no doubt about the thought process at the highest level of the party's leadership, Singh also said that Mayawati has emerged as the central figure of opposition unity and the picture from the dais of the swearing-in ceremony of HD Kumaraswamy in Benguluru perfectly conveys this idea.
Rajya Sabha MP and national coordinator, Veer Singh, also echoed similar sentiments while addressing the conference.
Another trusted aide of Mayawati, MLC Bhimrao Ambedkar, said the situation is similar to 1993, when Mulayam Singh Yadav, the then president of Samajwadi Party and BSP under Kanshi Ram, came together to throw BJP out of power in Uttar Pradesh.
"Mile Mulayam Kanshi Ram, hawa main udd gaye Jai Shri Ram," was the slogan at the time, he said, adding that this time one can easily guess the outcome.
As momentum for 2019 polls gains pace, Mayawati has very tactfully started to establish her ambition for the prime ministerial post. It's the reason why she is seriously pursuing the idea of alliances both in her home state of Uttar Pradesh as well as beyond.
She not just wants to expand the foot print of her party across states and be a respectable force inside the Lok Sabha, she also hopes to have a rapport with both congress and other non-NDA regional players.
| Edited by: Aakarshuk Sarna
Read full article