'Behenji on The Road Is More Powerful Than Mayawati in Parliament'
Views vary, but all those we spoke to agree on one point that BSP supremo Mayawati's resignation from the Rajya Sabha has definitely hit a nerve which may give a new direction to BSP politics if it is followed up with electoral prudence.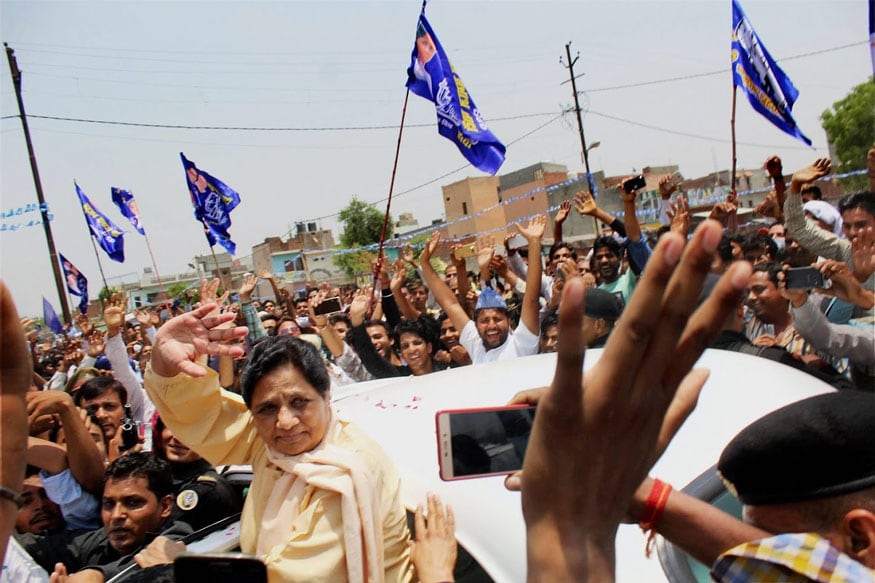 File photo of Mayawati meeting BSP workers. (PTI)
New Delhi: Mayawati's resignation from Rajya Sabha on Thursday evoked a mixed response from political pundits and observers. Some called it a desperate move to reclaim lost political ground — especially among Dalits. Others saw in it a gambit of sorts to prepare for a direct election to Lok Sabha which may be necessitated if UP CM and his deputy resign their parliament seat after vice-presidential elections.
To understand how this message resonates with BSP's core constituency, News18 spoke to some young Dalit activists from Uttar Pradesh. None of them, by their own admission, is member of any political party.
Ajay Kumar Rawat, is a 30 years old Dalit from Unnao, he is a fellow of the Indian Institute of Advanced Study and has been involved in Dalit politics through his student life. He thinks Mayawati has, through her resignation, decided to shift the debate from Parliament and to people.
"If you look at her political career, you'll find that Mayawati has never taken time to tender her resignation. Whether it was her alliance with the BJP or with the SP. So this is not a surprise for us. On the other hand, Mayawati speaking in the Parliament is a big thing for Dalits across the country. All of us listen when she speaks. So at a time when Dalits were killed in Saharanpur, when six Dalits just died in Delhi's sewers, the fact that the biggest Dalit leader was allowed barely three minutes in Parliament is a shame," he says.
To those who argue that Mayawati, if she cared about Dalits, should have responded much earlier, say after the Una flogging incident last year, Rawat poses a counter question.
"I asked them what they did when Dalits were being flogged in Una. And Mayawati only wanted to speak, she hadn't announced any revolution in the House that would scare people and force them to silence her. Logon mein message gaya hai ki Behenji maidan mein utarne waali hain [The message people have got through her resignation is that she's about to hit the ground]," Allahabad University's Dinesh Choudhary feels her resignation is an attempt to mobilise her vote which seems to have run astray after a string of defeats.
"Mayawati has given a signal – Raajneeti ab Sansad mein nahi, sadak pe hogi, ise sadak pe aana padega. [Politics will not remain bound inside the four walls of Parliament anymore but will have to be played out on the streets now.] If the Parliament cannot respect her voice and give her time to speak, she has made a wise choice in stepping out of it. And her decision is not her private decision. Others will follow suit."
VK Rawat (40), convenor, Dalit Shoshan Mukti Manch, a Lucknow based Dalit outfit, also thinks that Mayawati's resignation will trigger reaction in BSP's core constituency. He's not very clear about how this will pan put in the long run.
"Outside of the Parliament, it is very hard for Dalits to be heard. So millions of Dalits must have been eagerly waiting for Mayawati to speak and so it is unfortunate that she wasn't allowed a respectable time. After all she's a national leader and president of a national party. Naturally her core constituency will also react to it. This is not a good sign for a democracy. We basically don't know how her supporters will react," he said.
Rajneesh Ambedkar, a scholar at Vardha University and convenor of Ambedkar Student's Forum looks at these development from a different prism.
"We've reached 21st century and our leaders keep talking about beti padhao beti bachao, but to not allow a female lawmaker to speak in the Parliament is silencing not just Dalits but women also. Everyone sitting in that hall had a duty to listen to her. A lot of people from various parties said that she was only there to deliver a political speech, so what are the others present in the hall there for?" he asks.
Views vary, but all those we spoke to agree on one point that BSP supremo's resignation has definitely hit a nerve which may give a new direction to BSP politics if it is followed up with electoral prudence.
Get the best of News18 delivered to your inbox - subscribe to News18 Daybreak. Follow News18.com on Twitter, Instagram, Facebook, TikTok and on YouTube, and stay in the know with what's happening in the world around you – in real time.
Subscribe to Moneycontrol Pro and gain access to curated markets data, trading recommendations, equity analysis, investment ideas, insights from market gurus and much more. Get Moneycontrol PRO for 1 year at price of 3 months. Use code FREEDOM.
| Edited by: Ashish Yechury
Read full article