Bengal Will Offer PM Modi Rosogollas Made of Clay With Gravel Fillings, Not Votes, Says Mamata
Mamata Banerjee alleged that before PM Narendra Modi came to power, there was no communal strife in Asansol or Raniganj and accused BJP of bringing money from neighbouring Jharkhand and creating trouble in West Bengal.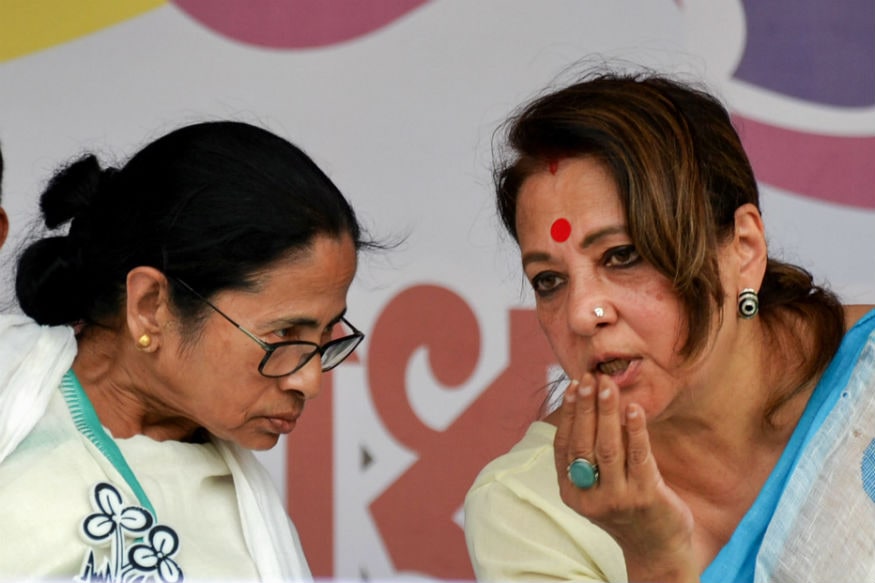 Mamata Banerjee speaks with TMC candidate from Asansol seat Moonmoon Sen during an election rally for Lok Sabha polls, in Asansol, Friday, April 26, 2019. (PTI Photo)
Raniganj/Asansol: Escalating her attack on PM Narendra Modi over his disclosure that she sends him kurtas and sweets, West Bengal Chief Minister Mamata Banerjee on Friday said the people on the state will now offer him "sweets made of soil" and fill it with pebbles instead of votes.
"They don't have minimum courtesy. Whoever ate Delhi's laddoo has regretted it. In 2014, they got two seats and this time they will get a big rosogolla. They will get a big zero," Banerjee said at a public rally in Asansol. "We will make 'sweets of soil' and will fill it with pebbles for him."
On Modi's claims that she sends him presents every year, Banerjee remarked: "It's political courtesy and it is unfortunate that he (PM Modi) is politicising the whole issue."
Banerjee's reaction came after Modi, in an interview to actor Akshay Kumar, said, "I have several friends in the oppositions. We meet once in a year. I would like to share something interesting. I should not (share this), as this may affect me as elections are going on. I admit that Mamata Banerjee ji still personally gifts me kurtas every year."
His statement regarding Banerjee, who has been one of the most strident critics of Modi, came after Akshay Kumar asked if the PM had any friends in the opposition.
Referring to Bengali sweets, Modi further said, "Bangladesh Prime Minister Sheikh Hasina sends me sweets from Bangladesh. Mamataji came to know about this and she also started sending me those sweets."
CPI (M) general secretary Sitaram Yechury questioned why Banerjee had maintained so much secrecy over the issue.
"TMC and BJP are spreading competitive communalism. Both the parties are competing over Ram Navami celebration. So there is a nexus between them," he said. "PM Modi had himself admitted that Mamataji sends him Kurta and sweets. Now the people of Bengal need to understand who is their enemy and who is their friend."
"Delhi main dosti (friendship) and Kolkata main kushti (wrestling)… I think the people need to expose them," Yechury added.
Actor-turned Congress leader Raj Babbar, hinting at match-fixing between the two parties in Bengal, said, "She is sending sweets and kurtas to PM Modi. We are aware of his 56-inch chest but we were not aware of his kurta size, but she knows his kurta size. She never sends sweets and kurtas to us."
The Trinamool Congress supremo had earlier said the BJP will score a 'big rosogolla', also invoked in the state to mean score zero in examination due to the shape of its famed sweet, in the ongoing general elections from West Bengal, which sends 42 MPs to the Lok Sabha.
"Narendra Modi is coming to Bengal regularly to seek votes. But the people will give him rosogollas made of clay with fillings of gravel; his teeth will break if he tries to take a bite," Banerjee said at a rally at Raniganj.
Banerjee had earlier said that Modi has made a "political issue" of the "courtesy" shown by her by making public that she sends sweets to him.
Claiming that Modi does not suit the position of prime minister, she said "I have never seen such a prime minister, making below standard remarks."
Asking BJP not to politicise the name of Lord Ram, she said "Hindus or Muslims do not indulge in riots, it is RSS which does it."
She alleged that before Modi came to power, there was no communal strife in Asansol or Raniganj and accused BJP of bringing money from neighbouring Jharkhand and creating trouble in West Bengal.
Communal tension gripped the two industrial and mining towns during Ram Navami celebrations in 2018. On Modi's claim of 'goondagiri' (strong-arm tactics) by her, Banerjee said "He does not even know how to talk about a woman."
She accused that BJP candidate in Asansol, union minister Babul Supriyo of "audacious behaviour" and urged people not to vote for him.
The singer-turned politician, who won the Asansol seat in 2014 and went on to become a union minister of state in the Narendra Modi government, had at one time shared a friendly relationship with the West Bengal chief minister.
He had even raised eyebrows in political circles by having "phuchkas" (panipuris) with Banerjee in front of the Victoria Memorial in Kolkata after being given a lift in her car on way to the Raj Bhavan in May 2015.
(With PTI inputs)
Get the best of News18 delivered to your inbox - subscribe to News18 Daybreak. Follow News18.com on Twitter, Instagram, Facebook, Telegram, TikTok and on YouTube, and stay in the know with what's happening in the world around you – in real time.
Read full article