BJP Admits Manoj Baitha Who Drove Over Schoolkids in Muzaffarpur is a Party Leader
Earlier, the BJP had officially denied that Manoj Baitha was party member, Baitha is absconding since the incident in Muzaffarpur, Bihar.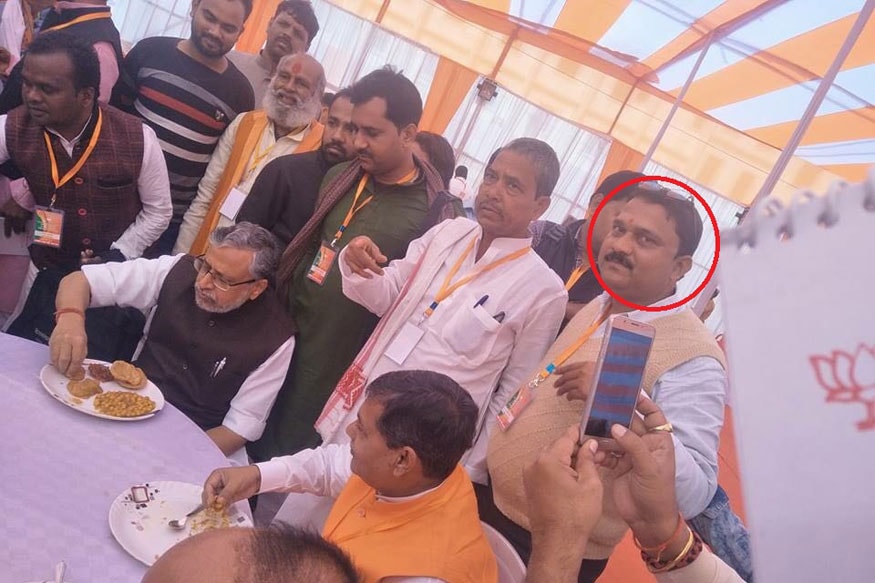 Manoj Baitha (circled), accused of running over school children in Muzaffarpur, with BJP leaders including Bihar Deputy Chief Minister Sushil Modi.
Patna: The Bhartiya Janata Party on Monday admitted that the man who was allegedly at the wheel of the SUV that crushed nine school children in Bihar's Muzaffarpur district is a BJP leader.
Earlier, the BJP had officially denied that Manoj Baitha was party member, Baitha is absconding since the incident.
Deputy Chief Minister Sushil Kumar Modi told the media in the Assembly that he belonged to his party and the law will take its own course against him.
"He belongs to our party but would not be spared for such heinous crime. We have ensured rule of law in the state and whosoever is found guilty would be punished," Modi said.
The Rashtriya Janata Dal (RJD) has accused BJP and Nitish Kumar government of patronizing Baitha and asked why he was not arrested even after two days of the tragic incident.
While proceeding for a protest march from assembly to Raj Bhawan, RJD leader Tejashwi Yadav told News18, "We demand apology from Sushil Modi and Chief Minister Nitish Kumar. Earlier, they out rightly rejected Baitha's involvement with BJP but when pictures of him with the CM and deputy CM became public, they accepted the fact. It is clear that he was drunk while driving and crushed innocent boys and girls. We demand justice."
Yadav said his party will raise the issue in the Assembly on Tuesday and seek explanation from Kumar.
Meanwhile, another BJP leader and state's health minister Mangal Pandey assured full assistance to the injured students who are admitted in Shri Krishna Medical College and Hospital (SKMCH) in Muzaffarpur.
Talking to News18, He said, "14 students are undergoing treatment and three of them are critical. I will speak to the hospital authorities today and if needed critically injured children would be shifted to other hospitals at full government expenses for better treatment."
On February 24, a speeding SUV rammed school children of Dharampur Middle School when they were crossing the road after the school got over. Nine students died on the spot while 20 others were injured.
The SUV had a name plate, identifying Baitha as 'mahamantri' of BJP. Later, CCTV footage established he was driving the car at the time.
Get the best of News18 delivered to your inbox - subscribe to News18 Daybreak. Follow News18.com on Twitter, Instagram, Facebook, Telegram, TikTok and on YouTube, and stay in the know with what's happening in the world around you – in real time.
| Edited by: Ashish Yechury
Read full article