BJP Corners Telangana Government with Demand to Celebrate September 17 as Liberation Day
BJP chief Amit Shah will visit Hyderabad for three days in September to set the agenda for the party in Telangana.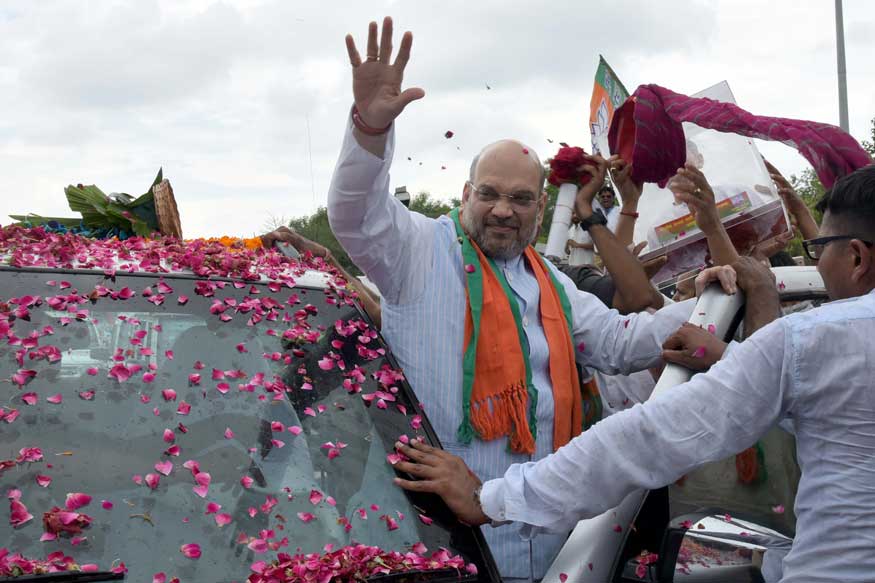 File photo of BJP chief Amit Shah.
Hyderabad: As part of its mega expansion drive in South India, the Bharatiya Janata Party has launched a campaign in Telangana to celebrate September 17, the day when the Government of India took over Hyderabad State from the Nizam in 1948 after an Army operation, as Telangana Liberation Day.
And the party is going all out to make the event a success as it eyes to be seen as the main Opposition to K Chandrashekar Rao-led government in the state. The BJP hopes this event will provide the party a launch platform for its ambition of winning the 2019 Assembly polls in Telangana.
BJP chief Amit Shah will visit Hyderabad for three days in September to set the agenda for the party. During his visit from September 10 to 12, he will review organizational structure at grass-root level and discuss the strategy with state unit leaders.
The end of 200 years old Nizam's rule in 1948 came after an Army operation and was followed by communal violence, leaving the region, particularly the Hyderabad city, deeply scarred.
In this background, public celebration of September 17 as 'Liberation Day' is being seen as communally sensitive by political analysts in Hyderabad.
When asked, BJP spokesperson Krishna Sagar Rao said, "We are a party that believes in celebrating everything that is nationalist. This region would have become a South Pakistan if it was not liberated. So there is a huge reason to celebrate this day officially, as it marks the Independence from the oppression of the Nizam. KCR government has taken U-turn on this promise to appease minority vote bank. Telangana government is under pressure of Owaisi-led All India Majlis-e-Ittehadul Muslimeen."
Alleging the BJP of playing divisive card just for the sake of votes, Telangana Rashtra Samiti MP Vishweshwar Reddy said, "Politically the BJP is irrelevant in Telangana. They don't have any understanding of local issues. What is important for the people is infrastructure, water and famers' issues. BJP wants to play divisive card. But they will find difficulty and never succeed as ours is a multi-cultural society. Taking on TRS is only a good dream for them."
During his last visit to the state, Amit Shah had said Telangana will be the BJP's 'gateway for South India'. While the Assembly polls are still two years away, September 17 onwards KCR government can expect a constant challenge from the BJP.
| Edited by: Sanchari Chatterjee
Read full article
Countdown To
Elections Results
To Assembly Elections 2018 Results