nda:
Needmore seats to Win

Needmore seats to Win
upa:
BJP Does Not Have Distributorship of Hindu Religion: Kamal Nath Fights off Congress' Soft Hindutva Image
Talking about the alliance formula, Kamal Nath said that the parties should focus on arithmetic that can help defeat the BJP and not only on sharing of seats.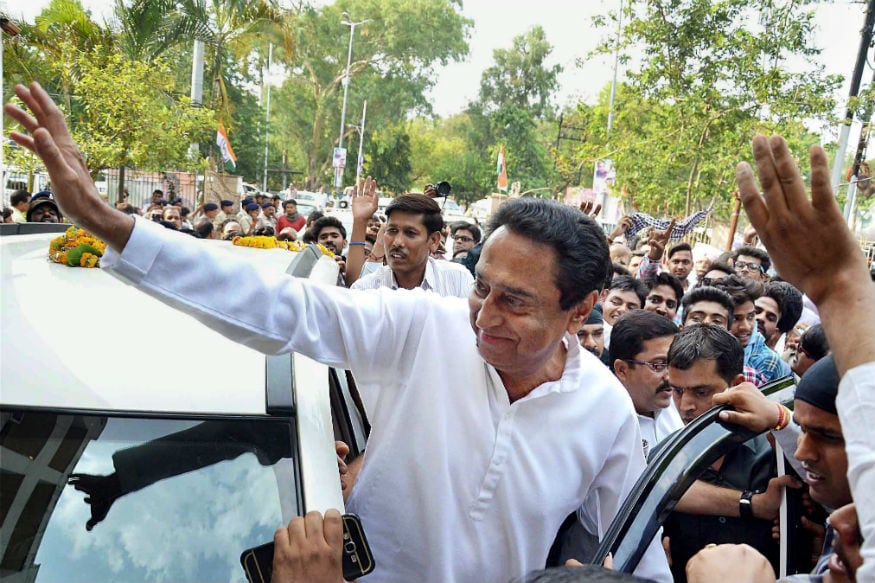 File photo of Madhya Pradesh Congress chief Kamal Nath.
New Delhi:
Playing down the charges that the Congress is indulging in soft-Hindutva, Madhya Pradesh Congress chief Kamal Nath asserted that the BJP does not own the "distributership of Hindu religion" and that the Congress is "more deeply religious than the BJP".
Madhya Pradesh is to go to polls on November 28. Not worried about the fact that BSP supremo Mayawati has decided to go it alone in MP, Kamal Nath, in an exclusive interview to CNN-News18's Marya Shakil, said the state elections are very different from national elections and, hence, negotiations for alliances in 2019 would take a different route.
Q: Why is it that no other party wants to do business with you or ally with the Congress?
Kamal Nath
: I don't accept that. We are in touch with the Samajwadi Party, the Gondwana Gantantra Party.
Q: But Akhilesh Yadav has said that he will ally with the Gondwana Ganatantra Party and is not waiting for you anymore.
Kamal Nath
: We have to look at how we can defeat the BJP together. We should not be talking about the number of seats.
Q: Are you saying there is a possibility for an alliance?
Kamal Nath
: Of course, there is. The BSP is a different story. At 6.3% vote share, they wanted 50 seats. We are six-odd percent in UP Will the same proportion apply there? Some of the seats were just gifting it away to the BJP. That's why the alliance wasn't possible.
Q: But the Congress party has been accused of being arrogant and casteist by Mayawati. She says the Congress is out there to finish the BSP in Madhya Pradesh.
Kamal Nath
: We don't want to finish any party. If we want to defeat the BJP, which is our intention, any alliance which helps us to to do that is an alliance we want.
Q: How will it really work? Because what was initially seen as a two-way contest has now turned into a multi-corner contest in Madhya Pradesh?
Kamal Nath
: I am confident that people will not waste their votes by giving it to the smaller parties. The objective of the voter today is to defeat the BJP. And to that effect, they are going to see which party can defeat the BJP.
Q: Have you given that decisive option to the voter because you failed to secure an alliance with the BSP?

Kamal Nath
: I don't think so. I think if the BSP had made a reasonable offer to us, we could have had an alliance. I certainly would have accepted it. But asking for 50 seats where they have got only 2000-3000 votes was nothing but giving the BJP a walkover.
Q: Haven't you sent out a wrong message to your potential ally?
Kamal Nath: I don't think so.
Q: In the run up to 2019, you will need Mayawati and Akhilesh in Uttar Pradesh.
Kamal Nath
: State elections are very different than national elections, let's be clear on that. Objectives are different. In Madhya Pradesh, the objective is to defeat the BJP. We are willing to walk the extra mile. But I am not willing to have an alliance which only helps the BJP.
Q: But tell me, how do you look at what Mayawati has said about Digvijaya Singh being an agent of the BJP and the RSS?
Kamal Nath
: I think it is humorous. Digvijaya Singh has spent his whole life taking on the BJP and the RSS. Why and how Mayawati arrived at this position is something only she knows.
Q: Mr Kamal Nath, you said the BSP was asking for 50 seats and the Congress was not ready to settle for that kind of number. Isn't the Congress being opportunistic?
Kamal Nath
: Then let them give the Congress the same number of seats with 6% of vote share in UP. Let them agree that they will work in the same fashion in UP. They did not agree to that. It's not the number of seats that they want, it's which seats they want that is the point.
Q: Mr Kamal Nath, there seems to be a visible Hindutva push by the Congress. We have seen pictures in which Rahul Gandhi, you and Jyotiraditya Scindia are seen doing Aarti. Why this push? Are you afraid that the Congress does not have a development agenda and that's why it is following the BJP's line?
Kamal Nath
: Certainly not. We all are religious but we don't take religion to our political platform, let's be clear on that. We all pray, we all do aarti. I have built the biggest Hanuman Mandir in Madhya Pradesh, a 104-ft Mandir in Chhindwara. I never publicised it. And we have so many religious festivals that we celebrate, I don't publicise it.
Q: But you have converted those to events.
Kamal Nath
: No. It is the media which is converting them to events. The BJP hasn't taken the distributership of the Hindu religion. Let's be clear on that. They want to usurp and say we are the distributors, we are the agents of the Hindu religion. That's not what we all are about.
Q: Then what are you about?
Kamal Nath
: We are deeply religious. We are perhaps more deeply religious than the BJP.
Q: Tell me, sir, there seems to be some kind of double game which is happening here. The reason why I am saying is that on Oct 2 Madhya Pradesh Congress started Ram Van Path Gaman Yatra from Chitrakoot. Both you and Jyotiraditya Scindia were absent. Why?
Kamal Nath
: Because it is not a Congress Yatra. It was some Congress workers from that area who were taking out that yatra.
Q: So did you not join it because you felt that you would be seen as anti-minority?
Kamal Nath
: No, certainly not. This is happening all the time, you just noticed the one happening. The Congressmen are deeply religious, we don't use religion for politics and that's a big difference.
Q: But you are doing this. Rahul Gandhi did it in Karnataka. In Gujarat, there was a temple run, one after another.
Kamal Nath
: If he goes and does Aarti on Narmada, I think it is his sentiment that makes him do it.
Q: But did you and Rahul Gandhi do it in 2013, sir?

Kamal Nath
: I have done it so many times. I don't know how many times I have done Aarti on Narmada. Rahul Gandhi must have done it so many times.
Q: But tell me what is happening with all the cow protection that you are talking about. You are talking about gaushala (cow shelter) in every district. Here is Shivraj Singh Chouhan who is talking about the cow ministry and the cow express. Are you going overboard?
Kamal Nath
: There is no question of going overboard. The gaushala comment was made in a rally which happened in a village. On my way, I saw a herd of cows stranded on the street and no one was paying attention to them. The BJP, which claims to be a 'Gaurakshak', is doing nothing for the poor state of cows in the country and the region.
Q: Your opponents are accusing you of being desperate and spreading false allegations against the BJP. Shivraj Singh complained to the EC that the opposition is creating an atmosphere of confusion through propaganda before the polls?
Kamal Nath
: The complaints were made regarding voters' lists. We've complained regarding the excesses made during the aashirwaad yatra. The government money and machinery was used to campaign for the BJP and spread their propaganda. I don't know what kind of an aashirwaad yatra is this. My complaint regarding the voters' lists has been vindicated by the EC. They've eliminated 24 lakh voters. They published a list on January 18. We went to the EC and we showed them the fake voters. This could add up to 60 lakh voters. They themselves said they've eliminated 24 lakh in the recently published rolls. Am I not vindicated?
Q: Who is taking on Shivraj Singh Chouhan? We see Kamal Nath and Jyotiraditya Scindia everywhere, but who is the face of Congress in these polls?
Kamal Nath
: The face of Congress are the unemployed youth, the distressed farmers, the insecure and raped women of Madhya Pradesh, we're working together to bring Congress to MP.
(Get detailed and live results of each and every seat in the Lok Sabha elections and state Assembly elections in Andhra Pradesh, Odisha, Arunachal Pradesh and Sikkim to know which candidate/party is leading or trailing and to know who has won and who has lost and by what margin. Our one-of-its-kind Election Analytics Centre lets you don a psephologist's hat and turn into an election expert. Know interesting facts and trivia about the elections and see our informative graphics. Elections = News18)
Read full article
Countdown To
Elections Results
To Assembly Elections 2018 Results