0/288 Seats ((145 Seats to Win)
Alliance
BJP+
YSRCP+
TDP+
INC+
OTH
Wins + Leads
0
0
0
0
0
+/- 2014
+0
-0
-0
+0
0/90 Seats ((145 Seats to Win)
| Alliance | BJP+ | INC+ | BJD+ | OTH |
| --- | --- | --- | --- | --- |
| Wins + Leads | 0 | 0 | 0 | 0 |
| +/- 2014 | +0 | -0 | -0 | +0 |
BJP Has no Role to Play in TN Political Situation: Venkaiah Naidu
Union Minister M Venkaiah Naidu on Saturday said BJP has no role to play in the political situation of Tamil Nadu.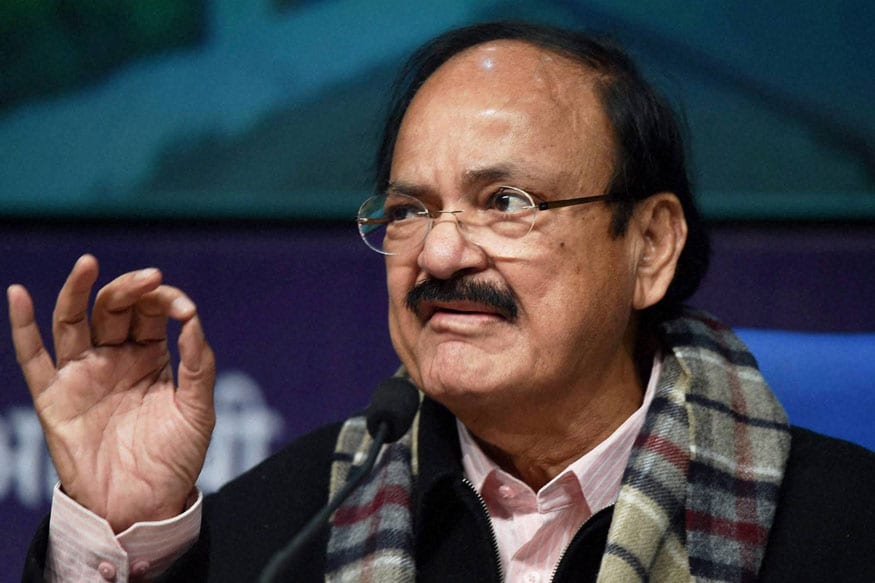 File image of Venkaiah Naidu. (Image: PTI)
Hyderabad: Union Minister M Venkaiah Naidu on Saturday said BJP has no role to play in the political situation of Tamil Nadu.
"The BJP has no role to play in Tamil Nadu political situation. The BJP do not have a member in the legislative assembly. Where is the question of BJP doing anything (there)? We are not part of the government formation where we do not have representation in Assembly," Venkaiah told reporters.
He also said the current milieu is entirely an internal affair of the ruling AIADMK and the people of Tamil Nadu want a leader who can take forward the ideology of former Chief Minister (late) J Jayalalithaa.
"As on now it is an internal affair of AIADMK. We also feel sad about what is happening within that party. How to go about... Is that they should decide. As far as the Governor is concerned, the Governor is duty-bound by the constitution. He will do, he will go by the book, he will go by the precedence. He will go by the legal opinions. And there is no way that BJP is interfering in the internal affairs of that party (AIADMK)," said the Minister.
He also said the BJP had always maintained "good relationship" with AIADMK when the former Chief Minister of the state (Jayalalithaa) was alive and will continue to have "good relationship" with that party.
In a rarely seen intra-party political tussle in the AIADMK, O Panneerselvam openly revolted against Sasikala on February 7, two days after she was elected the Legislature Party leader for her elevation as the CM.
Panneerselvam had alleged that he was forced to step down as Chief Minister to make way for Sasikala.
Taking a dig at Congress, the Information and Broadcasting Minister said the leadership of the opposition party has not learnt lessons even after losing elections after elections.
Taking strong exception to the criticism of Prime Minister Narendra Modi by some of the Congress leaders, Venkaiah said the opposition party is not able to digest the growing popularity of the PM and hence resorting to "dirty smear campaign".
He claimed that many senior Congress leaders are leaving the party and joining BJP which shows the diminishing popularity of the party.
Get the best of News18 delivered to your inbox - subscribe to News18 Daybreak. Follow News18.com on Twitter, Instagram, Facebook, Telegram, TikTok and on YouTube, and stay in the know with what's happening in the world around you – in real time.
| Edited by: Ananya Chakraborty
Read full article