BJP National Council meet: Speeches of party leaders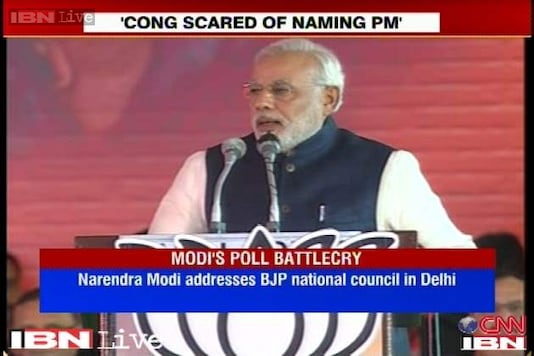 New Delhi: 2:03 pm: My idea of India is Satyamev Jayate: Modi
2:01 pm: Amul model must be replicated in all states for dairy development: Modi
1:59 pm: Terrorism divides, tourism unites: Modi
1:58 pm: Every state should have IIM, IIT and AIIMS: Modi
1:57 pm: If we need to keep our head high in the 21st century, we need to work on better education: Modi
1: 54 pm: Need to give a push to the river interlinking prioject: Modi
1:50 pm: We need to change our outlook towards women. Female foeticide should be be abolished: Modi
1:48 pm: You gave 60 years to the rulers, give 60 months to the workers: Modi
1:47 pm: There is a need for price stabilisation in the country: Modi
1:45 pm: It is a promise that the initiative that Advani ji took to bring back black money will be carried forward by the BJP and every penny will be brought back and used for the betterment of the society: Modi
1:43 pm: We have no plan for human resource planning. We need to plan human strength and aim at development of the country: Modi
1:42 pm: Congress wants to divide and rule, we want to unite and progress. They think of ways to to save the party, we work towards saving the nation.
1:40 pm: There is a wide difference between the thinking of the Congress and the BJP: Modi
1:38 pm: Rahul says until Congress talks of the poor, there is no fun. But we don't sleep well after thinking about the plight of the poor: Modi
1: 37 pm: The country does not need rulers but workers: Modi
1:32 pm: Good governance is about development and delivery: Modi
1:30 pm: It is time to decide between track record and tape record: Modi
1:27 pm: I want that PM and CMs of all states should be part of one team and take the country forward together: Modi
1:25 pm: Heard a lot about committees, the country now needs commitment: Modi
1:24 pm:We have heard a lot about 'Acts', the country now needs 'action' : Modi
1:22 pm: The voters should decide on the basis of track record that who should come to power: Modi
1:21 pm: As a Chief Minister, I understand the value of empowering states: Modi
1:17 pm: While the west is progressing, the rest of India is pining for progress.
1:12 pm: Regional aspirations have been ignored for too long. They could be beneficial for the country: Modi
1:06 pm: Congress is heading towards defeat which is why Sonia Gandhi was reluctant to sacrifice his son Rahul: Modi
1:05 pm: When Rajiv Gandhi was made PM after Indira Gandhi's assassination, did Congress have a parliamentary party meet? Congress has no right to talk about parliamentary practices. During UPA-1, no parliamentary party chose Manmohan Singh as PM. It was Sonia Gandhi who was was elected: Modi
1:02 pm: Every congressman wanted Sardar Patel to be the PM but he was not allowed to become the PM: Modi
1:01 pm: Congress leaders had come to AICC meet to see a PM nominee but they went back with gas cylinders: Modi
12:59 pm: Congress is trying to save its organisation we are trying to save the nation: Modi
12:58 pm: Farmers are committing suicide, youth do not have jobs, women are concerned about their safety. India has never been so 'leader-less': Modi
12:57 pm: 2014 elections are the elections of hope for the people of the country: Modi
12:55 pm: Country has not seen such dark days as we are seeing under Congress's rule: Modi
12:50 pm: Modi starts his speech in his trademark style with chants of 'Bharat Mata ki Jai'.
12:30 pm: Political analysts believe that the BJP should offer more messages to the voters on why they should vote for the party instead of making remarks on other leaders.
12:25 pm: "Yesterday a Congress leader asked how a tea stall vendor could ever be PM. Yes we are tea sellers but the Congress is selling the nation instead. They should be ashamed," BJP leader Venkaiah Naidu said.
12:20 pm: Attacking the Congress, Ravi Shankar Prasad said, "I want to ask Rahul Gandhi, does he feel that Shivraj Singh Chouhan, Raman Singh and Vasundhara Raje won elections for the third term due to marketing skills? Did Rahul Gandhi not do it," he questioned.
12:10 pm: "Rahul Gandhi is no match for Narendra Modi," BJP leader Ravi Shankar Prasad.
Speaking at the National Council meet, BJP leader Sushma Swaraj said, "Congress president Sonia Gandhi said that it is the tradition of the party not to announce its PM candidate. What party is this where workers, leaders are unaware of the tradition," she questioned.
On the last day of its National council meet on Sunday, the Bharatiya Janata Party (BJP) is expected to move the party's political resolution ahead of the 2014 Lok Sabha polls. Sushma Swaraj is likely to move the resolution.
BJP's prime ministerial candidate and Gujarat Chief Minister Narendra Modi is also scheduled to address the party cadres on Sunday. His speech comes two days after Congress vice president Rahul Gandhi gave a rousing speech at the All India Congress Committee (AICC) listing his party's achievements and hitting out at the BJP and its PM candidate.
Addressing BJP members on Saturday, Modi had asked the party rank and file to concentrate on running a grounded election campaign focusing on booths and households as he said polls are not won through rallies and TV debates.
Striking a note of sarcasm, the Gujarat Chief Minister said, "we cannot beat Congress in their way of running a campaign. We do not have the ability to spend such money, misuse state machinery or resort to any dirty tricks. The power we have is the power of organisation."
He asked party workers to touch an emotional chord with people when they go on a door-to-door campaign. "When you go to collect 'one note' for the party to 10 crore families, you should ask them what they want from their government, ask them don't you want change. Talk to them about issues they are emotional about," he said.
He told party workers that in each booth, which has around 700 votes, they should try to ensure that 350 votes are cast for BJP. "This means you have to reach out to 100 families per booth," he said.
BJP president Rajnath Singh also on Saturday attacked the Congress for trying to convert the political campaign into a secular versus communal one. He also blamed Rahul for claiming the credit for passing the Lok Pall Bill and said that real credit should go to anti corruption activist Anna Hazare, BJP leaders Sushma Swaraj and Arun Jaitley.
Rajnath also said that the Congress had been trying to defame Modi by making personal attacks and initiating investigation into false cases. He said that the rest of India under Modi will be able grow like Gujarat in all aspects. Congress leader Mani Shankar Aiyar had on Friday ridiculed Modi by calling him a tea seller and unfit for the post Prime Minister.
Next Story