BJP Shines in Karnataka's Telugu Dominated Belt, Alarm Bells Ring in KCR and Chandrababu Camps
Speaking to CNN-News18, senior TRS leader Keshav Rao said, "There is no alternative as of now. Rahul cannot challenge Modi. In 2019, it will be Modi vs regional parties. To challenge the party in power, coalition of regional parties is needed. Regional parties should unite under one agenda and go forward with national outlook."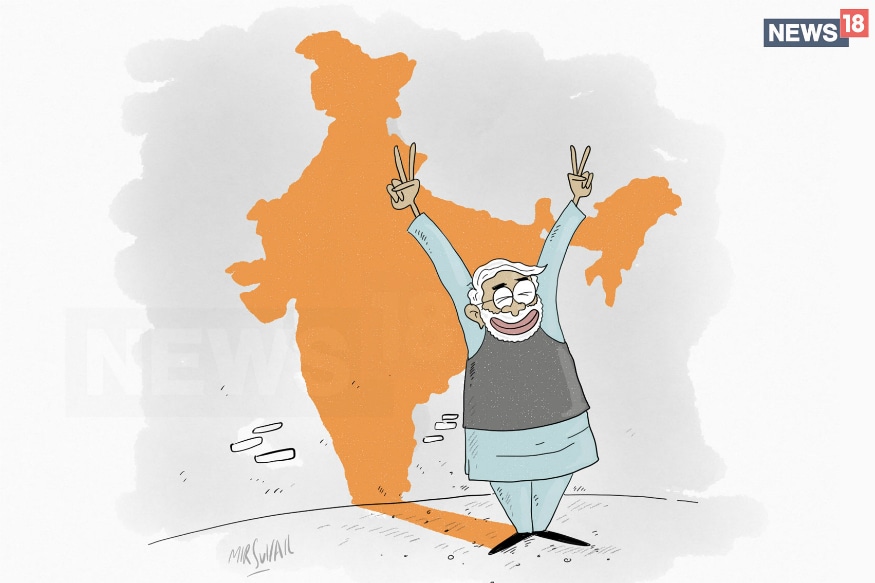 (Illustration by Mir Suhail/News18.com)
Hyderabad: The BJP may have fallen short of the majority mark, but its emergence as the single largest party in Karnataka has made it clear that its ambitions of making inroads into southern states are not far-fetched.
For its political significance ahead of 2019, the election was being closely watched by all political parties, particularly by those in the two neighboring Telugu states. The result in BJP's favour has certainly set the alarm bells ringing in the ruling camps of TRS in Telangana and TDP in Andhra Pradesh.
Eyeing a national role, Telangana chief minister K Chandrashekhar Rao has been making efforts to gather support of different regional parties to form a non-BJP and non-Congress Federal Front ahead of 2019 elections.
Speaking to CNN-News18, senior TRS leader Keshav Rao said, "There is no alternative as of now. Rahul cannot challenge Modi. In 2019, it will be Modi vs regional parties. To challenge the party in power, coalition of regional parties is needed. Regional parties should unite under one agenda and go forward with national outlook."
Taking the agenda of federal front forward, the chief Minister of Telangana had visited Bengaluru to meet JDS chief Deve Gowda and extended support to the party. KCR had also appealed to the people in Karnataka to vote for JDS.
"The JDS won more seats because of TRS party support. KCR had made open appeal and that helped in party winning more seats," Keshav Rao said.
The result is also bad news for TDP, a friend-turned-foe of the BJP. TDP chief and Andhra Pradesh chief Minister Chandrababu Naidu and other leaders from the party had also made open appeals to the Telugu population in Karnataka not to vote for the party that cheated the state and did injustice to people.
Despite the appeals, the BJP managed to more improve its tally in the Telugu-dominated Hyderabad-Karnataka region immensely.
"In Karnataka, TDP and Chandrababu Naidu have used all tactics to dissuade Telugu voters from supporting BJP. But in Hyderabad-Karnataka region where most Telugus live, BJP has increased its tally from 6 to 20 plus. People have rejected CBN's politics. Our southward march has begun," BJP national general secretary Ram Madhav tweeted.
TDP spokesperson Mullapudi Renuka dismissed the suggestion and told News18 that people voted on local issues. "People have shown confidence in Modi but they don't realize that promises that BJP made have not been fulfilled. Modi is a political choreographer and this election was issue of prestige so they used all means to win. But Karnataka result is not the mood of the nation. It will not be repeated in other states. Their own allies are unhappy, be it Shiv Sena or Akali. They will lose in 2019," Renuka said.
The two Telugu states go for elections along with general elections. BJP has already announced that their next target are the states of Telangana and Andhra Prdaesh. The party is strengthening its base in both Telugu states.
However, both TDP & TRS claim that they don't see BJP as a challenge in their respective states.
Taking a dig at BJP's claim, TRS leader Keshav Rao said, "TRS should be credited for BJP's victory because their manifesto was copied from TRS manifesto. They copied the development schemes that are in Telangana and touch people directly. Modi is a strong campaigner and there was nobody in Karnataka that can match up to him. In Telangana TRS is strong, we have leadership and I don't see BJP as a challenge at all".
"In Andhra Pradesh, BJP has a minor share. The mood of Andhra Pradesh is that Modi cheated the state. Nobody will vote for BJP in upcoming election in Andhra. We want people of Andhra to help us win all 25 seats so Chandrababu Naidu can have a role in national politics.", TDP spokesperson Renuka added.
Get the best of News18 delivered to your inbox - subscribe to News18 Daybreak. Follow News18.com on Twitter, Instagram, Facebook, Telegram, TikTok and on YouTube, and stay in the know with what's happening in the world around you – in real time.
| Edited by: Huma Tabassum
Read full article