BJP Supporters Crash Rahul Gandhi's Temple Run, Chant 'Modi, Modi'
The chanting did not deter Rahul Gandhi and the Congress scion continued smiling and waving to the crowd as he walked out of the temple.
Rahul Gandhi at the Shree Ranchhodji Temple in Kheda on Sunday.
Ahmedabad: Congress' heir apparent Rahul Gandhi continued his temple run in Gujarat on Sunday as he kicked off his campaign for the second phase of the assembly election with a visit to the Ranchhodji Temple in Kheda district.
Like his previous temple stopovers, this one too did not pass off without controversy. This time, BJP workers gathered outside the temple to spoil his visit and chanted slogans in favour of Prime Minister Narendra Modi.
When Rahul walked out of the temple and started headed towards his car, the crowd of BJP men was heard chanting 'Modi-Modi'. This, however, did not deter him and he continued smiling and waving to the crowd.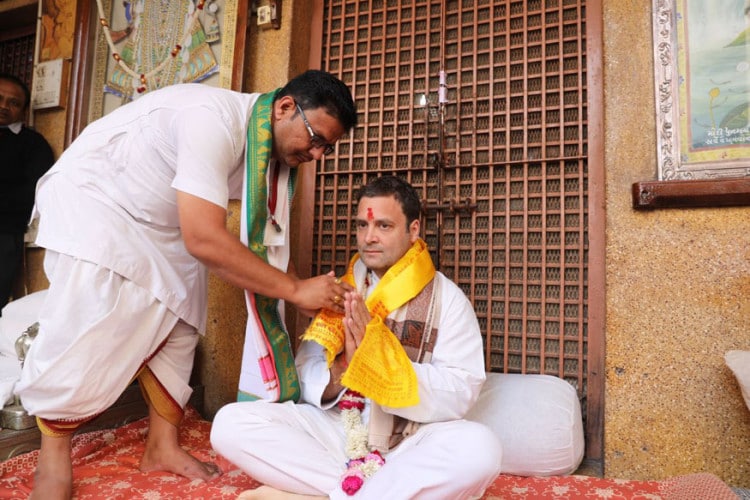 Rahul Gandhi offers prayers at the temple in Kheda on Sunday.
The Congress scion went to the temple ahead of a series of rallies he held on Sunday, all the way from Kheda to Gandhinagar. He also offered prayers at the Shamlaji Temple in Aravalli district.
There has been a lot of debate in political circles over the visits ahead of the elections, signifying a shift in his campaigning style to woo Hindu vote base. According to Congress leaders, he has completed visits to 25 temples, including Dwarkadheesh temple, Chamunda Devi temple as well as Akshardham temple.
The BJP has been irked by the visits and have accused him of flaunting religion to garner votes. Senior BJP leader and finance minister Arun Jaitley had also attacked Rahul for his temple run, saying when the original Hindutva party was available, people would reject its "clone".
Get the best of News18 delivered to your inbox - subscribe to News18 Daybreak. Follow News18.com on Twitter, Instagram, Facebook, Telegram, TikTok and on YouTube, and stay in the know with what's happening in the world around you – in real time.
| Edited by: Aakarshuk Sarna
Read full article