BMC Polls: Sena's Offer of 60 Seats an Insult; Tie-up Looks Distant, Says BJP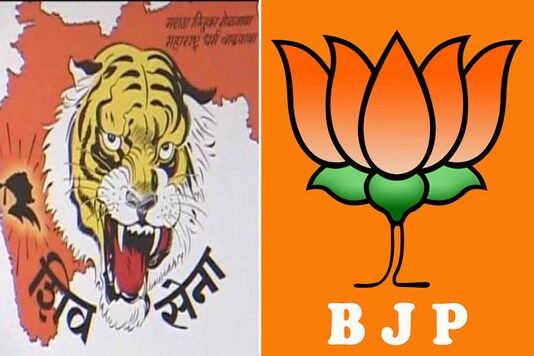 File image of Shiv Sena and BJP party logo (Photo Credit: PTI )
A day after Shiv Sena whittled down BJP's demand to contest 114 seats out of total 227 for BMC polls to mere 60, its chief Uddhav Thackeray on Sunday refused to open his cards on the prospects of the tie-up.
Mumbai: A day after Shiv Sena whittled down BJP's demand to contest 114 seats out of total 227 for BMC polls to mere 60, its chief Uddhav Thackeray on Sunday refused to open his cards on the prospects of the tie-up.
However, Sena's latest offer has left BJP livid with its poll managers seeing it as a 'putdown' to the party.
While Thackeray said the final decision will be taken after his discussions with Chief Minister Devendra Fadnavis, senior Shiv Sena leader Sanjay Raut rubbed it in further saying, "60 seats to BJP in civic polls is more than enough."
In the 2012 Brihanmumbai Municipal Corporation polls, Sena had contested 158 seats and won 75, whereas the BJP won 32 out of 69 seats it had fought.
A senior BJP leader tonight virtually ruled out the possibility of Fadnavis talking to Thackeray.
"The talks are almost enough and over. No yuti (alliance) will happen now. Ravindra Mirlekar is the person who does not want the yuti to happen. He will be the shiplakar (architect) of the break up of the alliance," the leader said.
Mirlekar is one of the Sena interlocutors holding talks with BJP leaders on forging the electoral understanding.
However, BJP's city unit chief Ashish Shelar said the party is still optimistic about the alliance with Sena and the final decision will be taken by Fadnvais and the state unit president Raosaheb Danve.
He was speaking to reporters after a review meeting on the poll preparations was held at the Chief Minister's official residence "Varsha" here tonight.
BMC is going to polls on February 21 along with nine other civic bodies across Maharashtra.
The party leaders took stock of the poll preparedness and also discussed the points to be included in the election manifesto of BJP, he said.
Shelar said, "The meeting finalised the points of bringing transparency in BMC administration as is being expected by the people of Mumbai. We also apprised Fadnavis about details of meetings held with Shiv Sena leaders."
On Sena's offer of 60 seats to BJP, he said, "The so-called generous offer of 60 seats is an insult to BJP and our growing strength. BJP leaders have expressed their extreme displeasure over such offer," he said, adding the final decision will be taken by Fadnavis and Thackeray.
Earlier in the day, Thackeray said, "Discussions are still going on. Exact proposal is yet to be received. Once we (he and Devendra Fadnavis) get the proposals from our leaders, we will decide on how to go ahead with it. There is no communication yet from the BJP leadership."
Talks between Sena and BJP -- the ruling allies at the cash-rich BMC -- are stuck with BJP demanding higher number of seats to contest given its "growing clout" in Mumbai, which Sena considers its bastion.
In 2014 Assembly elections, out of 36 seats in Mumbai region, BJP had won 15, one more than Shiv Sena.
When pointed out that the "deadline" set by the two parties to clinch a deal has ended, Thackeray retorted, "One must know there have been many deadlines after the decision of demonetisation."
He unveiled sops that his party would implement it if it secures a mandate in civic bodies in Mumbai, Thane and Ulhasnagar.
Thackeray said if Sena gets re-elected in BMC, students in uniform would be allowed to travel for free travel in BEST buses.
"We will implement it once we get re-elected. We will also provide health care facility to BEST employees," he said.
The Sena chief also promised to replicate in Thane and Ulhasnagar municipal corporations the property tax waiver offered in BMC.
For Thane and Ulhasnagar civic bodies, he said, "Those who have homes with a size between 500 sq ft to 700 sq ft, they will get some relief in property tax. People with more than 700 sq ft flat size will also get some relief, provided they implement some of corporation's projects. Similar policy will be introduced in Ulhasnagar civic body as well."
Senior Sena leader from Thane, Eknath Shinde, also made several promises like developing a central park, a sports complex and construction of a dam to cater to the water requirements of Thane Municipal Corporation, if the party wins the civic polls.
First Published: January 23, 2017, 8:13 IST
Next Story