Brothers With Big Egos: Uneasy Relationship of Kejriwal And Vishwas
Late on Tuesday night, high-voltage midnight drama unfolded in the Aam Aadmi Party (AAP) as party chief and Delhi Chief Minister Arvind Kejriwal reached Kumar Vishwas's residence.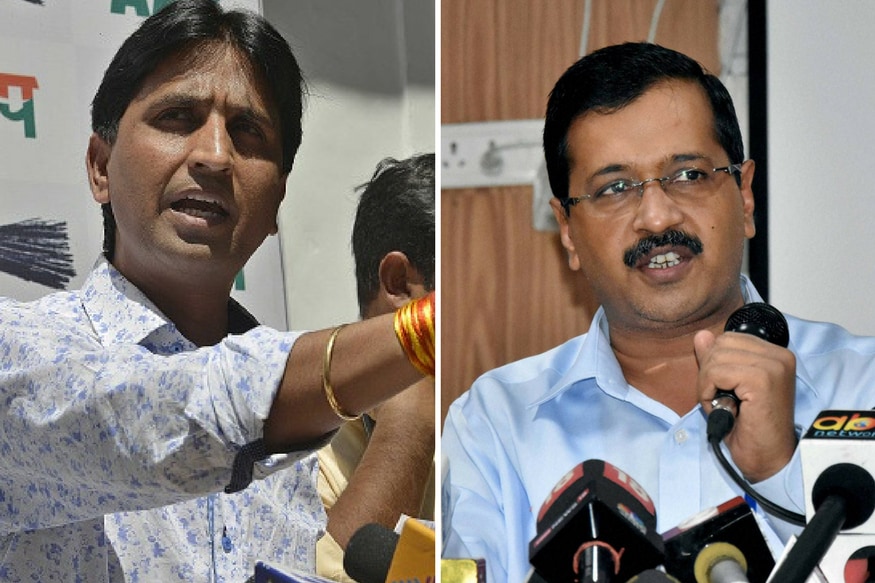 File photos of Kumar VIshwas and Arvind Kejriwal.
New Delhi: Late on Tuesday night, high-voltage midnight drama unfolded in the Aam Aadmi Party (AAP) as party chief and Delhi Chief Minister Arvind Kejriwal reached Kumar Vishwas's residence.
Soon, images of Kejriwal, Manish Sisodia and other senior leaders meeting a miffed Vishwas flooded TV screens. Vishwas looked defiant with his hands behind his back while a despondent-looking Kejriwal stood at a distance. The images were in sharp contrast to viral images of the two standing on a balcony, waving to supporters after the party's historic win in 2015. In victory, the two stood side-by-side, but in defeat, the bonds are loosening. But the relationship between the two has hardly been stable.
Falling out of the inner circle
In November 2012, Arvind Kejriwal, flanked by his trusted lieutenant Manish Sisodia, formally launched the Aam Aadmi Party. Sisodia announced a list of 23 names that would be on the party's national executive body. Kumar Vishwas, the poet-turned-politician, found a place on the body as one of the party's founding members. Slowly, however, Vishwas and Kejriwal drifted apart and he was edged out of the leader's inner circle. Kejriwal began relying increasingly on others such as Sanjay Singh for advice.
Also Read | Who is Kumar Vishwas, The Man Kejriwal is Trying to Keep Happy
The party's biggest gamble last year were the assembly polls in Punjab but Kumar, once an essential cog in the wheel, was kept almost entirely out of the party's Punjab campaign. Party sources said that the leadership was worried that opponents would dig out some old comments by Vishwas that could be deemed derogatory to Sikhs, hampering the party's chances.
Shooting from the hip
Before Vishwas joined active politics with the AAP, he was a satirical poet and some of his comments were seen as derogatory. In 2014, when Vishwas was the AAP candidate from Amethi, an old clip of him allegedly making derogatory remarks about Muharram, the sacred month of Shia Muslims, surfaced. Kejriwal had to personally step in and apologize on Vishwas's behalf. Vishwas, too, apologized unconditionally for the remark he had made in 2005. But soon after, in the same month, another video clip emerged in which he could be seen mocking nurses from Kerala in a poem deemed "sexist".
AAP's 'Videogate'
In April, Kumar Vishwas released a video on his official YouTube channel in which he spoke on nationalism and chided all those who follow cults of personality. He mentioned PM Narendra Modi, Kejriwal and Rahul Gandhi by name. During an emotional address to the press on Tuesday, Vishwas claimed that he was being asked to apologize for the video. The party, however, denied that he was ever asked to do so. Interestingly, however, Kejriwal himself had shared the video.
'Disagreements never turned into bitterness'
An AAP MLA, considered close to Vishwas, told News 18 that while the two top AAP leaders have had several heated disagreements, they never experienced any bitterness. "They would often disagree on small, day-to-day things related to the party. But I honestly never saw any bitterness between the two. Even when Yogendra Yadav and Prashant Bhushan left, Kumar stood resolutely behind Arvind. When Arvind says in a tweet that they are like brothers, he is not exaggerating. Now, this open war of words is shocking and saddening for us."
Manish Sisodia: Troubleshooter-in-chief
In 2014, Kumar Vishwas was reportedly unhappy with the party. The entire bench strength of the party was sent to Varanasi, where Kejriwal was contesting against BJP's Prime Ministerial candidate Narendra Modi. Vishwas, who was contesting against Congress vice-president Rahul Gandhi and BJP's Smriti Irani, was more or less left to his own devices. Sources said Vishwas expressed his displeasure after he finished third in the election. When tensions mounted between Vishwas and Kejriwal, the party chief's Man-Friday Manish Sisodia came to the rescue. "Manish has the advantage of being close to both. He has been the glue in their relationship. He was Arvind's comrade-in-arms during the anti-corruption days and has been friends with Kumar since childhood," the MLA said.
Even on Tuesday night, when Kejriwal visited Vishwas, Sisodia accompanied him. Earlier in the day, Sisodia had issued an "appeal" to Vishwas to "come and talk on the right forum" instead of speaking to TV cameras. It was after Sisodia's appeal, sources said, that Vishwas agreed to attend the Political Affairs Committee (PAC) meeting on Wednesday.
Get the best of News18 delivered to your inbox - subscribe to News18 Daybreak. Follow News18.com on Twitter, Instagram, Facebook, Telegram, TikTok and on YouTube, and stay in the know with what's happening in the world around you – in real time.
| Edited by: Puja Menon
Read full article