BS Yeddurappa: The Man Who Helped BJP Breach Southern Frontier
Though BS Yeddurappa may be bowing out before the trust vote, and this is in all likelihood going to be his final innings, he will still be the biggest source of strength for BJP as it now looks forward to the 2019 polls.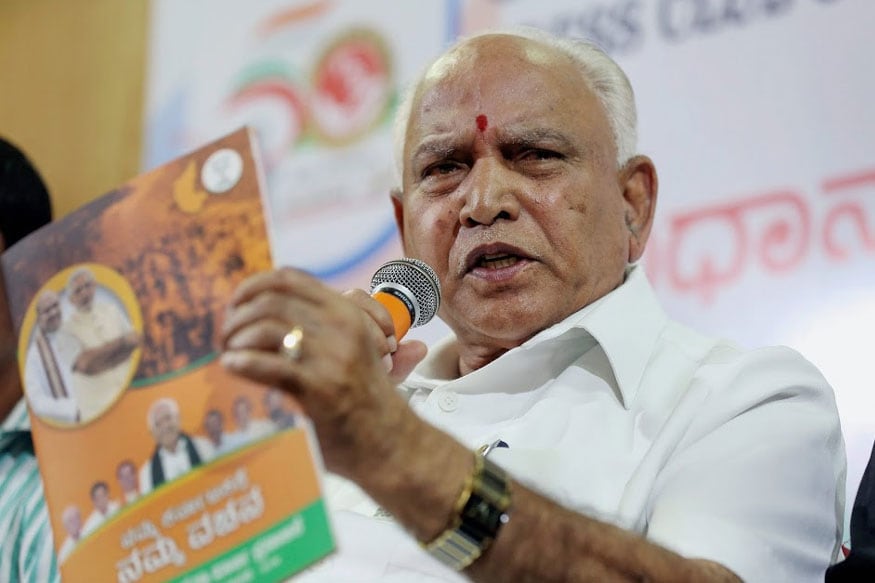 File photo of BS Yeddyurappa.
New Delhi: It may have been an unpleasant day, or an unpleasant last one week, for BS Yedyurappa, but three-time, and most recently two-day-old Chief Minister, will certainly look back at his 50-year-old public life with supreme satisfaction. He will take solace from, for instance, being the first BJP leader to push his party to victory south of Vindhyas, and becoming the first BJP CM in a south Indian state.
From very humble beginnings – working as a government clerk in the state's social welfare department and taking up a similar job at a rice mill in his native Shikaripura – BSY went on to make himself indispensable not just to state BJP but to Karnataka and even national politics.
Political activism started early for the 75-year-old Bookanakere Siddalingappa Yeddyurappa. He joined the Jana Sangh, in his hometown Shikaripura in Shivamogga district, and cut his teeth in activism at 15 years of age.
(Actually the number 15 would go on to become a significant figure in Yedyurappa's life.)
15 October, 2011, was when having resigned as the Chief Minister following a string of corruption scams, Yeddyurappa surrendered before the Lokayukta. He spent the next one week in jail.
Fifteen FIRs were filed against Yeddyurappa on various charges of corruption but all of them were quashed by the Karnataka High Court in January 2016, paving way for his rise to the top of BJP's leadership in Karnataka again.
Fifteen days was the time Governor Vajubhai Vala gave to Yeddyurappa after having sworn him in as the state's Chief Minister on Thursday.
A Bachelor of Arts, Yeddurappa, began working early as a Lingayat strongman and a farmer leader (the first decision he took soon after being sworn in as the 23rd CM of Karnataka was to waive-off farm loans up to Rs 1 lakh).
He was among the crop of political heavyweights in opposition who were jailed during the Emergency.
Though his work in public life began way back in 1970 as a Kaaryavah for the Sangh in his hometown of Shikaripura, his first big break came in 2004 when heading the state unit he made BJP the largest party in the state polls. Though Congress and JD(S) cobbled together an alliance, under Dharam Singh, it soon fell paving way for an alliance headed by Yeddyurappa and H D Kumaraswamy.
Under a rotational chief ministership arrangement, Kumaraswamy became the chief minister and Yeddyurappa his deputy. However, the coalition government collapsed as the JD (S) reneged on the power sharing deal after 20 months, paving the way for elections.
But again, in 2008, the Lingayat heavyweight led his party to victory. That year he became the first BJP CM south of Vindhyas. But controversies soon followed him and allegations of abuse of office to favour his sons in allotment of land in Bengaluru were levelled at him.
The indictment by Lokayukta in an illegal mining scam was the last straw and he was forced to resign on July 31, 2011 and soon surrendered before the Lokayukta and had to spend the following one week in jail.
Differences with BJP grew owing to the party's treatment towards its senior most leader in the state and soon Yeddyurappa founded his own party - the Karnataka Janata Paksha.
It was the first time he had broken ties with the BJP. In the Assembly elections of 2013, Yeddyurappa polled over 10% votes, a significant achievement for a first-timer and ensured that Congress won by a huge margin.
But as the BJP headed by Narendra Modi looked to maximise its presence in Karnataka for the 2014 general polls, it had no option but to acknowledge the might of Yeddyurappa and convince him to merge his party with the BJP.
In the 2014, he ensured that BJP won 19 of the state's 28 seats, a huge victory for the party that had secured only 20% votes in Assembly elections the previous year.
Though Yeddurappa may be bowing out before the trust vote, and this is in all likelihood going to be his final innings, he will still be the biggest source of strength for BJP as it now looks forward to the 2019 polls. This, many of his ardent critics also would have to acknowledge, would be a feat worth remembering for a long time to come.
Get the best of News18 delivered to your inbox - subscribe to News18 Daybreak. Follow News18.com on Twitter, Instagram, Facebook, Telegram, TikTok and on YouTube, and stay in the know with what's happening in the world around you – in real time.
Read full article