GET Stock

Quotes


Building a Road in Naxal Areas One of the Toughest Fights in the World, Says Chhattisgarh Chief Minister Raman Singh
Singh said one of the biggest challenges he faced in office was the construction of roads in the 40,000 square kilometer Maoist-hit Bastar range, a region bigger in size than the state of Kerala.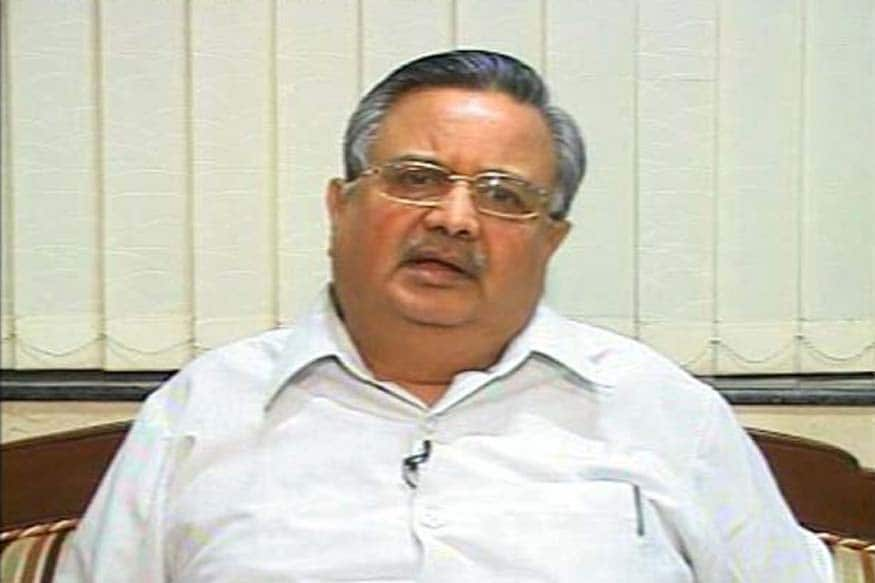 File photo of Chhattisgarh Chief Minister Raman Singh.
Raipur:
Left Wing Extremism (LWE) or Naxalism has shrunk to an area spanning just two districts in South Bastar region, Chhattisgarh Chief Minister Raman Singh claimed in an interview with News 18. Talking about the challenges that the government had to face while connecting naxal hit areas, Singh said that building roads in the Naxal heartland was one of the "toughest fights in the world" and was only possible due to the efforts of the security forces and the state police.
"Most districts are very well connected via roads now. There is only a 15-20% area of Bijapur and Sukma districts where Naxals are most active. In other districts, like Bastar and Dantewada, you can now go anywhere. Now, there are roads deep into Bijapur as well. There were areas, where even I would have doubts about going earlier. But now, they are peaceful. Roads and electricity are the key factors behind this. There has definitely been a massive change in the last 15 years. We have won the confidence of the people. We are now moving forward and giving 55 lakh smartphones to the youth across the state," he told News 18.
Singh said one of the biggest challenges he faced in office was the construction of roads in the 40,000 square kilometer Maoist-hit Bastar range, a region bigger in size than the state of Kerala. "Chattisgarh was the only state in India which had a 150 km long National Highway made of nothing but dirt. No construction could take place there. Now, we have connected Jagdalpur to Dantewada and then onwards to Sukma and Bijapur. There is a road till Konta, which is the last village in Chhattisgarh on the southern tip of Sukma. Several bridges have been constructed. Earlier, the National Highways would be unusable in the monsoon. That is not the case now," he said.
The CM said that the South Bastar region, by virtue of being surrounded by four inter-state borders with Maharashtra, Telangana, Andhra Pradesh and Odisha, is subject to Left-wing extremism perpetrated by those who come from outside Chhattisgarh. He said, "Earlier, Naxals used to scare away construction crews or damage their equipment. We gave them security. Building roads in Naxal-affected areas is one of the toughest fights in the world. They are not uniformed fighters. They are guerrillas and they ambush our people. They use villagers, women and children, are human shields. The leaders are not even locals, they come from Andhra. Some fighters live in Odisha, strike here and leave. That is why it is harder to control Naxalism in the South Bastar region, because it is surrounded by inter-state borders."
On Saturday, Singh accompanied Prime Minister Narendra Modi to Naxal-affected Bijapur district, where the Prime Minister launched the Ayushman Bharat scheme and also announced a slew of sops for the sensitive South Bastar region. Talking about the PM's decision to visit Bijapur, Singh said, " There are over 100 'Aspirational Districts' in India. He (Modi) could have gone to any one. He chose Bijapur because it has shown remarkable improvements in terms of development. It is a great matter of pride for Bijapur and Chattisgarh that the Ayushman Bharat scheme, which will transform health care in India, was launched from here. Today, Bijapur and Dantewada have BPOs. They have connectivity. 300 kids from these two districts found employment in these BPOs. Our aim is to employ 1,000 kids here."
During his speech in Bijapur, Modi began his address by speaking in Halbi, a tribal language spoken in Chhattisgarh. According to Raman Singh, the PM's choice of Halbi had a profound impact on the audience. "If a person hears even four sentences in their own language, it raises their confidence. The PM's decision to address the rally in Halbi had a great response. Our PM has an incredible ability to connect with people in the very first minute. The choice to speak in Halbi broke the language barrier very early on and brought the crowd of 40,000 on the same wavelength as the PM," he said.
(The reporter was in Raipur at the invitation of the Chhattisgarh government.)
| Edited by: Ahona Sengupta
Read full article
Countdown To
Elections Results
To Assembly Elections 2018 Results