Bullied into Fighting for Rajya Sabha No. 2 Post by Allies, Congress Emerges a Political Untouchable
Even in an election with a foregone conclusion, one puts up a fight. For the BJP, no election is small enough while for the Congress, almost every elections becomes a matter of triviality.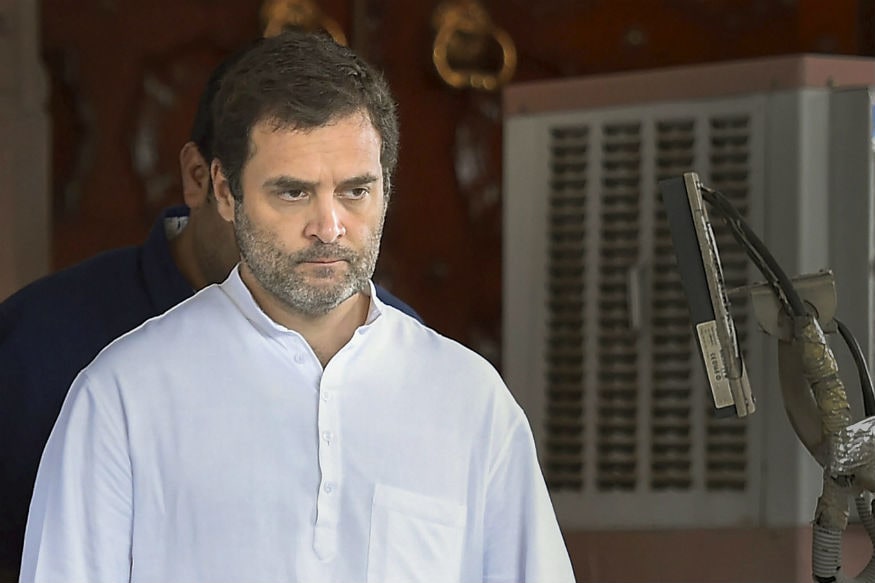 File photo of Congress president Rahul Gandhi. (PTI photo)
New Delhi: Just as the result of the Rajya Sabha deputy chairperson polls came out, an exasperated senior Congress leader who is a part of the party's strategy team for 2019 shook his head and said, "Hum se na ho paayega (we can't do it)."
In one line, he had summed up the party's story of this non-contest. The reality was that this was an election in which the Congress did not even want to get directly involved.
Congress had initially sensed the writing on the wall and had made it clear that they weren't too keen on putting up a candidate and wanted to support an opposition candidate instead.
The fact that Congress ended up putting up its own candidate exposes how it lost the plot. It not only come looking out poor in comparison to the BJP's astute game, but it was made to look like a fool by its allies and other opposition parties.
On the other hand, the BJP showed it has mastered the game of which once Congress was a master. With one stroke, it achieved two things - assuage allies who feel that all elections are just about the BJP. Here, the post, however decorative, was given to ally JDU, from a state which matters.
It also managed to keep all its allies like the Akalis and Shiv Sena intact. On a day when these polls were taking place, errant Sena leader Aditya Thackeray came to the Parliament to meet Maharashtra ministers Nitin Gadkari, Prakash Javadekar and Sunil Prabhu.
His presence told the story that Shiv Sena was very much with the BJP. The Akalis, despite being miffed initially, too stood with the BJP. Naresh Gujral told News18, "We have had our differences but we have ironed them out. We are with the NDA."
More importantly, it showed BJP as a party which has managed to get new supporters like the BJD in an election year. The PM personally called up Naveen Patnaik to seek support not for his party, but for an ally. And the deal was done.
But what's worse for the Congress is the fact even the PDP, despite the bitter fallout with BJP, preferred to stay away from the Parliament rather than vote against the NDA choice.
Said the top leader of the outcome, "What can be worse for us than this. Nobody wants us."
The Congress had only put up a candidate because it was forced to jump into the game. The NCP was smarter than the Congress. First, they never committed to the name of Vandana Chavan. Pawar wanted to be sure that she would get the numbers.
"We may be a small party but we have self-respect. We don't want a poor showing as this would affect us in Maharashtra," said a top leader of the NCP.
So, when the opposition was meeting at Ghulam Nabi Azad's house to finalise the name and it almost zeroed in on Chavan, Pawar backed out.
He withdrew her name as he was told that BJD would vote for the BJP.
Pawar didn't want to look defeated and he decided Chavan would not contest. Even the Trinamool said they weren't keen on contesting, and so, Congress was left with no choice but to name BK Hariprasad.
But, by nominating BK Hariprasad, who was once Odisha in charge for Congress, the party once again sent the message that it doesn't want new partners, it wants adversaries.
Even in an election with a foregone conclusion, one puts up a fight. For the BJP, no election is small enough while for the Congress, almost every elections becomes a matter of triviality.
AAP had already said no to Nitish Kumar when he called for support and was ready to vote with Congress, but only if Rahul Gandhi called for help. The call never came as Gandhi said there were ideological differences.
"But look at PM, he didn't mind calling Naveen for a deputy chairperson election. He made the point that no election is small. Rahul could have easily picked up the phone. It would have been a game changer for the 2019 polls as well," said a party leader.
He said Rahul instead preferred to listen to the state unit of the Congress.
In 2004, Sonia Gandhi had reached out to all parties, even those with whom she had a problem with, like the DMK. Because at that time, the need of the hour was to get everyone together to take on Atal Bihari Vajpayee. Congress had gulped its pride.
Today, the Congress has refused to do so and this election is bound to cost it dear. It has made its allies and even new opposition leaders wary of the congress.
They have accepted the fact it's better to do business without Congress as it would be a liability. Said a top Trinamool leader, "We don't need them. We think they will be a liability as with Congress in lead role not many would want to come with us".
It certainly seemed so with TDP, YSR, PDP and AAP refusing to accept the Congress pick. In fact in its statement YSR said, "We were told someone other than the Congress will be contesting. We have decided not to support Congress."
This result has been a humiliating and learning experience. The reality is no political party wants to be on the losing side but now many regional parties have associated Congress with it.
Read full article