Karnataka Election LIVE Updates: Kumaraswamy Set to be 'Kingmaker' as Karnataka Heads for Hung Assembly
Sources said the Congress leadership has instructed Ghulam Nabi Azad and KC Venugopal to speak to JD(S) chief HD Deve Gowda. The Congress is exploring possibilities of forming a government in Karnataka in case of a hung House provided JD(S)-Congress together cross the halfway mark.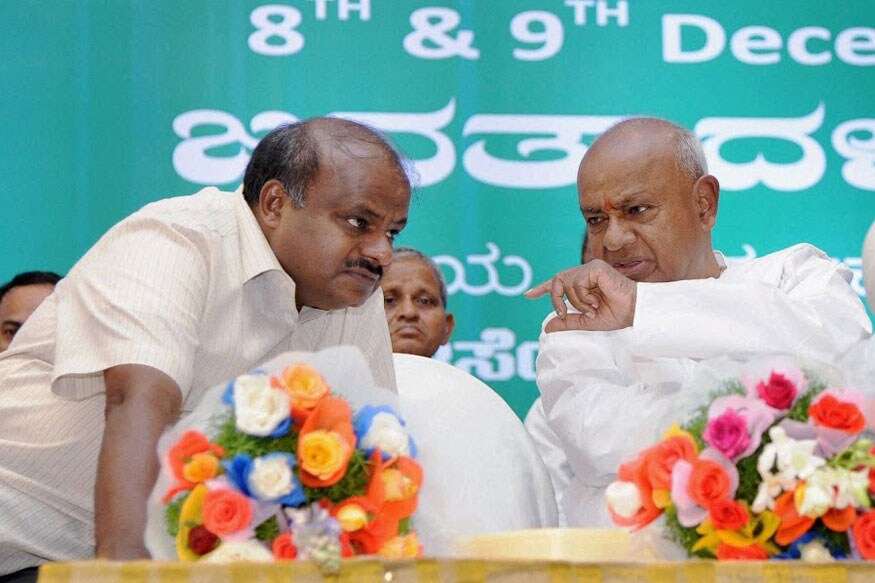 File photo of JD(S) leader HD Kumaraswamy with his father and ex-PM Deve Gowda.
The BJP emerged as the single largest party in the Karnataka Assembly elections, but fell short of the halfway mark of 112. Queering the pitch for it, the Congress and JD(S) have decided to come together and have a crack at government formation.
As was speculated earlier that in the case of a hung Assembly, JD(S)' Kumaraswamy will play the 'kingmaker'. Apparently, the Congress reached out to the JD(S) and has agreed to let Kumaraswamy be the CM, hence propelling him from the 'kingmaker' to the 'king'.
The BJP is currently ahead in 104 seats, followed by the Congress at 78 and JD(S) at 38.
Congress leadership instructed Ghulam Nabi Azad and KC Venugopal to speak to JD(S) chief HD Deve Gowda. After hectic parleys, the JD(S) has agreed to Congress' offer and Kumaraswamy, a former CM, is heading to meet the Governor.
Kumaraswamy, in his letter to the Governor, declared that he has accepted Congress' support for JDS to form the government.
Earlier, exit polls had predicted a hung House, but gave BJP the advantage.
ABP TV had predicted a tally in favour of the BJP with a seat count between 97-109 seats; 97-99 seats for the Congress and between 21 and 30 for the JD(S). India Today's exit poll had predicted 106-118 seats for Congress; 79-92 seats for BJP; 22-30 for JD(S) and 1-4 seats for the others.
Aaj Tak exit polls had also gone in the favour of Congress and had given Congress 106 to 118 seats; BJP 72 to 76 seats; JD(S) 25 to 30 seats and others 4 to 8 seats. NDTV's 'Poll of Polls' based on eight exit polls, predicted BJP to be the single largest party with 101 seats, Congress second with 84 seats followed by the Deve Gowda-led JD(S) with 33 seats.
Newsx-CNX, on the other hand, predicted that BJP could be ahead of the Congress. Its exit poll has given BJP 102 to 106 seats; Congress 72 to 75 seats, JD(S) 35 to 38 seats and Others 3 to 6 seats.
The most liberal of estimates, the Republic TV poll, had given the JD (S) between 32-43 seats. At 2 pm, the JD (S) had leads on 38 seats.
| Edited by: Huma Tabassum
Read full article
Countdown To
Elections Results
To Assembly Elections 2018 Results