Can Mamata Banerjee Bring Congress and AAP Together in the Name of Opposition Unity?
At the swearing-in ceremony of Karnataka CM HD Kumaraswamy, Rahul, Sonia Gandhi and Kejriwal were all on stage but they were careful not to share space during photo ops. Yet, nothing can be ruled out.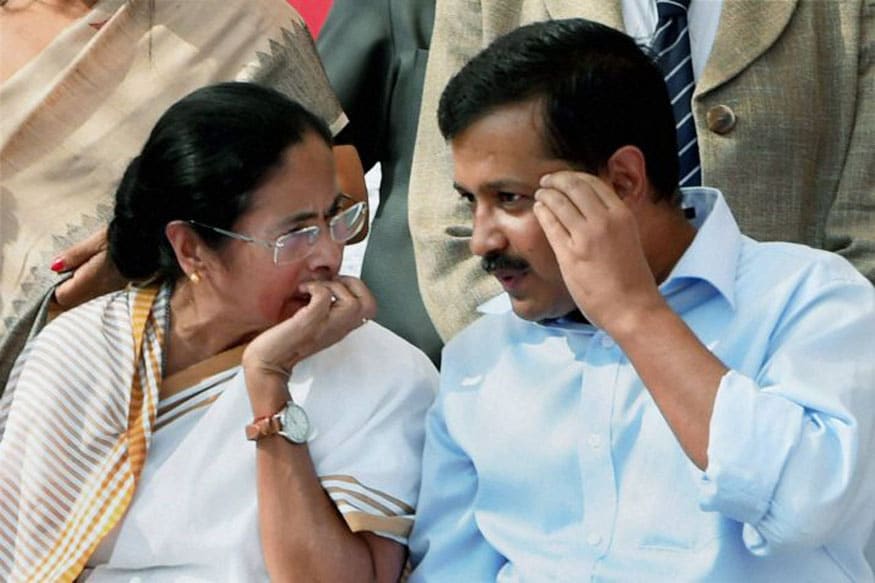 File photo of Mamata Banerjee with Arvind Kejriwal. (PTI)
New Delhi:
A tweet by Delhi chief minister Arvind Kejriwal slamming Prime Minister Narendra Modi for his lack of education and the response it elicited from Delhi Congress chief Ajay Maken has triggered interest in political corridors in the capital.
Kejriwal, who had for the past few months refrained from taking on Modi directly, tweeted "people are missing an educated PM like Dr Manmohan Singh." Maken was quick to react and asked why Kejriwal never realised this when he decided to align with Anna Hazare to help BJP come to power in 2014.
He further tweeted, "On so called offer of AAP to Congress for 3 seats, look at my reply to Kejriwal. When the people of Delhi are continuously rejecting Kejriwal government why should we come to their rescue?"
But in this war of words on Twitter, is there more than what meets the eye?
The relation between the Congress and the AAP has been a bitter, but complicated one. It was the AAP's anti-corruption plank against Congress that catapulted it to centre stage in Delhi, but to form the government for the first time, it had to take the outside support of the same Congress.
The Delhi unit of Congress feels that as long as AAP is around it would eat into the anti-BJP votes it can garner. This problem had worried the party during the Punjab elections as well.
AAP seemed strong and there was a Kejriwal wave amongst the youth. Captain Amarinder Singh while dismissive of AAP during his campaign took them seriously in private. There were also murmurs that the Akalis helped out the Congress to keep the AAP at bay.
But the regional poll arithmetic stands in complete contrast to the national picture, where a grand alliance of opposition parties is taking shape to take on Narendra Modi-led BJP.
So is it possible that the AAP and Congress can join hands to take on the BJP and Modi in 2019? In politics, the old adage is nothing is impossible. No one could have ever predicted that BSP and SP would form an alliance and share a stage after the bitterness between Mayawati and Mulayam.
Sources say there is pressure from parties like Trinamool Congress on the AAP and Congress to not turn each other away. Mamata Banerjee's fondness for Kejriwal is well known and she will play a key role in the federal front.
At the swearing-in ceremony of Karnataka CM HD Kumaraswamy, Rahul, Sonia Gandhi and Kejriwal were all on stage but they were careful not to share space during photo ops. Yet, nothing can be ruled out.
Sources say that during last year's presidential and vice-presidential polls, a line was opened to AAP to elicit their support.
But many in AAP say that there can be no understanding with the Congress till Maken remains the party's Delhi president.
Some in the Congress camp also say that Maken is hurting the party's prospects, perhaps to the benefit of the BJP. They point to instances like the AAP MLA disqualification case, in which Maken had approached the Election Commission. "Why did Maken go to EC when Congress doesn't trust it? Was it to save the BJP?" a leader asked.
Another highlighted the symbolic fast that was to be led by Rahul Gandhi in Delhi, when a photo of Maken eating chhole bhature at a dhaba had surfaced.
Rahul has also brought in Sheila Dikshit back in the Delhi unit as he feels that all hands on deck would be needed to ensure a Congress win.
There is speculation that Rahul may shift Maken to avoid his strong resistance to tying up with AAP. A senior leader in Congress said, "Look at JDS and Congress, look at BSP and SP. We are prepared for everything. Even Kejriwal sharing a stage with Rahul Gandhi one day."
As they say politics makes for strange bed fellows.
| Edited by: Aakarshuk Sarna
Read full article
Countdown To
Elections Results
To Assembly Elections 2018 Results