Can't Vacate Mayawati's Govt Bungalow as it's a Kanshi Ram Memorial: BSP to Yogi Adityanath
The BSP had installed a board on May 21 at the government bungalow, terming it 'Shri Kanshi Ram Ji Yadgar Vishram Sthal' after Mayawati was served notice to vacate it as per a Supreme Court order.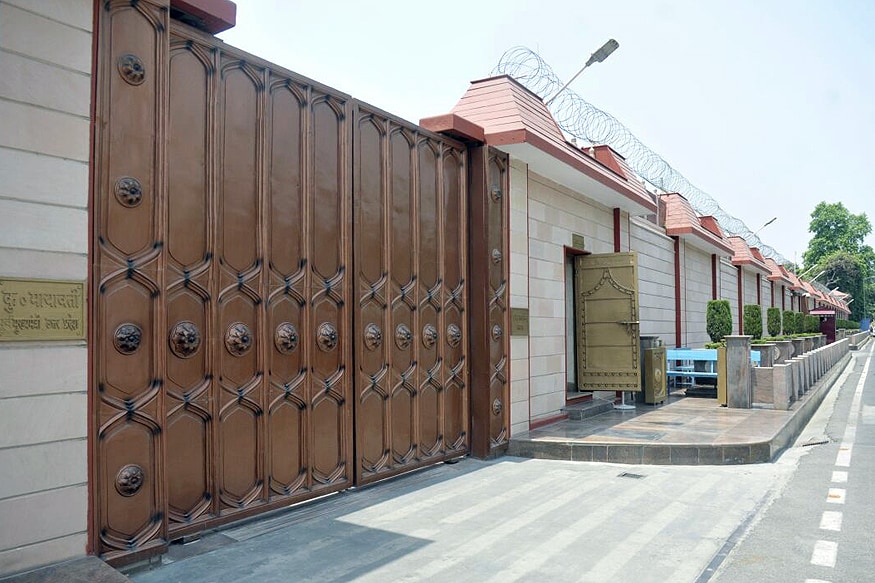 Four-time chief minister and BSP Supremo Mayawati's government bungalow is at Mall Avenue, which is one of the poshest localities in the state capital.
Lucknow: A BSP delegation met Uttar Pradesh Chief Minister Yogi Adityanath on Friday claiming that the sprawling bungalow party chief Mayawati has been asked to vacate was converted into a Kanshi Ram memorial in 2011.
The delegation said Mayawati occupied only two rooms in that bungalow.
The BSP had installed a board on May 21 at the government bungalow, terming it 'Shri Kanshi Ram Ji Yadgar Vishram Sthal' after Mayawati was served notice to vacate it as per a Supreme Court order.
The order applies to six politicians who were allotted official accommodation in Lucknow as former chief ministers.
The BSP delegation, led by party's national general secretary Satish Misra, said the 13A, Mall Avenue bungalow which Mayawati has been asked to vacate was turned into a memorial through a Cabinet decision on January 13, 2011. "The notice that has been served is for vacating 13A, Mall Avenue which is not allotted in her name, Misra said.
But no notice has been given for moving out of 6, Lal Bahadur Shastri Marg which was allotted to her as a former chief minister, he added.
Misra said Mayawati occupied only two rooms at 13A, Mall Avenue and if she vacated the premises, those rooms would also become part of the memorial.
But he added the party has requested that she be allowed to stay on in that small portion of the premises, the major part of which has a library, murals, statues and other articles related to the Bahujan Samaj Party founder.
He said if a notice is served to vacate the second bungalow, Mayawati will adhere to it.
About 13A, Mall Avenue, an Estate Department official had earlier said, As per our knowledge, the bungalow was allotted to Mayawati in her capacity as a former CM. But since a board has come up there in the name of Kanshi Ram ji, we will look into our records."
The Supreme Court had on May 7 said former chief ministers of Uttar Pradesh cannot retain government accommodation after demitting office, observing that a CM was on a par with a common man once his or her term ends.
Following the order, the UP government on May 17 issued notices to Narayan Dutt Tiwari, Mulayam Singh Yadav, Kalyan Singh, Mayawati, Rajnath Singh and Akhilesh Yadav to vacate the bungalows.
While Union Home Minister Rajnath Singh and Rajasthan Governor Kalyan Singh indicated their willingness to do so, the others have expressed reluctance.
ND Tiwari's wife sought more time, pleading that her husband was in the "last stages" of his life.
Ujjwala Tiwari wanted to keep the government bungalow for at least a year.
Samajwadi Party patriarch Mulayam Singh Yadav and his son Akhilesh Yadav have written to the Estate Department seeking two more years at their official residences.
Ujjwala Tiwari wrote to Adityanath yesterday saying her husband has been undergoing treatment at Max Hospital, Saket in New Delhi for eight months and she too was seriously ill. "Though I and my family honour the Supreme Court order, you are also aware that Mr Tiwari is in the last stages of his life and anything could happen any time," the letter in Hindi said.
She said the bungalow also houses the 'Pandit Narayan Dutt Tiwari Sarwajan Vikas Foundation'.
Akhilesh Yadav argued that he does not have any other suitable house to accommodate the security he enjoys as a former chief minister. The Supreme Court had passed the order while hearing a petition filed by NGO Lok Prahari, challenging the amendments made by the erstwhile Akhilesh Yadav government to the UP Ministers (Salaries, Allowances and Miscellaneous Provisions) Act, 1981, which allowed former chief ministers to retain their government bungalows for lifetime.
Get the best of News18 delivered to your inbox - subscribe to News18 Daybreak. Follow News18.com on Twitter, Instagram, Facebook, Telegram, TikTok and on YouTube, and stay in the know with what's happening in the world around you – in real time.
| Edited by: Aditya Nair
Read full article